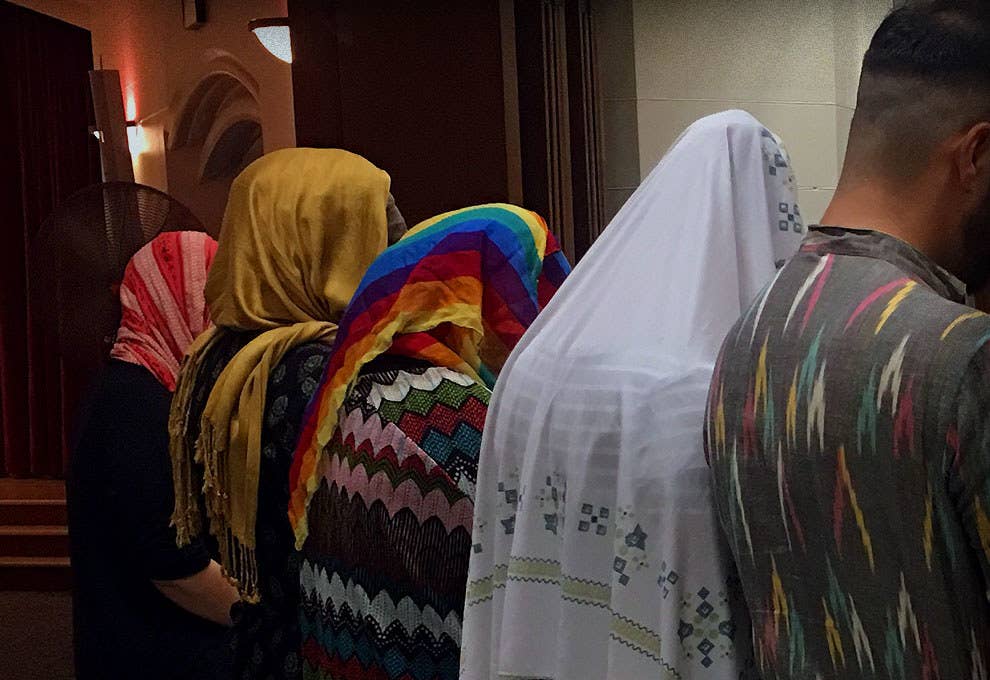 Just before sunset one Friday this month, a few dozen guests walked downstairs and into a church basement where lanterns flickered on banquet tables piled with food from Afghanistan, Morocco, and Sudan.
The descent was fitting because this iftar — the meal when Muslims break their daily fast in Ramadan — was underground in every sense of the word.
Organized by and for LGBT Muslims and their allies in Minneapolis, the dinner required extraordinary planning to ensure the privacy and safety of people who often feel shunned in both Muslim and LGBT circles. The hosts were from Minnesota Caravan of Love, which began as an informal group of friends and now holds regular events to amplify LGBT Muslim voices in the Twin Cities. Still, the fact that nearly all of them spoke on condition of anonymity is a small illustration of the risks that come with their activism.
Just a year ago, the main organizer, a 32-year-old gay Afghan PhD student, gave his real name in news interviews and was filmed dancing down a Minneapolis street during the 2016 Pride parade. But a few months ago his family back in Afghanistan caught wind of his activism, forcing him to start writing and speaking publicly under an alias, Nur Jibran.
"At first I stopped, but then I thought, 'There needs to be a voice, even if it's under a borrowed name,'" he said.
The idea behind the iftar was to bridge two main fissures LGBT Muslims face as they try to join a national activist movement that's been reinvigorated by the election of President Donald Trump. LGBT Muslims say their sexual identities make them anathema to most mainstream Muslim groups; the reception isn't much better in LGBT crowds now that views about Islam have soured since the Pulse nightclub massacre in Orlando. The strained relations are an obstacle to getting marginalized groups to form a united front to fight Trump administration policies they see as harmful to their interests.
"Right now, given the political climate, we have to unite."
When organizers of the Minneapolis iftar hit up clubs and cafés to pass out flyers for the event, they met resistance from both Muslim and LGBT invitees. One volunteer tried to give a flyer to a Pakistani man who was a regular at his favorite café; he said the man rejected the event and warned that no one would come. Other volunteers said they'd been similarly rebuffed at gay bars.
A Mexican-American activist from Caravan of Love, who asked that his name not be included, said he realized what Muslims were up against when he was passing out iftar flyers at a club, telling LGBT patrons that "right now, given the political climate, we have to unite." A non-Muslim guy snapped at him.
"He's like, 'They just want to kill us all. Why would you ever want to volunteer for Muslim people when they want you dead?'" the activist said.
Earlier this month, seven protesters were arrested at the Minnesota State Capitol during so-called anti-Sharia marches. Gay critics of Islam were among the top organizers of the nationwide marches, which largely fizzled due to poor attendance.
Pax Hart, an organizer of the marches, has said in interviews that he's been called an Uncle Tom for breaking with others in the LGBT community and supporting Trump. He was quoted as saying his only friends are conservatives and libertarians because LGBT leftists are in denial that "everywhere on the planet that Islam has a significant presence, there's bloodshed, savagery, oppression, and intimidation."
Another gay organizer of the anti-Sharia marches, Atlanta-based Arch Kennedy, has been quoted as saying he's recently begun working with ACT for America, which extremism trackers at the Southern Poverty Law Center call "far and away the largest grassroots anti-Muslim group in America."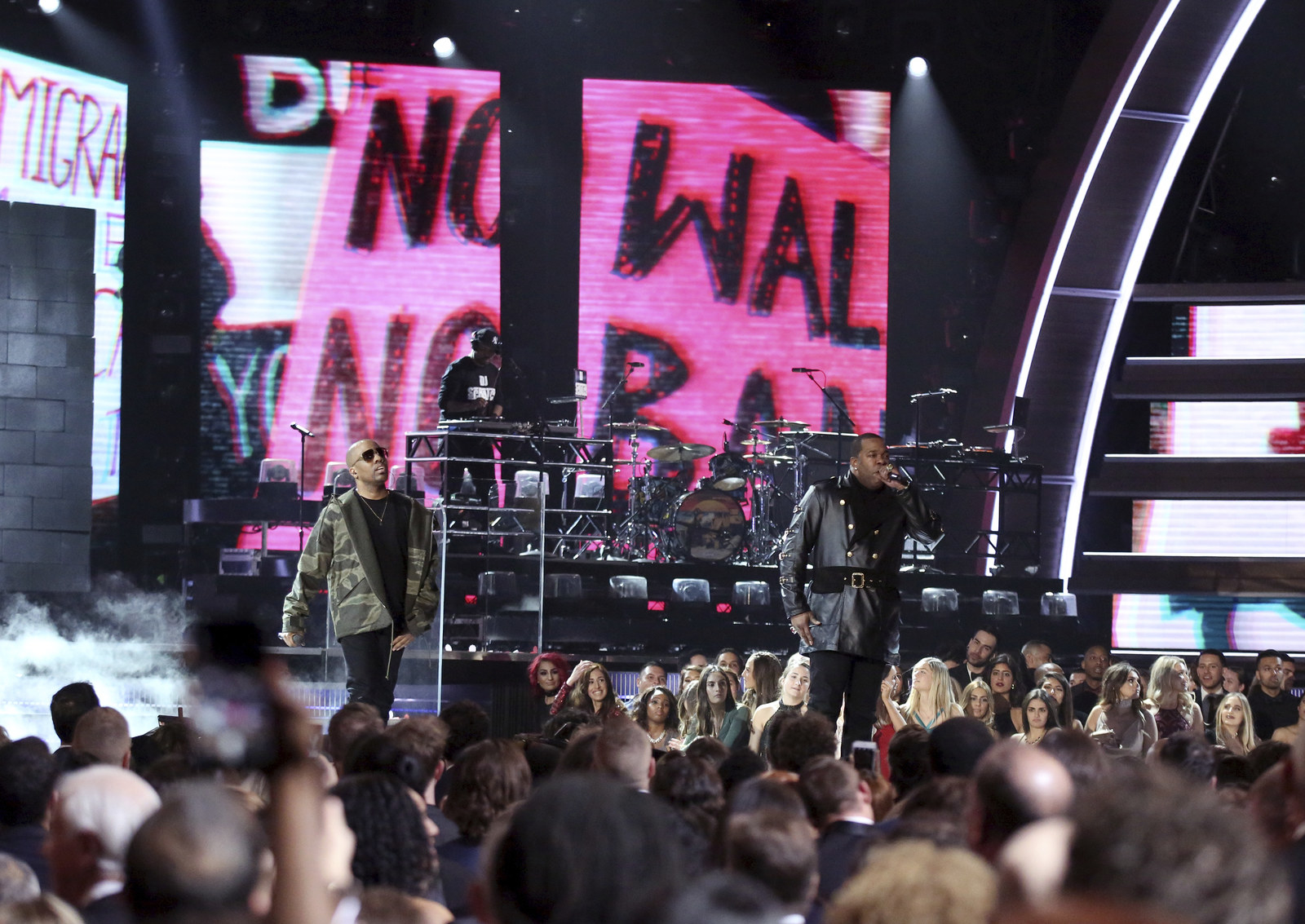 Others are growing more vocal in rejecting what they consider right-wing attempts to drive a wedge between LGBT and Muslim communities; their focus is raising awareness about how Trump associates disparage both groups. A Tribe Called Quest's 2016 activist anthem, "We the People," makes that point in a hook: "Muslims and gays / Boy, we hate your ways."
A few Muslim leaders with national profiles have called for greater support of LGBT rights, but an internal Muslim debate rages on whether such overtures are religiously permissible.
"It will take brave souls, people who are from both communities, living courageously, to make change," said Salma Hussein, 29, a Somali-American social worker who said she's sometimes forced to be a "closeted ally" because of cultural and religious taboos when it comes to LGBT issues. "It takes a lot of courage, but people should see that there are Muslims who are also part of the LGBT community. So they can see the human side."
The groups have seen results when activists are on the same page. In May, for example, Trump's pick for Army secretary, a Republican state senator from Tennessee named Mark Green, withdrew from consideration amid criticism of his anti-Muslim and anti-LGBT comments. News reports said that Green opposes same-sex marriage and has described being transgender as a disease. Green also has urged public schools to fight "the indoctrination of Islam" and has made reference to a "Muslim horde."
"Now is not the time for highlighting divisions. I'm trying to find the unifying points."
This month, writer and filmmaker Dylan Marron launched a web series called "Extreme(ly Queer) Muslims" to show the links between anti-gay and anti-Muslim hostility. In the series, timed to the overlap of Ramadan and Pride this month, Marron chats with Muslim guests about the tensions and says he will no longer be "used as a pawn in the hatred of one community in the same way that I know other communities have been used as pawns in the hatred of my community."
That idea was echoed by some non-Muslim LGBT guests at the iftar. They might not know much about Islam, they said, but they knew plenty about being discriminated against and finding few allies to speak up on their behalf.

"For so much of my life, who I am has been demonized by so many people, and there hasn't been anyone willing to just stand up and say, 'What's wrong with being gay?'" said Erin Bryan, a guest at the dinner. "I want to be one of those people that can stand up."
But organizers said the ugly political backdrop affected their ability to recruit people for the iftar. And Caravan of Love volunteers wondered how many of those who ate with them in private would be bold enough to join them in public the following week to walk alongside the first Muslim LGBT float in the local Pride parade Sunday.
The iftar was a sort of trial balloon. News of it spread through a private Facebook group and word of mouth, making it hard to get a head count. Each host was in charge of a table for eight. Some cooked all day, using family recipes for yogurt chicken or samosas; others ordered from restaurants or arrived with a huge bag of the city's best tacos. Volunteers came early to transform the drab church basement into a cozy hall with Middle Eastern flourishes. Ivory tablecloths were set with jewel-colored cups reminiscent of the rainbow flag.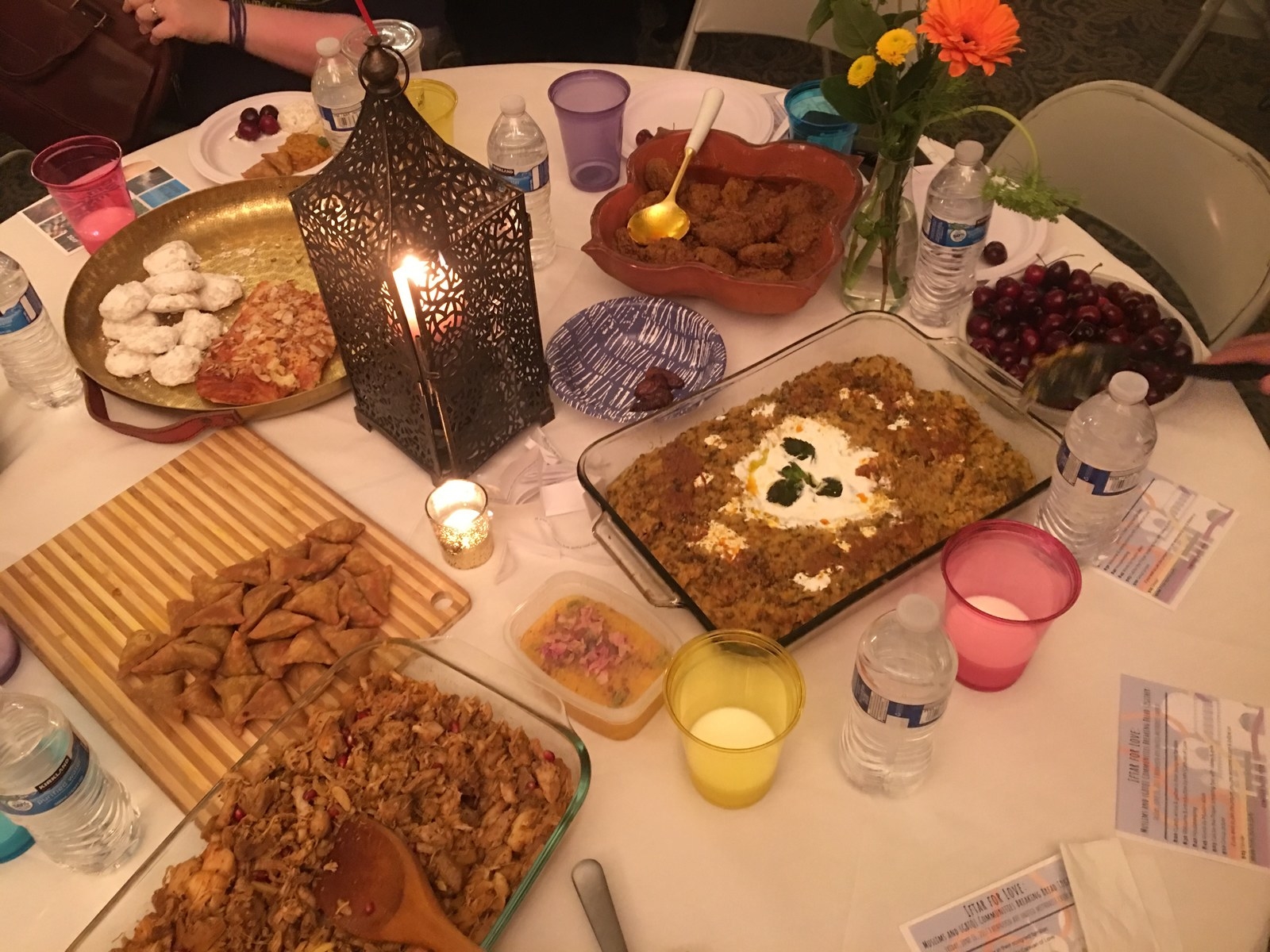 The first clue that this was a rather unorthodox iftar was the program guests received upon arrival. At 9:03 p.m. there would be the call to prayer and the breaking of the fast with dates and milk. At 10:00 p.m.: "Pride dance party." Many other features of the evening would've drawn disapproval — if not anger — from more conservative Muslims. For example, a woman gave the call to prayer and another woman led the prayer, roles usually reserved for men.
"Now is not the time for highlighting divisions. I'm trying to find the unifying points," said a 37-year-old Egyptian-American artist and activist who asked to use only his first name, Ali. "If I'm going to sit here and preach allyship, I need to do the work, too."
The hosts and their guests tucked into plates of couscous and chatted frankly about the strain in relations since the Orlando attack. The conversations were helped by icebreaker questions on slips of paper at each table. One was about the meaning of Ramadan, a time often spent between quiet spiritual reflection and raucous family gatherings.
"We have Christmas for a full month and we're not missing out on anything — especially the family drama," Jibran, the lead organizer of the iftar, cracked in opening remarks to his guests.
Jibran said he came up with the name "Caravan of Love" out of his heartbreak over learning that the Pulse nightclub shooter, Omar Mateen, also was of Afghan descent. The caravan reference comes from Rumi, the 13th-century Muslim mystic whose poetry has fans around the world.
Jibran grew up in the midst of war from ages 8 to 14, working on the street to help support his family. He endured so much grief about his "femininity," he said, that he spent long stretches in isolation, writing in genderless Persian so that it sounded like his love poems were meant for women.
Coming to the United States from Afghanistan as a college student, Jibran said, had given him an opportunity to express his full identity without fear or shame. He resents the forces that are trying to mute him once again, and said it's time for both Muslim and LGBT groups to work harder to overcome barriers to partnership. He pointed to the dozen or so Muslim allies who attended the iftar in support of LGBT friends as evidence that times are changing, slowly.
"It was overwhelming," Jibran said the next afternoon. "I'm still processing it. Of course, there were moments that I was fearful that anybody could walk in and start shooting, but at the same time, I just wanted to enjoy every single moment."