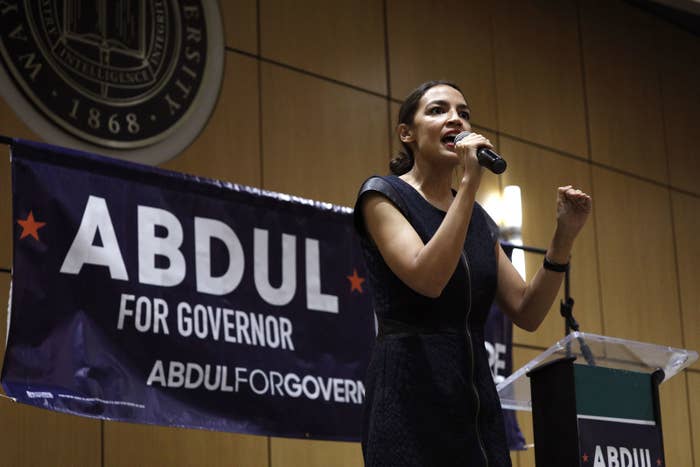 Akram Ali looked with satisfaction at the stack of newspapers he'd placed at the entrance to the most popular baklava shop in Dearborn, an Arab American, Muslim enclave outside of Detroit.

He and his wife, Afrah, had stayed up all night to get their slim publication, billed as the "Arab American Youths Newspaper," to the presses by 2 a.m. Saturday, just in time to distribute it to the area's bakeries and shawarma spots before the weekend rush. The timing was crucial, Ali said, and so was the message: Vote!
"It's essential for us, especially our youth, to be engaged, to voice their opinions, to not be afraid," Ali said. "This is about making history."
He was talking about the Michigan primary Tuesday and the milestone potential it holds for three Muslim Democratic candidates: Abdul El-Sayed, 33, who's running for governor, and 42-year-old Rashida Tlaib and 35-year-old Fayrouz Saad, who are vying for seats in Congress. The country has never had a Muslim governor or a Muslim woman in Congress, and the idea that a "first" could emerge from their own circles has energized Muslims in unprecedented ways.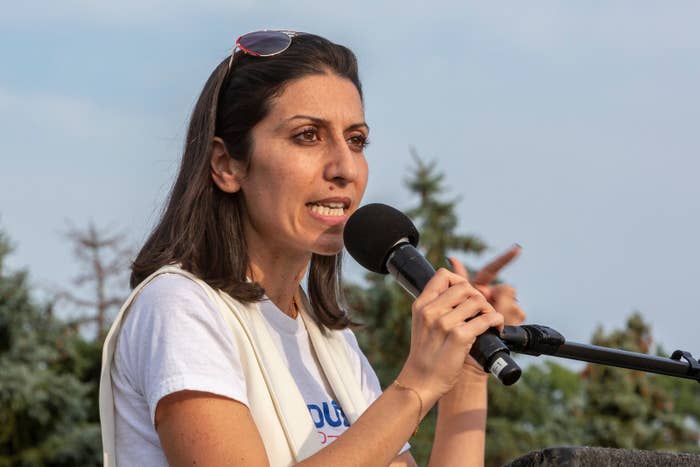 And even if none of the candidates advance on Tuesday, Dearborn and Detroit residents said, the energy from this election cycle is likely to endure as young Muslims realize there's space for them in the previously off-limits political realm.
"It's so close we can taste it," said Mehruba Akhtar, 27, on the sidelines of a Detroit forum sponsored by the Muslim Anti-Racism Collaborative. "Before, in people's heads, this was just an idea so far out we didn't even think it was possible."
In the run-up to the big day, Muslims — many of them new to politics — have volunteered in phone banks, canvassed neighborhoods, cheered at rallies, registered voters, and urged jaded relatives to give the polls a chance. Campaign materials are printed in Arabic and English. Mosques, which as nonprofits can't endorse specific candidates, urge voting as a civic duty. One Dearborn-based newspaper printed two full pages of sample ballots marked with several Muslim picks beneath a reminder: "It's legal to take this with you to the polls as a guide."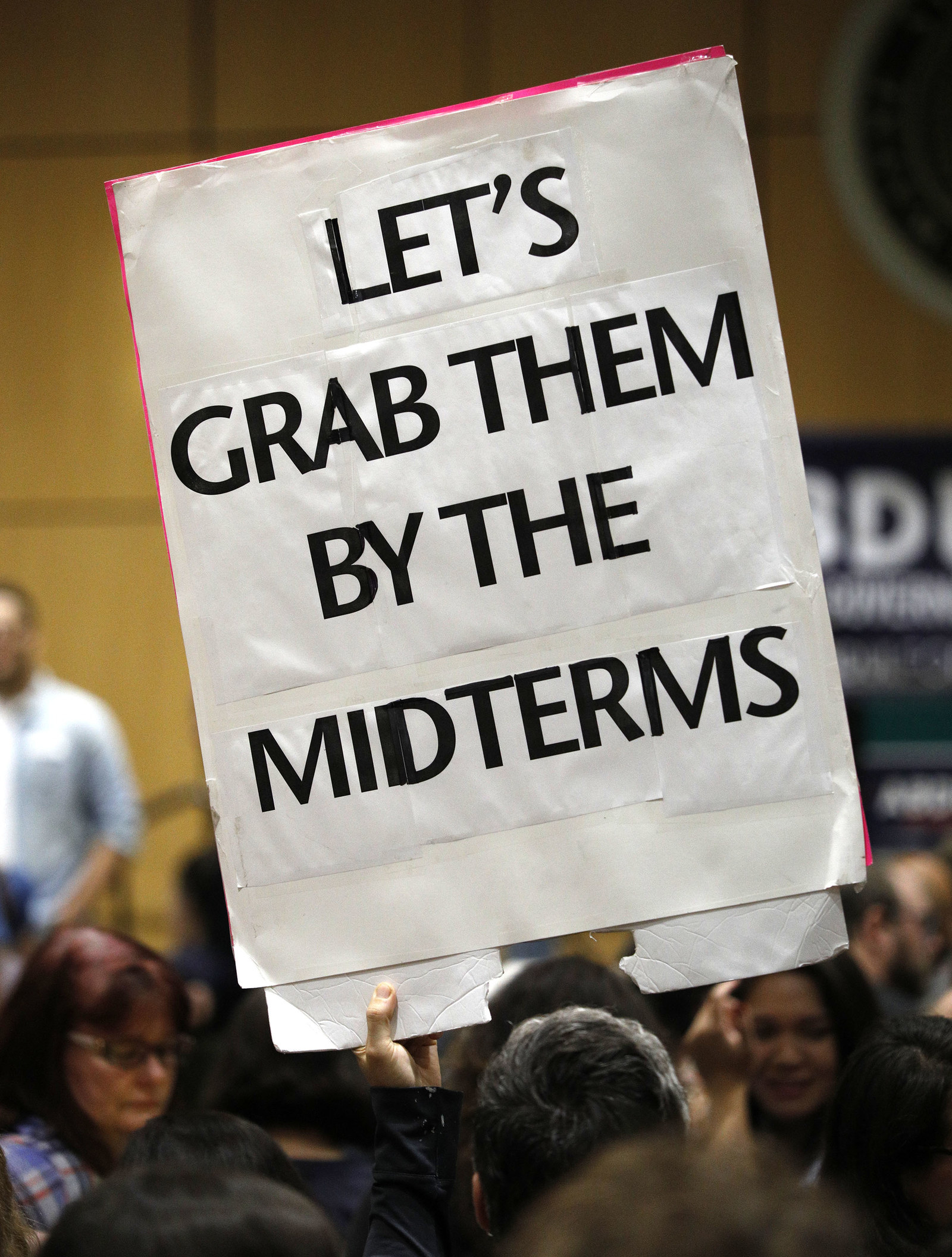 The enthusiasm feels like a Muslim spin on the actor Issa Rae's famous red-carpet quote: "I'm rooting for everybody black." But the sentiment goes deeper than what critics might dismiss as identity politics. Muslims live under a president who once said "Islam hates us," who stacked his administration with Islamophobes, and whose first month in office yielded the travel ban targeting Muslim-majority countries. Muslims correlate President Donald Trump's anti-Muslim, anti-immigrant rhetoric with a spike in hate crimes, including bloody assaults and mosque burnings.

"I think we're going to win, but I have no clue."
Getting involved in politics, Michigan Muslims said, is a way to assert their place in the country and to guard the rights they fear will slip away as the Trump administration floats ideas like a crackdown on Muslim civil society through a ban on the Muslim Brotherhood. All of the Muslim candidates have received bigoted messages about their campaigns on social media; Saad even used some of what she called her "Trump-inspired fan mail" in a campaign ad. The ad showed tweets telling her to "Go Home!" and "No muslims in our government."
Khulood Faruqui, a 23-year-old engineer, got married last year and moved from California to Michigan, where she is constantly on alert in public places because her headscarf marks her as Muslim. She'd never been interested in politics until Trump was elected and she realized that "being silent and complacent can be deadly." On Sunday, she attended a rally in Detroit to watch Bernie Sanders, who won the 2016 Michigan Democratic presidential primary in an upset, stump for El-Sayed before a crowd of more than 1,000. Faruqui had a blue sticker printed with "Abdul" attached to her black headscarf.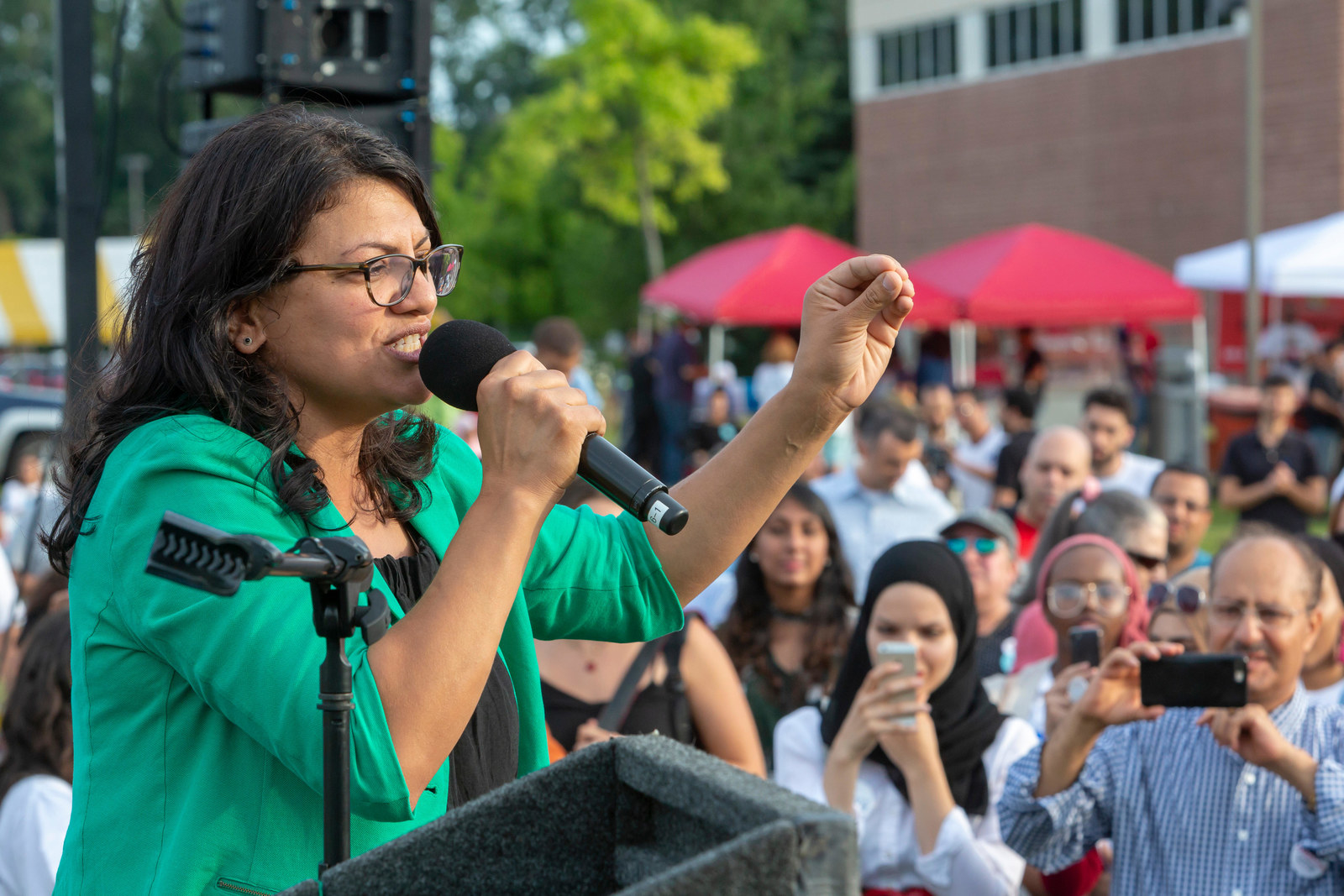 "We have to come out and be active," she said. "If you think other people are going to do it for you, it's not going to happen."

With about 115,000 Muslims registered as Democrats in Michigan, the candidates will need more than the Muslim vote to win, and even getting Muslims to vote has been difficult. In 2016, Trump won Michigan by just over 10,000 votes, leaving many Muslims here feeling regretful that they didn't show up to the polls. Only 12.8% of registered Muslims voted in the 2016 election, according to Emgage, a political action committee focused on US Muslims. A study by the Institute for Social Policy and Understanding, a Muslim-focused think tank, found that registered Muslims are as likely to vote as any other group, and yet there's still a sense that Muslim turnout should've been higher given the stakes.
"The personal responsibility is real," said Kareem El-Hosseiny, 30, who was at the Detroit rally with two friends, 23-year-old Chehab Kaakarli, in an "Abdul" shirt, and 23-year-old Jousef Shkoukani, in a "Rashida" shirt.
This time could be different, El-Hosseiny said, because "you have candidates like Rashida, like Fayrouz, like Abdul, and they're finally giving us a voice that we never thought was going to come."
Tlaib, a former state lawmaker and vocal anti-Trump activist, has raised the most money in the crowded race for the seat vacated by Detroit stalwart Rep. John Conyers Jr., who resigned in December after multiple women accused him of sexual misconduct. Tlaib won the endorsement of the Detroit Free Press, but she faces formidable opponents. The seat is firmly Democratic, so if Tlaib wins Tuesday, she's all but guaranteed to become the first Muslim woman in Congress.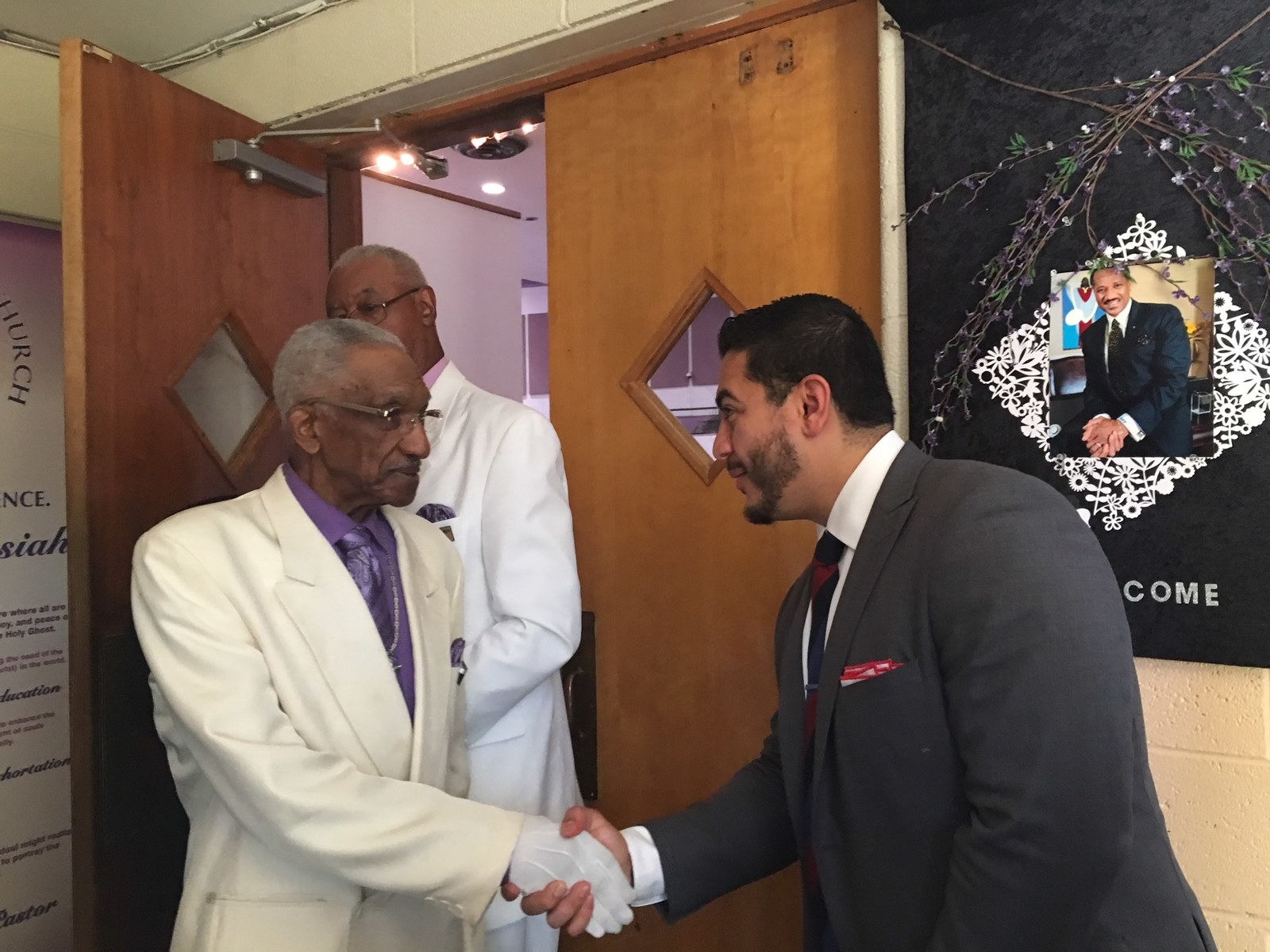 Saad, a former Homeland Security official in the Obama administration, faces a tougher fight in a Republican-leaning district. A poll published last week by the Free Press showed her trailing far behind other Democrats in the running.
In the governor's race, polls have shown El-Sayed, a doctor, trailing the main opponent Gretchen Whitmer, a former state senator who's backed by establishment Democrats as well as labor and women's groups. But in recent weeks, with the endorsements of Sanders and rising progressive star Alexandria Ocasio-Cortez of New York, at least one poll showed the race tightening and Michigan political analysts caution against writing off El-Sayed's chances.
"To create a historical victory in Michigan and in America, let us elect Abdul as the next governor of the state of Michigan!" Sanders said at the rally.
Hours before his appearance with Sanders, El-Sayed was making the rounds at Detroit's historically black churches, getting "amens" for his policy ideas and chuckles for his stump speech poking fun at the skepticism around his candidacy because he's "a little bit young, a little bit brown, a little bit Muslim."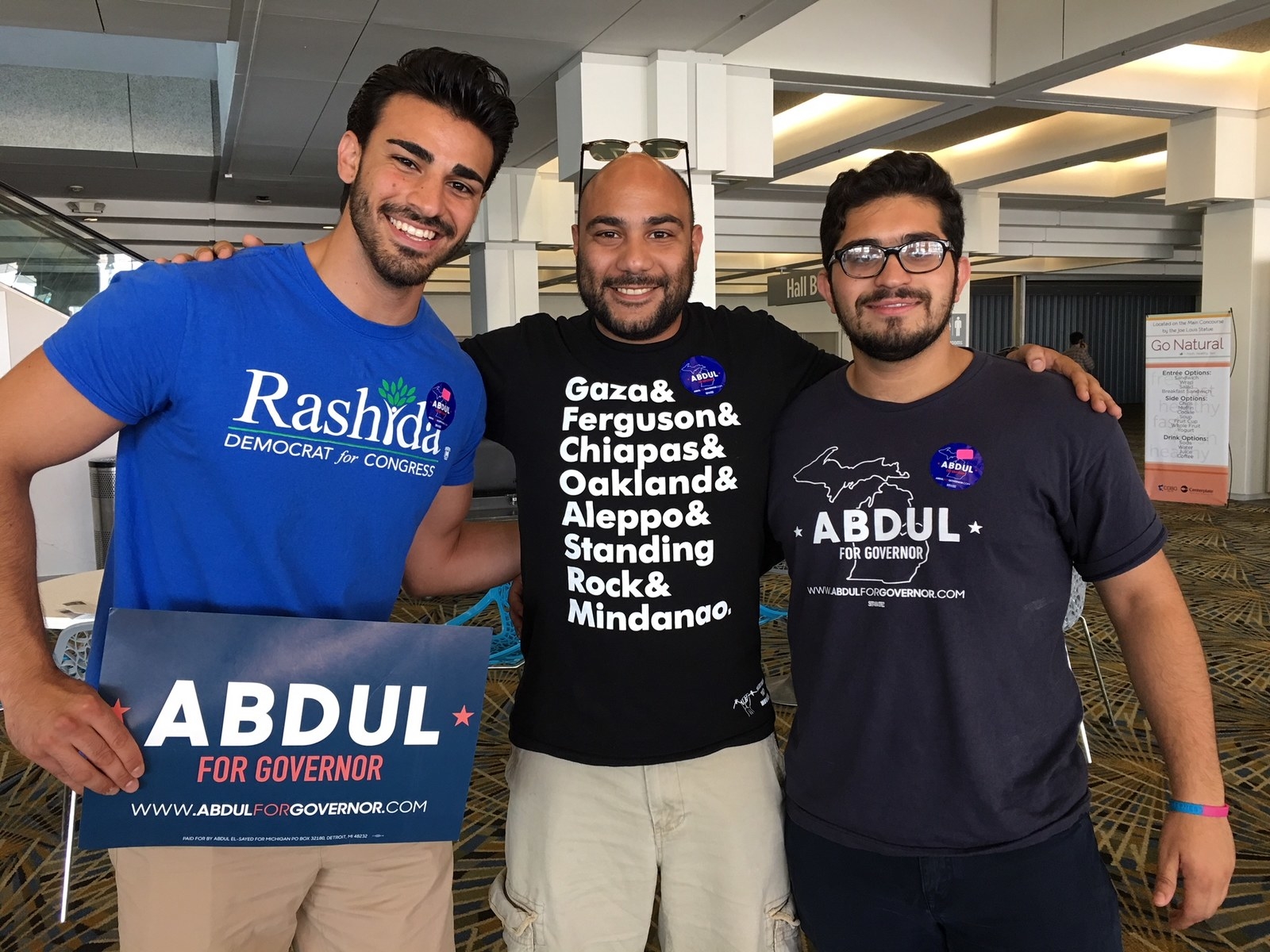 El-Sayed's wife of 12 years, psychiatrist Sarah Jukaku, accompanied him in a big white Suburban that ferried them around town. They shared a croissant and talked about missing their 8-month-old daughter, who was home with grandparents. Their relationship was captured in a campaign ad that many Muslims found groundbreaking for its portrayal of the tenderness between an ordinary Muslim couple: a bearded man and a hijab-wearing woman laughing as they cooked dinner together and decorated their daughter's nursery.
Before his daughter was born, El-Sayed said, he wrote her a 5,000-word letter, largely because he knew he was incurring risk as a Muslim on the campaign trail in a time of open hostility toward Islam, and he wanted her to know about her dad in case, for some reason, he did not survive the campaign. El-Sayed said he hopes she "grows up with the history of what it all meant."
"It's so close we can taste it."
"In this moment, sometimes you're afraid and you want to sit on the sidelines and hold close everything that's dear to you," Jukaku said. "But I think that lets people who want to divide us win. Abdul wanted to stand up and say, 'No, we're better than that.'"

As Election Day neared, El-Sayed said he was "extremely tightly wound," but trying not to let the anxiety hinder his last-minute campaigning. He said he was buoyed by Ocasio-Cortez's surprise unseating of a 10-term incumbent in New York six weeks ago — a victory that was even sweeter because it came on the same day the Supreme Court upheld Trump's travel ban.
Could he pull off the same feat in Michigan?
"I think we're going to win, but I have no clue," El-Sayed said. "The scientist and the person of faith in me says one has to always appreciate the possibility of an outcome one doesn't want."