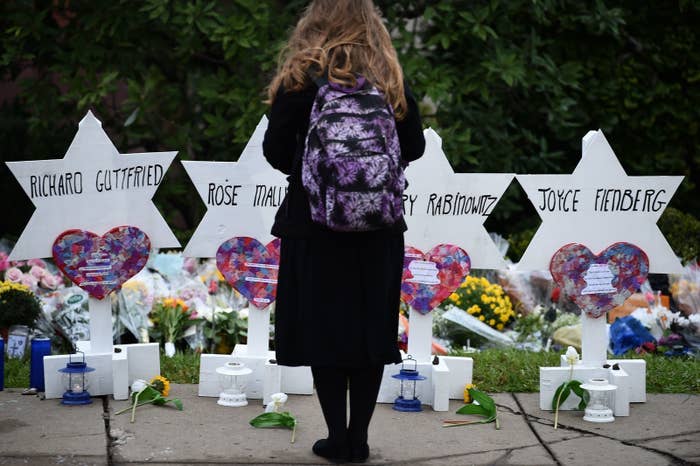 In President Donald Trump's first year in office, the number of reported hate crimes jumped 17% — the highest climb in more than a decade — according to 2017 numbers released Tuesday by the FBI.
Extremism watchdogs say the latest FBI hate crime report confirms their worries about the rise of bias-motivated attacks across the board, with the numbers suggesting an outbreak of hatred targeting several groups rather than the isolated increases of previous years. Black people, Jews, Muslims, LGBT people, and other minorities all saw sharp increases or other concerning patterns.
According to the FBI, the number of hate crimes reported in 2017 was 7,175, up from 6,121 in 2016. The last time the total was higher than 7,000 was in 2008, when the FBI report listed 7,780 bias crimes.
The annual FBI report comes with a slew of caveats that add context to the numbers. For example, more law enforcement agencies participated in hate crime reporting this year, which might have bumped up the totals. But the FBI tally generally is considered an undercount because of uneven reporting by authorities or because victims are too fearful to report; Muslim, Sikh, Arab American, and other advocacy groups all said Tuesday that they received far more reports in 2017 than were counted by the FBI.
Hate crime experts say the report's value is not as a meticulous count, but as a reliable barometer of trends. And the trend that emerged from the 2017 numbers is chilling, said longtime hate tracker Brian Levin, director of the Center for the Study of Hate and Extremism at California State University, San Bernardino.
"This is a historic increase, and it has to be recognized as such. It can't be explained away by increased reporting," Levin said. "We're at a new plateau."
The majority of the 7,175 incidents in the new FBI report were racially motivated, with crimes targeting black people accounting for half the attacks in that category.
Religious bias was the next biggest category, with anti-Jewish crimes jumping to 938 incidents from 684 the previous year. The double-digit spike holds even if you remove one major episode that skews the numbers far higher: In 2017, dozens of bomb threats were made to Jewish community centers across the United States, with each one eligible to be counted as a hate crime. Authorities determined that a few of the threats were made by a former journalist, Juan M. Thompson, who was harassing a woman he had dated; the rest allegedly came from a Jewish, Israeli American man, Michael Ron David Kadar, who'd been rejected from enlisting in the Israel Defense Forces because of mental health issues. Both men eventually were convicted.
Levin said there was a roughly 14% rise in anti-Jewish attacks even without the bomb threats, a number that reflects the alarm US Jewish groups have been sounding as they report increased hostility, such as vandalized cemeteries and synagogues. Then came the Pittsburgh synagogue shooting, in which a suspect with a history of hateful comments about Jews and other minorities killed 11 people and injured seven in the deadliest attack on the Jewish community in US history. That attack occurred last month, so it's not included in the 2017 figures.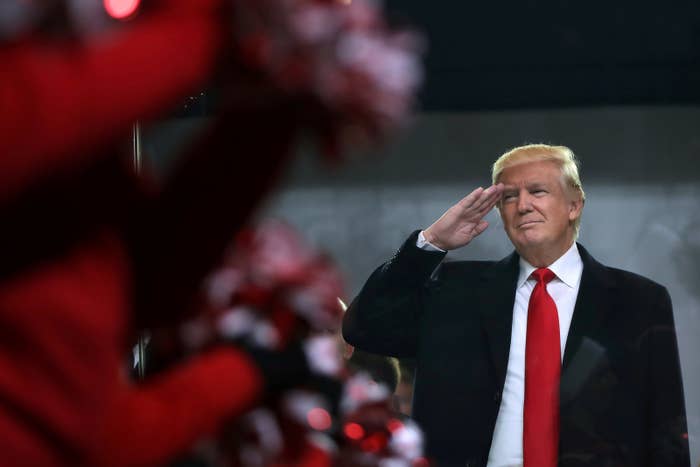 The FBI stats show a slight decrease in the number of reported crimes against Muslims, from 306 in 2016 to 273 in 2017, but that's still the third-highest reported number for Muslims ever, trailing a surge in 2016 and another in 2001 in the aftermath of the 9/11 attacks. Other notable categories: Arab Americans clocked a 100% increase to 102 incidents; crimes targeting LGBT people rose by 3%, and anti-Latino attacks, which experts say had been flat, jumped by 24%.
"This report provides further evidence that more must be done to address the divisive climate of hate in America," Jonathan A. Greenblatt, national director of the Anti-Defamation League, a Jewish advocacy group, said in a statement. "That begins with leaders from all walks of life and from all sectors of society forcefully condemning anti-Semitism, bigotry, and hate whenever it occurs."
Levin said so many factors are involved that it's difficult to make a clear-cut link between Trump's frequently racist, bigoted remarks and the crimes on the ground, but research on the impact of political speech points to at least some correlation. Levin said his data shows an uptick in hate crimes immediately after then-candidate Trump first proposed a Muslim ban, and another when Trump said he'd ban refugees. Conversely, Levin said, when then-president George W. Bush made the distinction between ordinary Muslims and an extremist fringe a week after 9/11, hate crimes fell.
Levin said the clearer trend is "the specter of white nationalism," with the rise in hate crimes running parallel to rampant online hatred and a string of the largest white nationalist rallies in a decade or longer.
"The bully pulpit is important, and there are people who respond to negative stereotypes that are promoted in the ether of society," Levin said. "Negative stereotypes are the fuel, and the spark can be from peer validation, perceived declining status, fear, as well as people who are just hardcore bigots."