Jeff Sieting doesn't pretend to be a statesman.
He's a swaggering, unvarnished good ol' boy who drives a 1977 Chevy truck tricked out with 40-inch tires, two fluttering American flags on the back, and a decal that reads "Neighborhood Bully." He dips snuff, talks God and guns, and says he's happiest in the woods. His Facebook bio describes him as "a White Christian Conservative American that strongly believes in the Constitution as it was written."
Sieting, 56, is in his fourth term as president of Kalkaska Village, a tiny dot near Traverse City in Northern Michigan, and he's locked in a fierce battle that could decide whether it's his last.
In early 2017, Sieting drew outrage for an old post he'd shared on Facebook that called for the killing of all Muslims and the nuking of Islam's holiest sites; it was among the most egregious in a recent wave of anti-Muslim statements by elected officials across the country. Sieting's refusal to apologize — partly as a free-speech stance, he says, and partly out of stubbornness — presented a challenge for the locals who stood up to him: What would it take to unseat a bigot in small-town America?
A year later, they might get their answer. An election May 8 will decide whether their activism is a blueprint for other grassroots uprisings, or a cautionary tale about bucking the status quo.
The defining moment of Kalkaska's turmoil occurred last June, when a band of protesters, including a few from the anti-fascist group Redneck Revolt, gathered downtown to march against Sieting. His supporters staged a counterdemonstration that drew bikers, gun-toting militia members in camouflage, townsfolk with Trump signs, and a man in a "Fuck Islam" T-shirt. A pro-Sieting guy drove near the crowd and revved his truck, engulfing the protesters in thick diesel smoke. The standoff was so surreal for the village, population 2,100, that one resident first thought it was a SWAT training.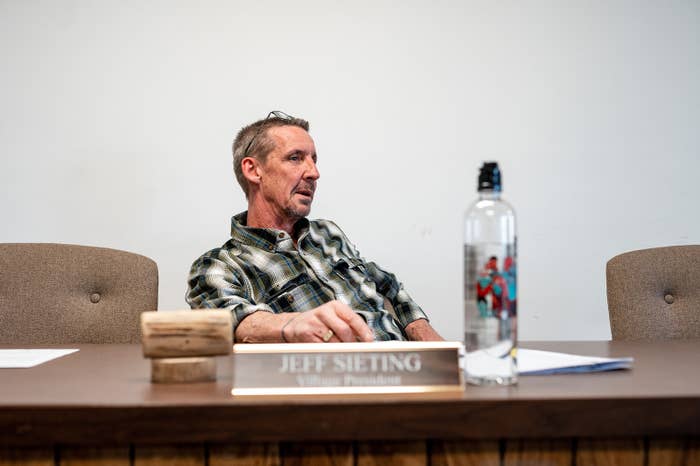 Rather than intimidate the protesters, however, the show of force galvanized them, transforming a few like-minded neighbors into an organized movement that has vowed to fight until Sieting is gone. They started livestreaming council meetings to build public awareness. They filed Freedom of Information Act requests for financial records and emails. They formed a nonprofit, Kalkaska for Peace, as well as a separate political branch. They recruited a candidate to oppose Sieting, who's held the nonpartisan office since November 2010. And then volunteers in three layers of clothing went door to door in the freezing Michigan winter until they had the required number of signatures for a recall vote.
As Election Day nears, nerves are fraying. Each side knows there's more at stake than who holds the gavel at biweekly village council meetings. It's a referendum on what families here see as the future, indeed the character, of their community. And it's much more complex than typical red versus blue politics.
He now regrets leaving in the "killing all Muslims" part of his notorious post, but he's in too deep to apologize.
This revolt against Trump-style nativism is unfolding in a town that overwhelmingly voted Donald Trump for president; Republicans are among the main organizers of the recall push. And it's a Muslim story without the Muslims — none are believed to live in the village, so the defense of Islam comes largely from conservative Christians who find Sieting's views an affront to their faith's lessons of love and tolerance.
"Clearly, a moral and ethical line was crossed. Is there actually a counterprotest to this?" said Ben Zork, a board member for Kalkaska for Peace who's lived in the village for a decade. "Whether you wrote it or you shared it, the message that was conveyed that you should kill every Muslim in the world, and then listing the major cities you should annihilate, is in no way justifiable."
Sieting argues that the only justification he needs is the First Amendment. He said he now regrets leaving in the "killing all Muslims" part of his notorious post, but he's in too deep to apologize — it would look like capitulation to a liberal agenda he fears will destroy the Kalkaska his family has known for five generations.
"If my family had the ambition to come and chisel this community out of the wilderness," Sieting said, "then I have the ambition to save it."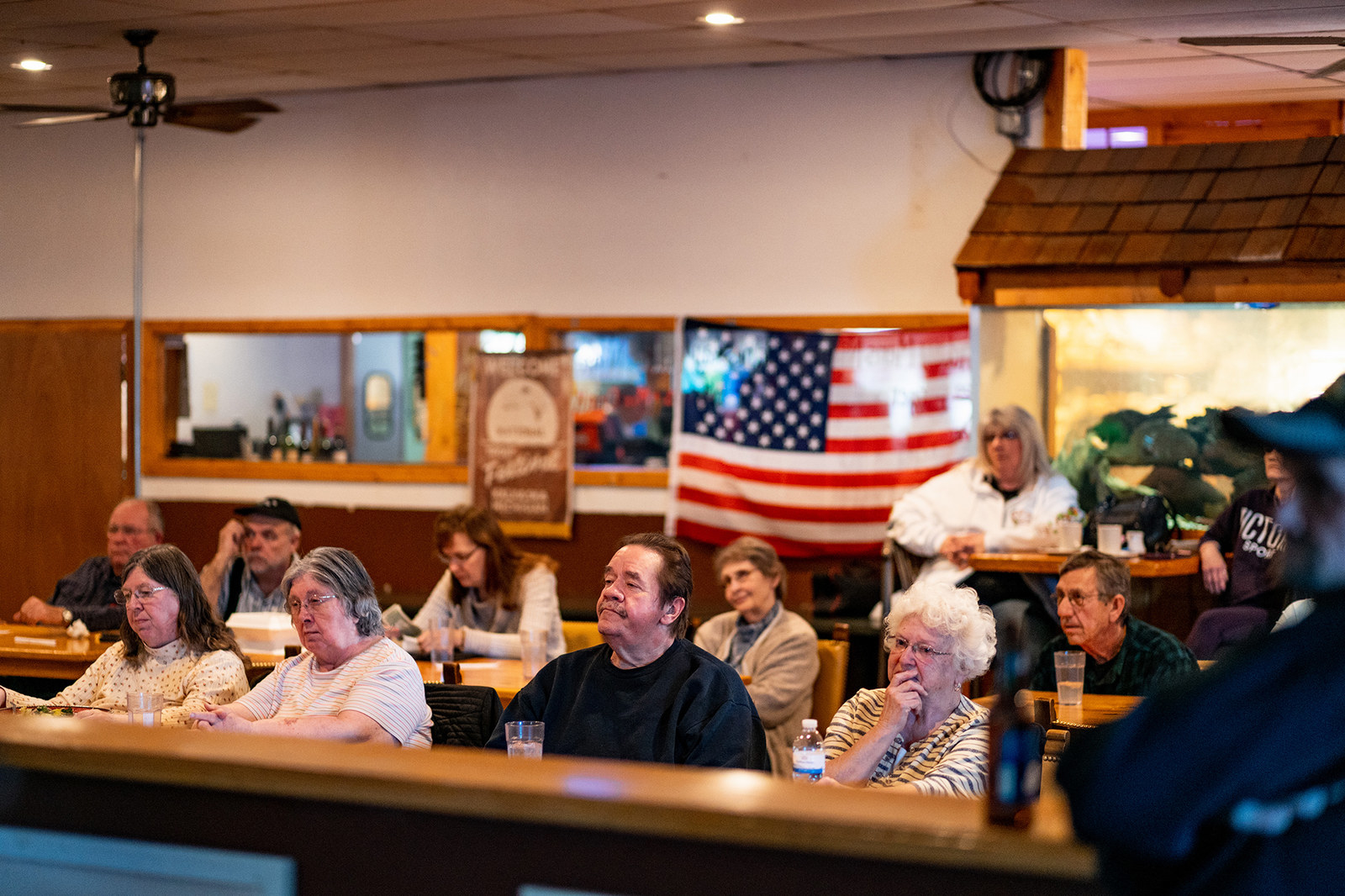 Given the conservative Republican politics of Kalkaska, it's remarkable that much of this trouble started over a Trump sign.

Until recently, Sieting owned a landmark hotel that his great-great-uncle, who served as Kalkaska sheriff, built in 1912. In the run-up to the 2016 election, Sieting stuck a large banner on the hotel that read: "For New Birth of Freedom Please Vote TRUMP."
The sign lingered in the heart of downtown Kalkaska for months after Trump won, rankling the local anti-Trump minority and worrying some business owners who feared out-of-towners driving through wouldn't stop and spend money. Those who complained noted that the sign violated an ordinance that requires campaign materials to be removed within 10 days of an election.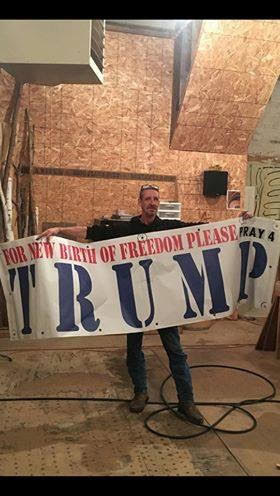 Sieting was incensed by the complaints, which he viewed as attempts to curb his free speech and force him to be "politically correct." No way was he going to comply. Instead, he covered the word "vote" with "pray 4." Voilà. Problem solved. It was no longer a campaign sign.
But the cosmetic fix wasn't enough for Sieting's detractors, who continued to demand the sign's removal. He wouldn't cave. His next move was to file paperwork to formally change the name of a boutique at the hotel to "For New Birth Of Freedom Please Pray 4 TRUMP." Now it wasn't a campaign banner, he argued, but a business sign. Not long after that, Sieting sold the hotel and the sign disappeared.
In a three-hour interview with BuzzFeed News, Sieting said the tug-of-war over the sign was worth it, even if it opened the door to a tumultuous era for Kalkaska.
"I'm not going to be bullied by anybody," he said. "I didn't make this stand for the community, I made this stand for me. I have freedoms, and I didn't negate those freedoms by becoming an elected official."
Sieting's stubbornness over the sign, along with concerns about his performance in office, prompted critics to start poking around his social media. That's how they discovered the Facebook post Sieting had copied and pasted from a right-wing blogger. It was titled "Kill Them All — Every Last One" and included descriptions of Islam as a "flesh-eating bacteria," a "death-cult," and "the crown-jewel in Satan's design to destroy all of humanity." The post called for nuclear bombs to be dropped on the sacred sites of Mecca and Medina, as well as the 10 largest Muslim-majority cities. Activists quickly alerted news outlets.
"That was a 9-month-old post," Sieting said. "I'd forgotten it was on there. It wasn't something of any consequence to me. It was just something I shared."
Not only did Sieting refuse to apologize, he's since dug in with even more posts that smear Islam, Black Lives Matter, transgender people, liberals, gun control activists, and anyone else he sees as a threat to his idea of the American way. In a series of videos, Sieting wears a shirt that says "Infidel." He posts selfies that show him cradling his AR-15 rifle.
Over breakfast at a diner in Kalkaska, Sieting was asked point-blank whether he believed all Muslims should be killed or forced to leave the country. "Absolutely not," he said.
If he could go back in time, would he still share the post? "No," Sieting said, then wavered. "I don't think so. I probably would have, but in a different context. I think I would have taken it and put in a narrative prior to the comments."
What's with the "Infidel" shirt and the videos?
"It's to evoke an emotion," he said. "It's to draw a line in the sand."
As in, a civilizational battle?
"Absolutely," he said. "We can't erase the fact that, just like Europe and many countries, there is a transition taking place today, and it's a transition that's irreversible. If you drop below a certain point, the inevitable end is what you'd refer to as the extinction of a specific race."
Is that what he felt was happening to white people in the United States?
"Not necessarily," he said, "but I think there's potential for that to occur. It's inevitable anyway, no matter what. The numbers just show it."
The conversation was long and wide-ranging, intense but civil, and Sieting displayed none of the temper that flares at council meetings.
He shared fond memories of the time he spent in the Air Force in Arizona, hanging out with fighter pilots from Saudi Arabia; they were the first Muslims he'd met. He doesn't believe the Civil War was fought over slavery, a narrative he calls "horseshit" designed to make the US government sound more noble than it was. He says the high suicide rate among transgender people indicates they're "horrifically damaged." When asked about the spike in hate crimes targeting Muslims, Sieting pivoted to Christians "being slaughtered by the thousands."
And where was that happening? "Well, it ain't in the media," he said. "All around the world."

After breakfast, Sieting gave me a tour of Kalkaska in his "Neighborhood Bully" truck, which is so high off the ground I needed a boost to climb in.
"You don't have to put that on," he said when I reached for the seatbelt.
There are two traffic lights in Kalkaska, a pass-through town for downstate Michiganders heading north to spectacular wilderness. A Burger King sits at one end, a McDonald's at the other. Sieting dreams of a day when people will spend time in the middle, where the picturesque historic downtown sits in disrepair. One of his refrains is that people don't show up for community improvement projects but turn out for protests against him.
A black pickup truck whizzed by, the back window covered with a large #TRUMP decal alongside a Confederate flag. The driver honked. "That's my son," Sieting said with a chuckle. "Can you tell?"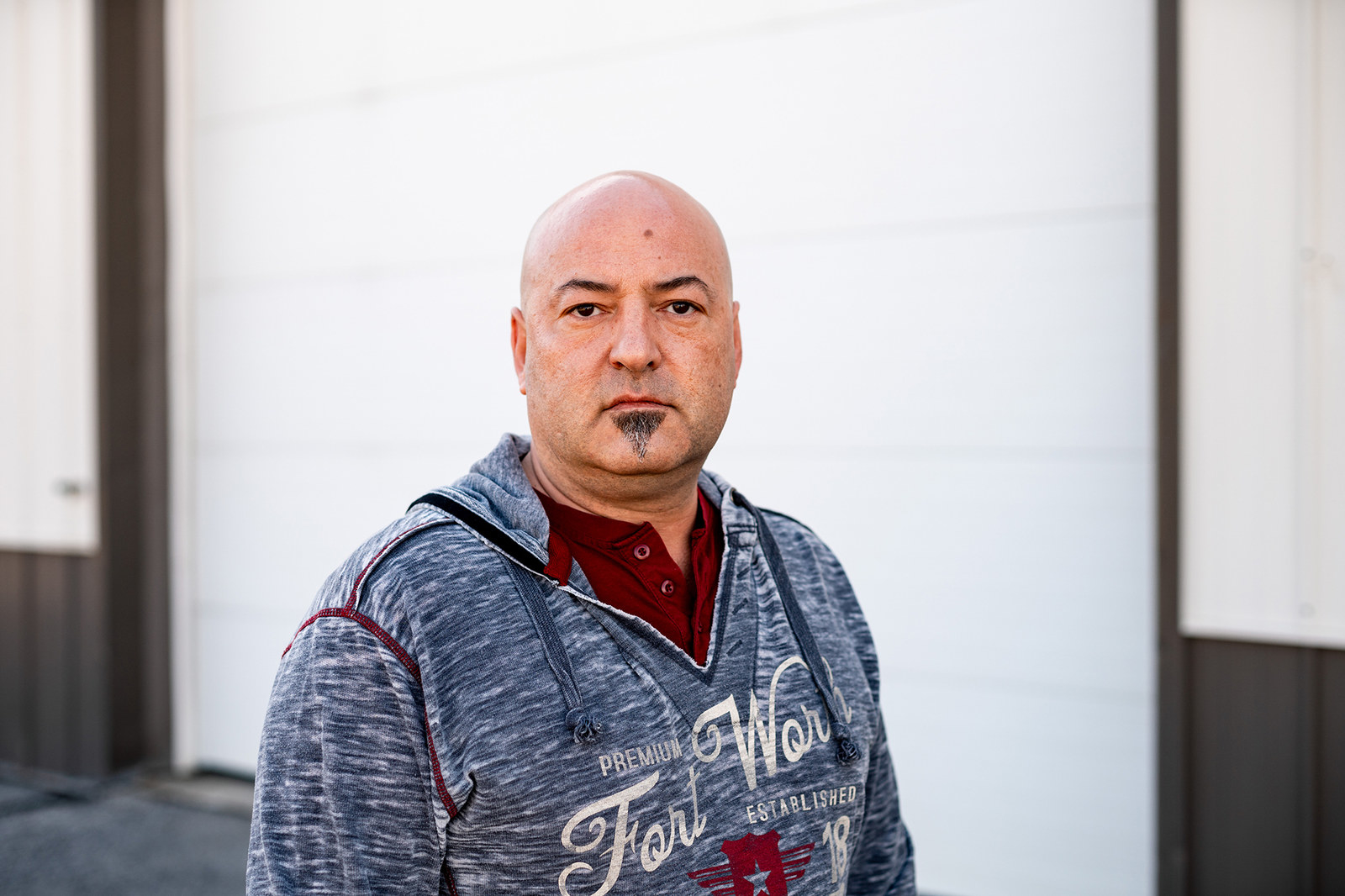 Sieting owns a garage door company in town. His food comes from local farmers and his own garden. He hunts, and he just boiled down 300 gallons of sap for maple syrup. As he drove through the streets of Kalkaska, he knew the story of just about every house. Some yards had signs up saying "Keep Jeff Sieting," others had signs for his opponent, Harley Wales. At nearly every stop, people recognized his truck and waved.
It's hard to grasp why someone with such deep connections in Kalkaska would, at every turn, escalate a situation that residents say has hurt tourism and hampered recruiting for vacancies at the local hospital. Sieting said the episode, painful as it is, is forcing the kinds of tough conversations he says should be occurring on the national level. He paints the fight as liberal versus conservative, Trump voters versus Trump haters, free speech versus censorship, freedom versus tyranny.
Sieting said the episode, painful as it is, is forcing the kinds of tough conversations he says should be occurring on the national level.
"I'm unwilling to grovel at the feet of their false authority," Sieting said. "And if I survive, what kind of a message does that send? I guess it's really a matter of perception. You could perceive it as: Kalkaska really is this Nazi-loving, white supremacist, hate-everybody community. Or they could say, you know what, maybe there is actually freedom in this country and people can speak their piece."
Sieting hopped a curb and rolled over the grass ("You're really not supposed to") to park across from the hotel, ground zero for the June protest. Sieting said he didn't invite the bikers and militia members who came that day, but welcomed their backup. He conceded that some of his supporters went too far, with the diesel smoke and the slurs yelled from the rooftop of his hotel. Sieting called the behavior childish and unhelpful, stressing that he "absolutely did not and would not sanction that."
Still, as in all his scandals, Sieting refuses to apologize. In the midst of what he calls "an orchestrated coup" against him, he said, he can't afford to give an inch.
"For me to surrender in any way at this point will be nothing more than a feeding frenzy," he said. "They will come in and shred anything they can put their hands on. It needs to start and stop with me."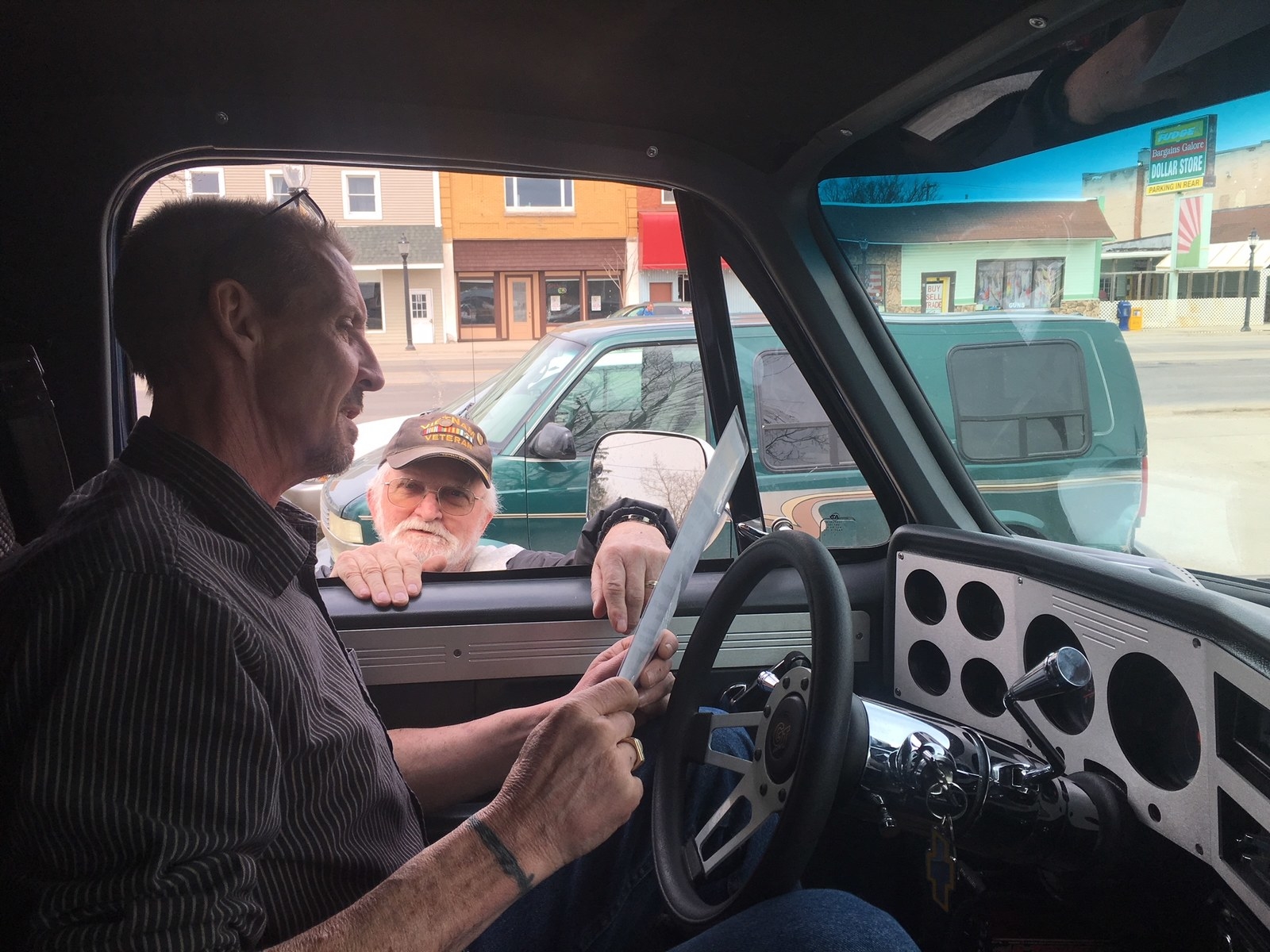 A white-haired man in a Vietnam Veteran cap spotted Sieting's truck and came up to the window. He wanted to talk about a dispute among local veterans groups over competing visions for marking the 50th anniversary of the war.
"You guys just need to roll up a doobie. Sit down, burn one, mellow out, eat some frickin' Oreos," Sieting counseled, before adding, "Just kidding."
With sadness in his voice, the elderly man said he wished the veterans could've found a compromise.
"Would've been nice," Sieting said. "But show me one facet of life we're living in that's not divided."
"Can't," the man said.
"Can't," Sieting agreed.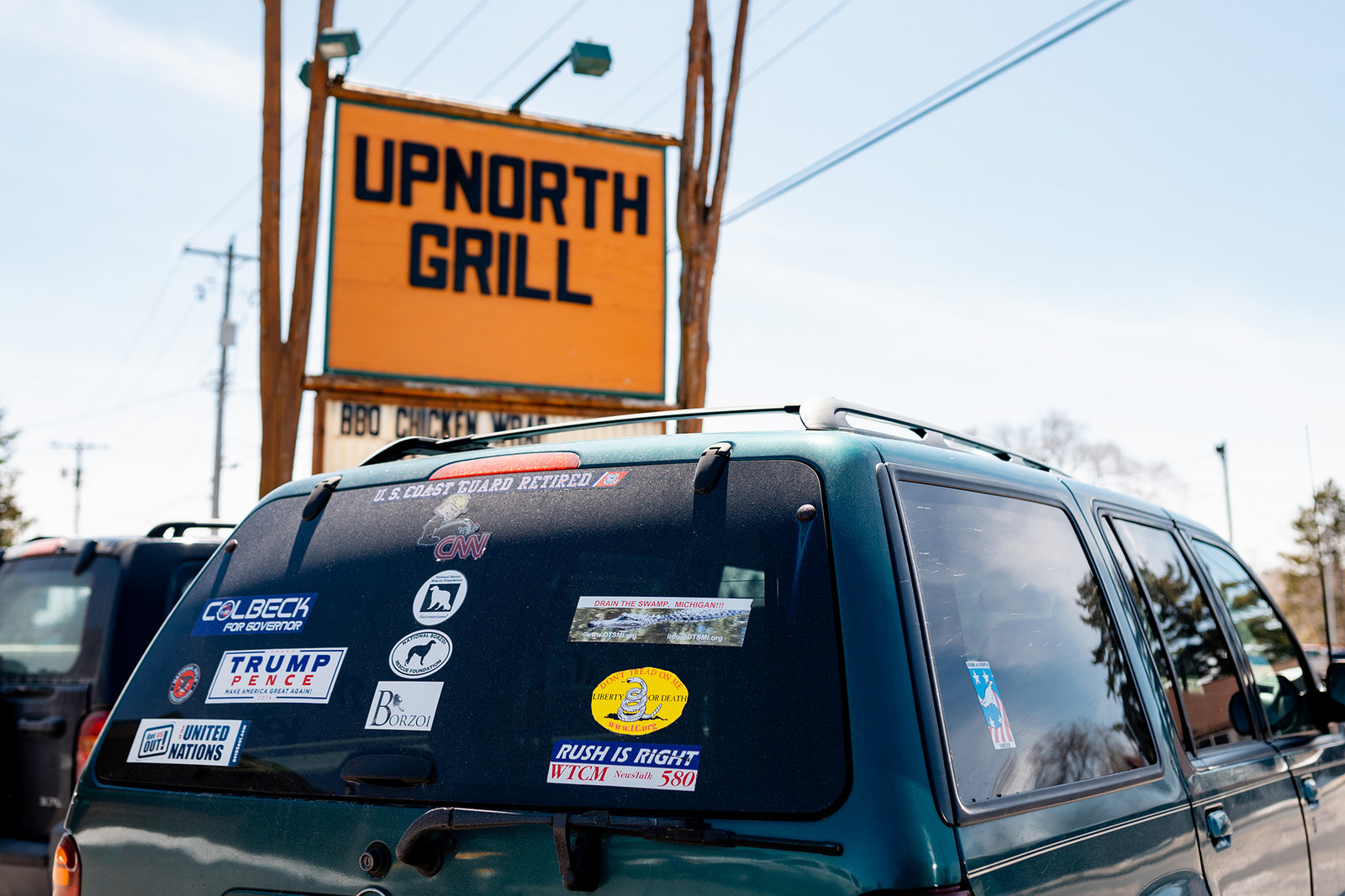 Sieting likes to portray his opponents as outsiders, liberals from 30 miles away in Traverse City, but in truth, most of them are homegrown, with grievances against him that predate the Trump sign or the anti-Muslim comments.

The activism around the headline-grabbing issues is happening in tandem with a quieter scrutiny of how Sieting conducts village business. He's in an ugly public battle with one trustee, Penny Dupuie Berry, who's so frozen out she has to file FOIAs to get basic information about the council on which she serves, and with the village treasurer, Jennifer Standerfer, whom Sieting tried to get rid of when she cut off village credit cards over missing receipts. Standerfer has filed a five-page ethics complaint against Sieting, accusing him of conflict of interest, misuse of village property, being dishonest about an audit, holding closed-door meetings, using hate speech, and a slew of other alleged violations of his office. Sieting called the claims "as fabricated as you could possibly get."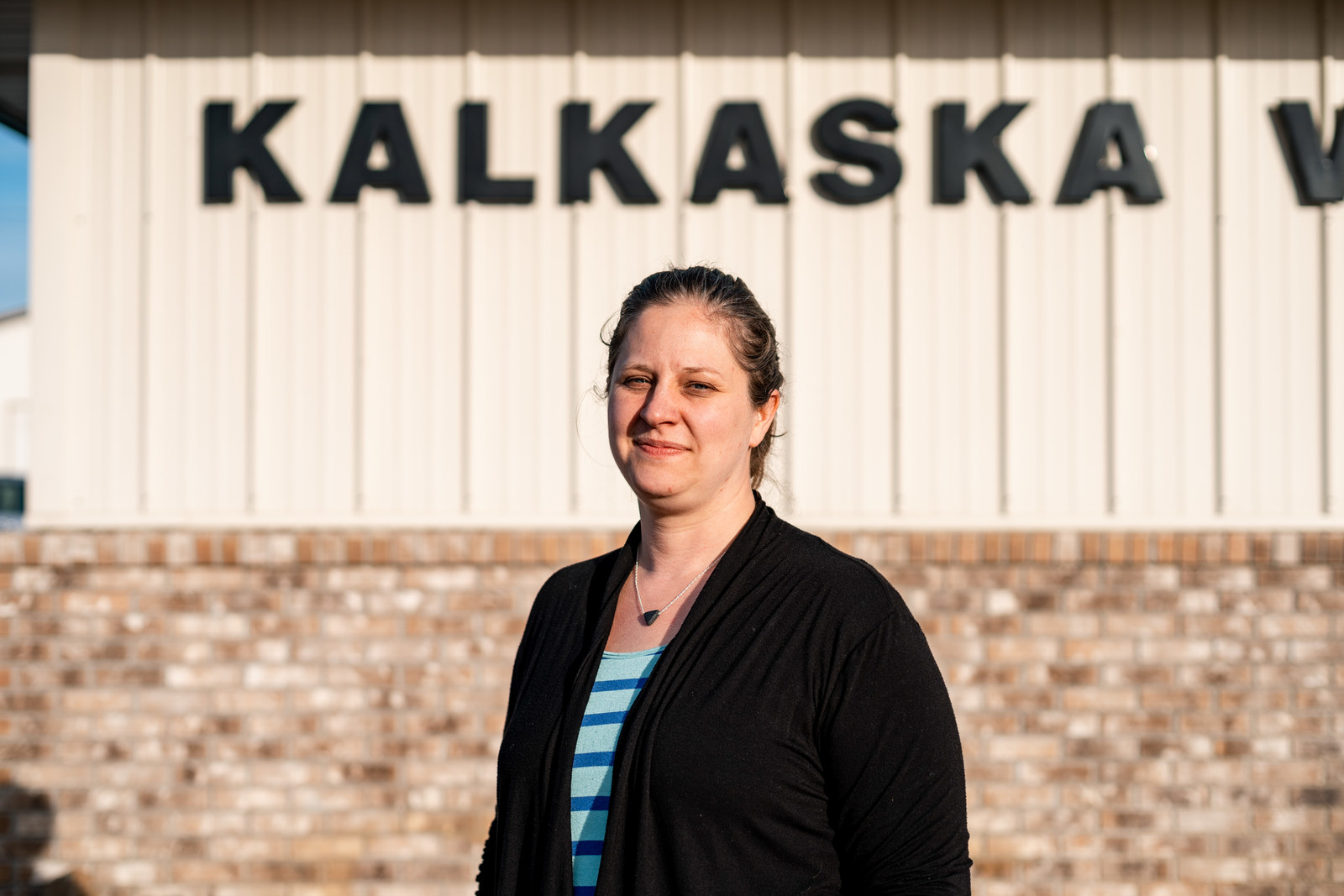 Berry said her concerns over Sieting's management turned into alarm on the day of the dueling protests. She said she watched for several minutes as burly men from the Sieting side blocked a black girl and her friends from crossing the street. Enraged, Berry said, she marched out and took the teens' hands and escorted them through the crowd.
"I assumed there was racism here and there, but I've never seen hatred like this," Berry said. "This is my family, this is my life, and to have someone be so blatantly hateful is unacceptable. My children will be raised to know that this is not OK. Even in small-town Kalkaska."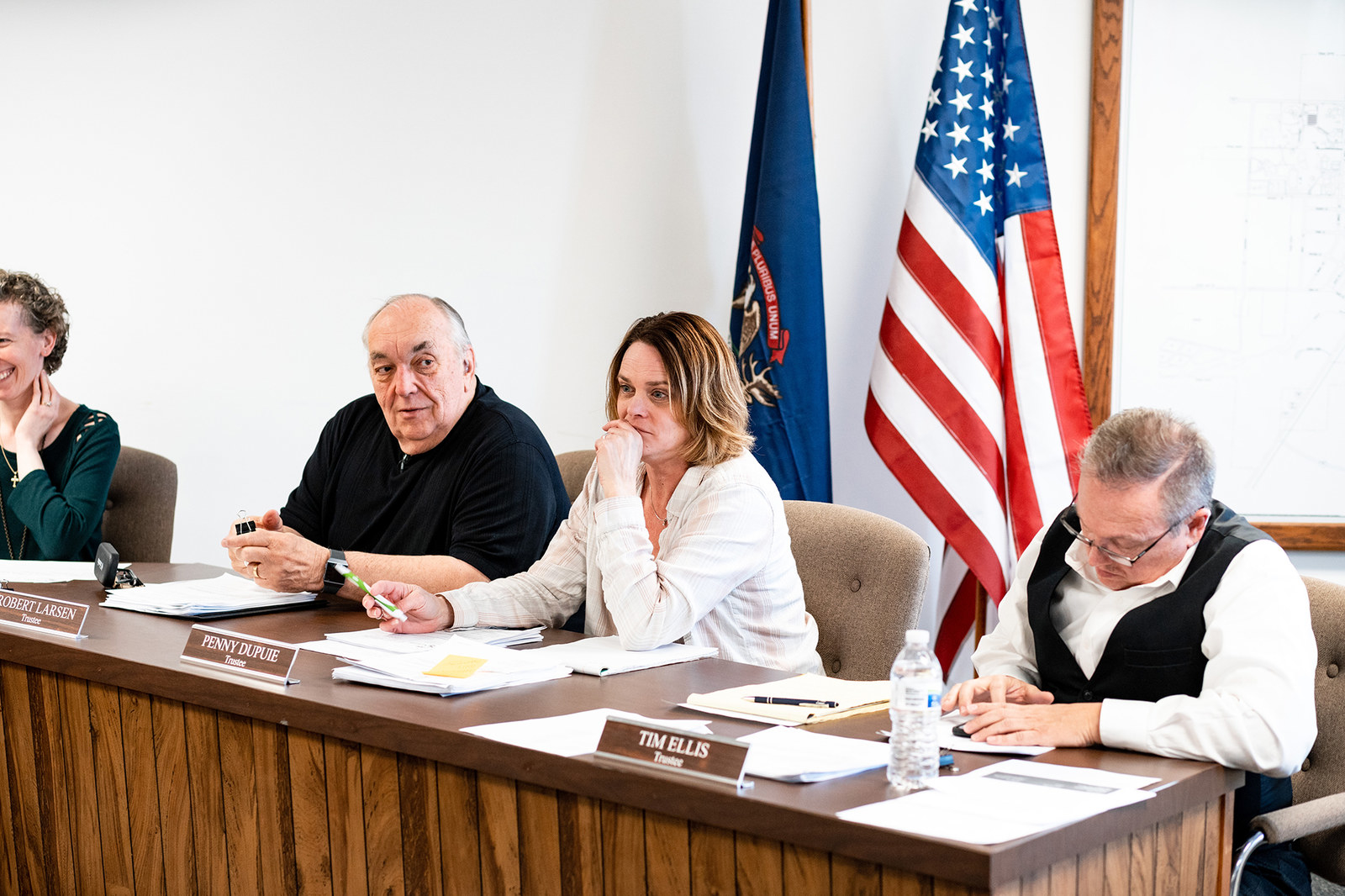 Many in the anti-Sieting camp say they'd find poetic justice in a win for their candidate, Wales, who as a gay man with a partner of 20 years symbolizes a departure from right-wing fearmongering about Muslims, LGBT people, immigrants, and anyone else seen as "different." Wales grew up in a conservative household just 11 miles away, and he's lived in the village for 12 years, building relationships with hundreds of families through his work at the local hospital and the fitness classes he teaches on the side.
When anti-Sieting activists approached him early this year about running, Wales said, friends called to warn him about what he would face. He took the concerns seriously, he said, but the anti-Muslim comments and heavy-handed response to the protest made it impossible for him to stay on the sidelines.
"I assumed there was racism here and there, but I've never seen hatred like this."
"This is not what Kalkaska is about," Wales said. "You are one person. You cannot represent this whole town and make everybody think we're waiting on rooftops to shoot you as you drive through town."
After announcing his candidacy in February, Wales began attending every public meeting he could, learning how the various committees worked and talking to voters about the changes they wanted to see. He scrubbed his social media of anything that might be used to portray him as out of step with village values — too much skin in a fitness video, or a "like" for a Democrat. He makes sure voters know he's a gun owner, although "unlike most of the people in this town, I only have one."
Wales said people generally receive him with friendliness in person, but he's been attacked repeatedly on Facebook, where much of Kalkaska's squabbles are hashed out. When vandals began ripping down Wales' campaign signs, his supporters dug out their trail cams, typically in storage until deer-hunting season, and set them up around town to try to film the culprits.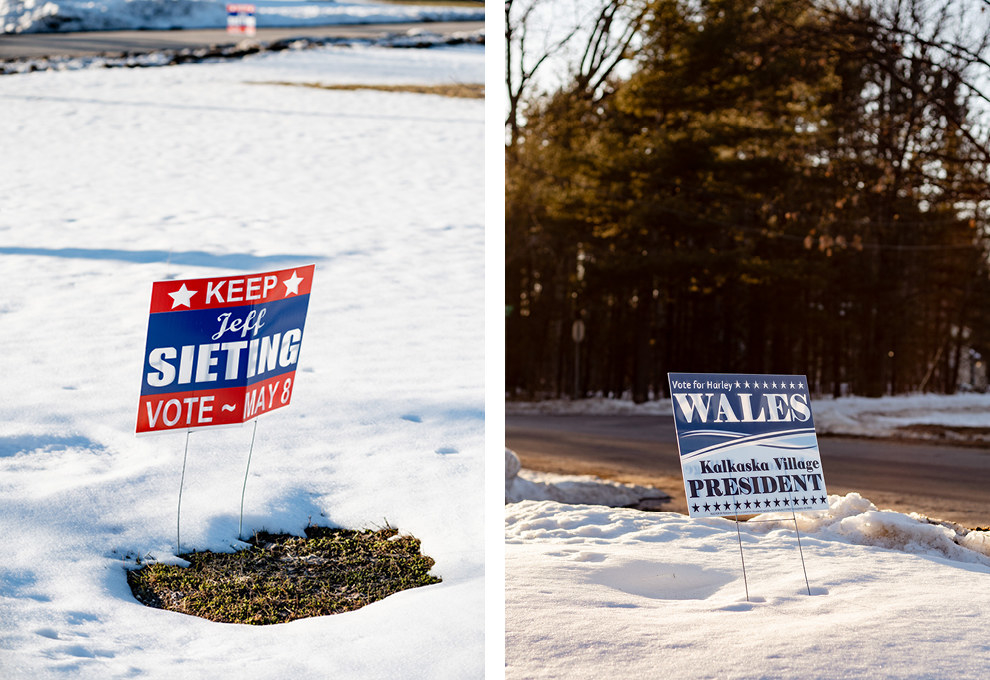 "Everybody asks, 'How's the election going?' and I say, 'Well, I haven't been shot at yet,'" Wales said. "They laugh it off and I'm like, 'No, really.'"
The opposition against Sieting is made up of Republicans, Democrats, Libertarians, and apolitical residents who simply were moved to action by the events of the past year. Despite the diversity, Kalkaska for Peace, the public face of the opposition, is repeatedly attacked by critics as being a socialist group with values way too liberal for the community.
"Everybody asks, 'How's the election going?' and I say, 'Well, I haven't been shot at yet.'"
Kalkaska for Peace held an interfaith roundtable and took heat for including an atheist. They sponsored an essay contest that invited students to think critically about hate speech; parents sabotaged it through a smear campaign accusing Kalkaska for Peace of "indoctrinating" children with liberal ideas. By the end of that debacle, only two students had submitted essays, and the school board asked the group not to publish them because of worries the writers would be bullied.
"These kids wrote some really phenomenal essays and we just gave them their money and that was it," said Elizabeth Dunham, cofounder and chair of Kalkaska for Peace.
Of all the figures publicly opposing Sieting, Dunham is perhaps the one that bothers him most. Her roots in the village also go back five generations; Sieting spoke of her family with admiration even as he lamented that Dunham had become "a patsy" for the liberals.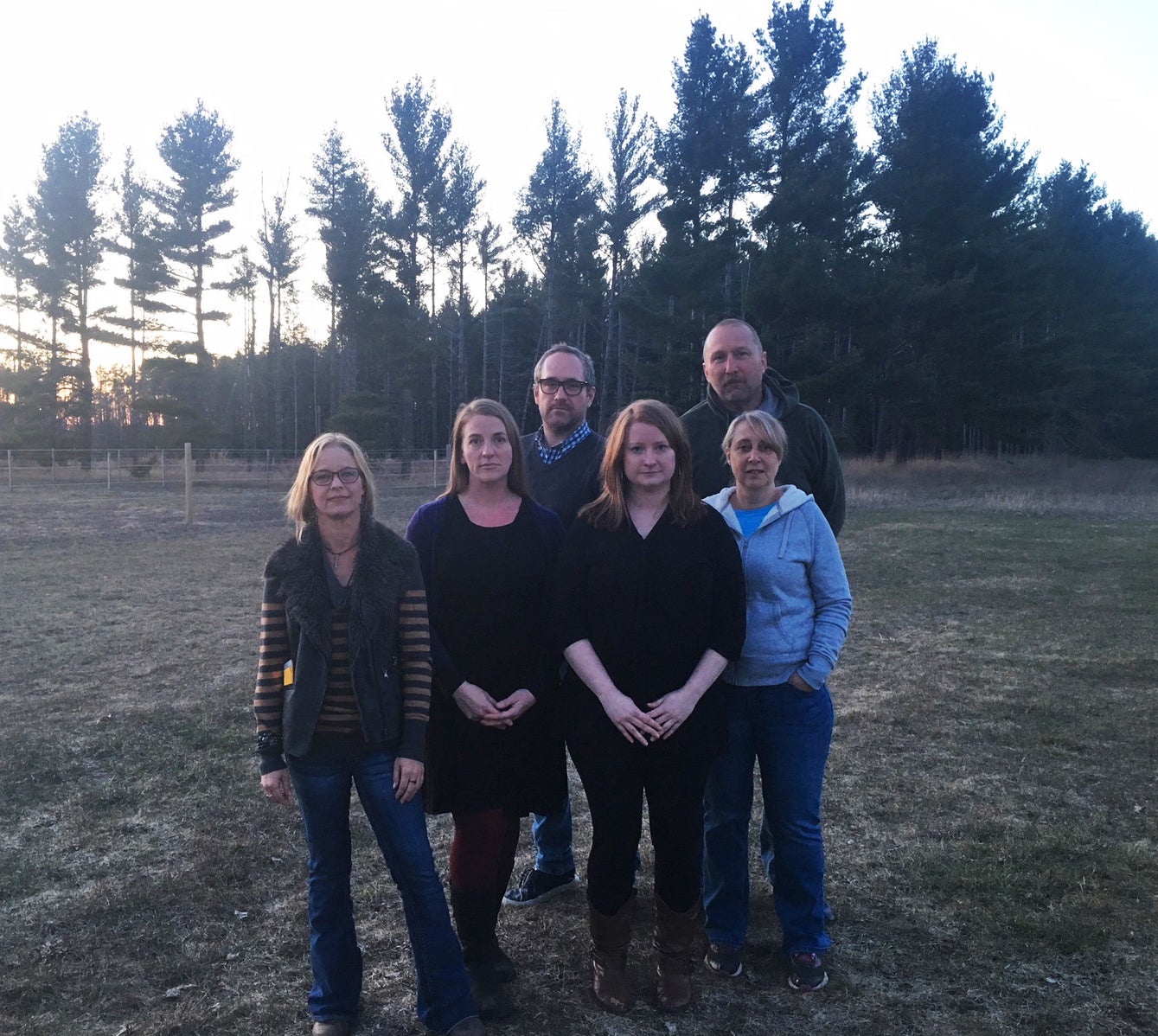 A few years ago, Dunham set out to see the world, living for a while in the Muslim-majority countries of Chad, Jordan, and Egypt. She witnessed historic moments in the Arab Spring uprisings and still speaks some Arabic. She said the warmth and hospitality she experienced overseas shattered stereotypes about Muslims and reminded her of what she loves best about home.
"You're not really enjoying Kalkaska until you're sitting on someone's porch talking about whether or not the frost is going to affect your tomato plants, or if the mushrooms are up. And if you're leaving someone's house at dusk, they're always going to tell you, 'Watch out for the deer,'" Dunham said. "These are the kinds of thing that make our culture special."
Dunham spoke while holding a friend's baby at a potluck thrown by supporters of Kalkaska for Peace. Surveying the spread of hamburgers, casseroles, and cake, several people joked about stress-eating before the election.
"If we can do it, it's the perfect ending to the story," said Zork, the board member. "That this happened, people didn't agree with it, they did a recall, and they won. I like that ending."
"And if it doesn't end like that," Dunham said, "people will still know we were really ballsy and that we're not done." ●