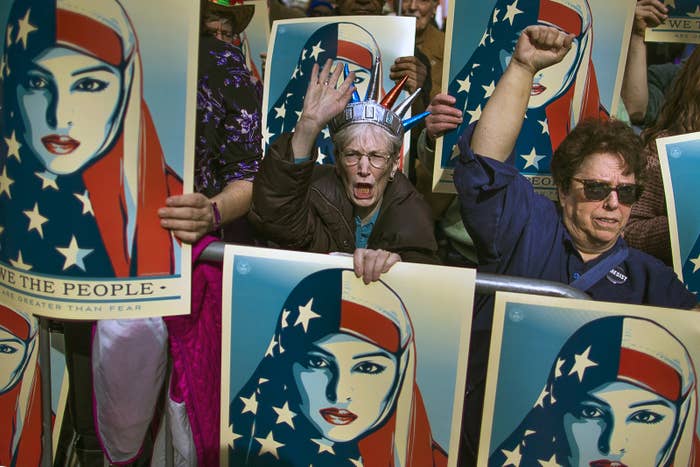 Two months ago, board members of an Islamic seminary in southern California debated late into the night before voting 7-1 to reject the single biggest grant they'd ever been awarded: $800,000 in U.S. government funds.
Administrators knew the decision would be welcomed by Muslims nationwide. What they didn't expect was a windfall.
Declining the grant money drew instant praise for Bayan Claremont from Muslims who saw it as pushback against so-called CVE, or countering violent extremism, anti-radicalization tactics that focus primarily on Islam. Along with the compliments came cash - lots of it.
Since the vote, private donations have made up for $550,000 of the rejected grant money, with future fundraisers scheduled in Houston, Las Vegas, and Cleveland to reach the full $800,000, said Bayan Claremont President Jihad Turk. An added bonus, he said, is that direct donations mean the school has a freer hand in how to use the money.
"Our community members said, 'Don't take it,' and we said, 'OK, so step up then. This was over half of our annual budget.' And they did," Turk said.
The outpouring for Bayan - one doctor alone gave $300,000 - shows how impassioned Muslims are about two sensitive issues tangled up in the grant debacle: whether to associate with the Trump administration, and whether to participate in programs billed as CVE.
Homeland Security had touted the grant program as a model for government partnership with local groups. But if CVE already was controversial, Trump's election made accepting the money impossible for many Muslim nonprofits. At least four Muslim awardees so far have declined more than $2 million from the grant program; protesters have launched petitions and social media campaigns to pressure others into following suit.
CVE initiatives are meant to stop radicalization before an individual becomes violent; examples are preventative programs or interventions once someone starts down the path toward extremism. At a time of sophisticated messaging by extremists, supporters of CVE argue, it's only prudent to teach families how to spot signs of radicalization and to reinforce moderate values.

Critics say radicalization in the United States is so rare and so personalized that broad CVE tactics amount to ineffective religious policing of Muslims. The most anti-CVE say Bayan's move isn't heroic - they believe the college never should've applied for a government grant in the first place.
As attorney and frequent CVE critic Ahmed Shaikh wrote on the Muslim Matters blog, turning down the funds is only a "first step in righting an ethical lapse."
"Muslim leaders and community members should be assertive in demanding groups that have successfully applied for CVE funds reject or return the funds to maintain any level of access and credibility within Muslim spaces," Shaikh wrote.
The backlash of recent years has forced practitioners to rethink the scope of CVE, with some officials in the former Obama administration pushing to hand over programs to grassroots groups and to focus on white nationalist extremism. White supremacist groups are enjoying a surge in popularity coinciding with the rise of Donald Trump; federal authorities describe them as a threat equal to and at times greater than that of Islamist militants.
It was considered a small breakthrough when recipients of grants from the $10 million CVE fund included Life After Hate, a group started by ex-members of the far-right neo-Nazi movement with the goal of rehabilitating white supremacists.
"Hey, great news! We got this huge grant. Bad news is, we're turning it down."
Now, however, the Trump administration shows signs of making Islam once again the central, if not sole, target of the CVE program.
Even though the Homeland Security grants were awarded in the last days of the Obama administration, Trump officials' bashing of Islam makes any government money radioactive to a large, vocal bloc of American Muslims.
Ka Joog, a Minnesota nonprofit involved with the Somali community, rejected nearly $500,000, saying in a statement that the Trump administration was trying to "instill fear, uncertainty, and anti-Muslim sentiments."
One of the most organized efforts targets the University of North Carolina at Chapel Hill, which was awarded more than $850,000 - the biggest single award from the pot. The school's Muslim Students Association and allied groups have collected about 1,000 signatures on a petition calling on the university to turn down the money, which is to be used for the production of videos to fight extremist messaging.
Organizers of the campaign at UNC say the effort will be worth it even it means only that more people on campus are aware of how Muslims are stigmatized by CVE, especially the way the Trump administration envisions the program.
"Now is the time for people and institutions to do the harder work of asking what does it actually mean to support the Muslim community, and it might mean rejecting $867,000," said Fatema Ahmad, who represents Muslims For Social Justice on a coalition urging UNC to decline the funds.
Turk, the Bayan Claremont president, said board members made their decision just before a previously scheduled retreat with supporters from around the country.
"We kind of sprang it on them," Turk said. "Hey, great news! We got this huge grant. Bad news is, we're turning it down and these are the reasons. And they said, 'OK.'"
A doctor in town ponied up $300,000, other donors gave checks for as much as $30,000, and others hit up friends in fundraising drives that collected more. Most of the donations came through a GoFundMe campaign called "Support Bayan Said No."
As eager as he is to move beyond the episode, Turk said, there's a lingering unease with how Bayan's grant proposal was depicted as part of some government plan to put Muslims under surveillance. The college, which is housed within the Claremont School of Theology, had intended to use the funds for a two-year project called "Flourishing Communities" to promote interfaith work and civic engagement. The school is now revising the proposal to shop to new non-governmental grant programs.
"I got people from every corner of the country, unsolicited, saying thank you so much for turning down this money. This was great, this was courageous," Turk said. "But you're only congratulating because you bought into this narrative of what it meant - people thought it was about surveilling the Muslim community, and endorsing that, and it wasn't."