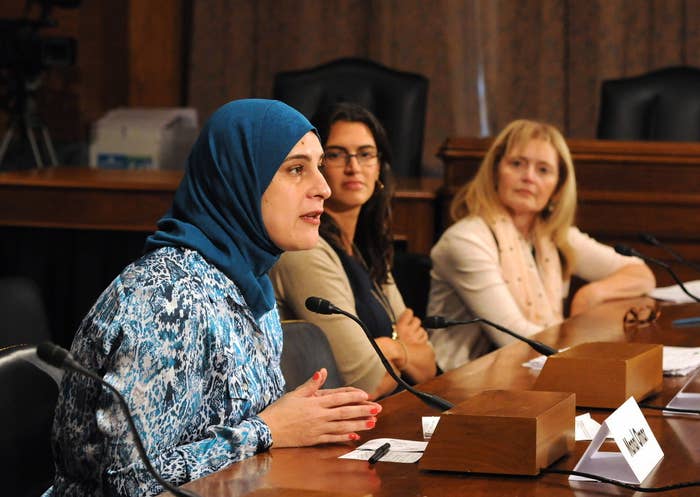 To take down Manal Omar, a US Muslim peace broker who's spent 20 years working in the world's most dangerous places, a Republican lawmaker dug out a C-SPAN clip from nearly two years ago.
At the time, Omar was a senior official at the United States Institute of Peace, and she was responding to a call-in question about then-candidate Donald Trump's campaign talk targeting Muslims and immigrants. Omar told the caller she couldn't think of any excuse for "that type of hate speech."
"I'm a fan of the difficult conversation, but what Trump is doing is inciting violence," Omar said in the video from January 2016. "Make no mistake of it. He has blood on his hands."
Bingo. That snippet made it into a congressional hearing last week, with a request to yank funding from the government-backed US Institute of Peace on the grounds that Omar's remarks violated its nonpartisan mission. Omar counters that she was simply continuing the work she's honed in Iraq or Nigeria: sounding an alarm on hate speech that could spiral into violent conflict.
In any case, one of the most prominent Muslim women in the country was jobless two days later. Even before the drama, Omar had submitted her resignation because she felt muzzled, unable to speak frankly about Trump from a government perch, but she'd planned a quiet exit by the end of this month. Now, with her name smeared on Capitol Hill and silence from policymakers who share her concerns, Omar has decided to leave with a yell.
"It's so much less about me. It's about conflict being preventable. And gagging not only a peace builder but a peace builder you pay and you hire? People should be outraged," Omar told BuzzFeed News on Tuesday in the first interview since her exit.
A spokesman for the US Institute of Peace said he couldn't comment on Omar's departure because personnel matters are private. The institute's media guidelines ask employees to refrain from advocacy or commentary on US partisan politics or political issues.
Omar's case belongs to a wider debate over what constitutes partisanship under the Trump administration. Groups or officials who typically shy away from taking public political stances are wrestling with how to maintain neutrality when even Pope Francis and the United Nations human rights chief have decried Trump's actions. Similar cases have sprung up at news organizations, think tanks, and universities, not to mention a crackdown on dissent within the administration.

Where's the boundary between a partisan critique and simply calling his behavior what it is?
ESPN faced the issue this week when SportsCenter host Jemele Hill, a black woman, called Trump a bigot and white supremacist in a series of tweets Monday. ESPN issued a statement Tuesday denouncing her tweets; on Wednesday, White House press secretary Sarah Huckabee Sanders said Hill should be fired.
In February, the White House dismissed a senior National Security Council aide, Craig Deare, after reports surfaced that he'd criticized the administration's dysfunction at an off-the-record event at a think tank.
The same month, Shermichael Singleton, a black Republican political consultant, was fired just two weeks into his job with the Department of Housing and Urban Development after a background check turned up an op-ed he'd written that said Trump's rhetoric on inner cities "sounds like a coded message from an era in history that should stay in the past."
In those and other examples, the question is: With Trump so outside the norm for presidential decorum, where's the boundary between a partisan critique and simply calling his behavior what it is? Would Omar have been deemed partisan if she'd criticized Trump's response to white supremacist violence in Charlottesville? What about his boasting of grabbing women's crotches? Or his attacks on journalists?
Omar said the fuzziness of the line compromises the integrity of think tanks and aid groups that are forced to walk a tightrope, trying get what they need from the Trump administration without being seen as endorsing its actions. People who speak out have no job security, Omar said, adding that her background as a Palestinian-American Muslim woman made her an especially visible target.
"When I saw the hearing and heard them call me out, it scared me. This isn't a joke anymore. Congress throwing your name out?" Omar said. "Then the more calm me said, 'Be grateful, now you get to explain.' Because I feel that there was an untold story."
Omar was born in Saudi Arabia, then immigrated to the United States as a child with her parents, who are Palestinian. She grew up in the college town of Spartanburg, South Carolina, and later moved to Northern Virginia. Her international background and fluency in Arabic would become assets after she graduated from George Mason University and entered the world of international aid work.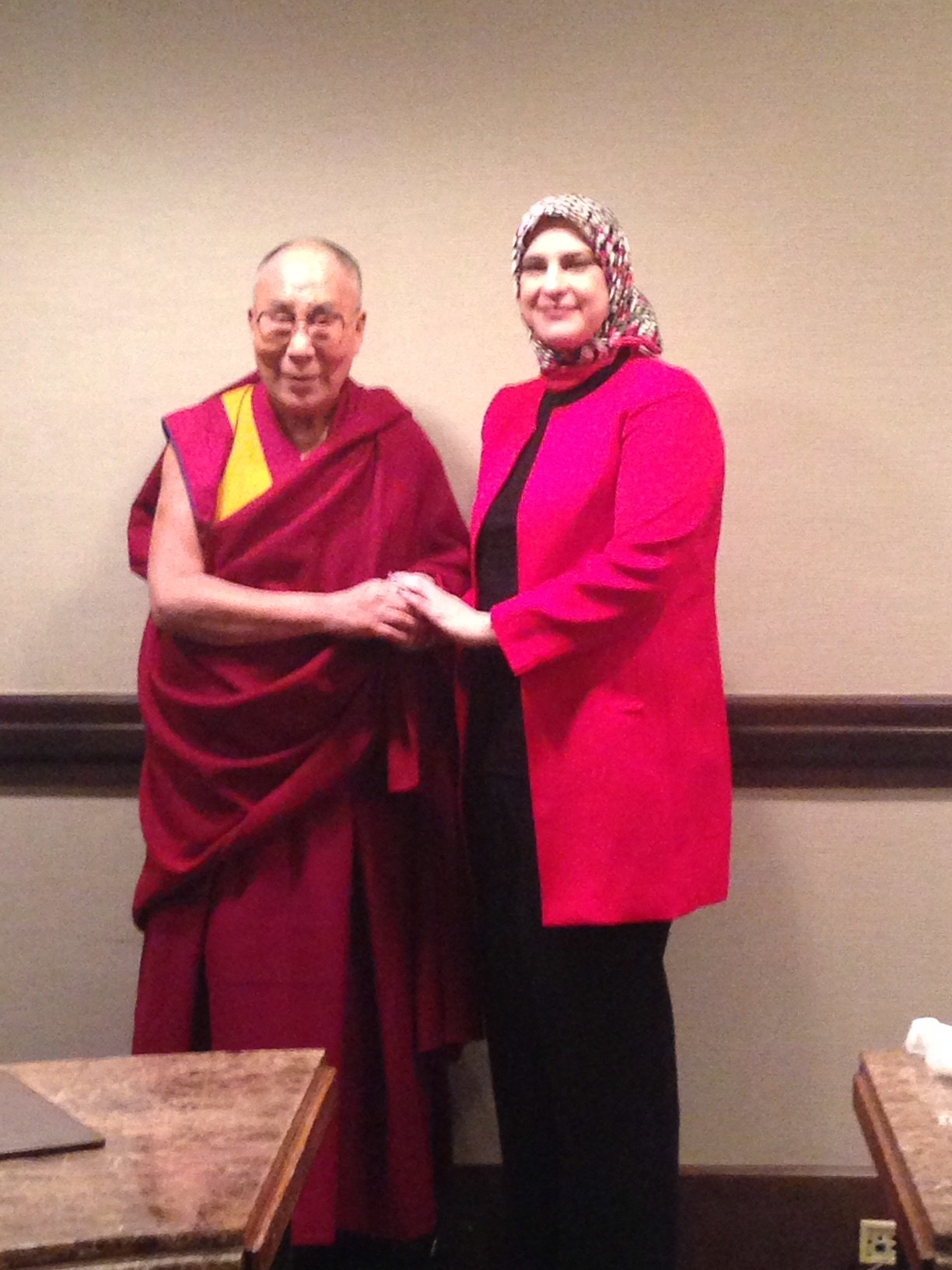 For the past two decades, Omar has worked in conflict zones throughout the Middle East and North Africa, finding help for victims of sexual violence or hauling warring parties to the negotiating table. In Iraq, she worked for Women for Women International, and later she worked in Syria with the international aid group Oxfam. Omar also had stints at the World Bank and the United Nations.
Omar said she gained trust with overseas contacts because she'd always stayed independent of the US government, which was a stakeholder in the conflicts she handled. That would change in 2008 when she joined the US Institute of Peace, or USIP, which was established by Congress in the Reagan era to work in tandem with US military and diplomatic efforts to resolve crises around the world. The bulk of USIP's funding comes from the government, despite repeated congressional efforts to reduce it or end the support altogether.
"My father saw it as selling out. He was like, 'Just be aware. Even if you don't think you're CIA, everything you write feeds intelligence,'" Omar said. "He said, 'Be very conscious – this is the material they use to justify bombing your people.'"
Omar said she had her own reservations, but wanted to get away from the defeatism that takes root among humanitarians who see large-scale suffering they know could've been prevented.
She was paid to recognize those signs abroad, she said, but it was taboo to point them out at home.
"I was tired of us getting together, crying and moaning and frustrated," Omar said. "I thought, What would happen if I got in the room with decision-makers?"

Omar rose through the ranks at USIP, becoming a fixture on the Washington think-tank scene, especially on issues involving women, Islam, and the Middle East. She popped up on panels and in TV spots, a striking figure with a colorful headscarf and a big personality. Omar made ripples at the 2014 White House iftar, where she confronted President Obama about Middle East policy; cameras captured them arguing in the receiving line.
Omar's standing in the foreign policy world made her an ideal guest for news show bookers — she said USIP arranged the C-SPAN interview that would end up hastening her departure. Omar said she returned from the TV studio that day, Jan. 5, 2016, to praise from USIP colleagues who'd watched. Not one, she said, mentioned her jabs at Trump.
Omar said she didn't regret the remarks, though in hindsight she wouldn't have said Trump had "blood on his hands." She explained it as "a human moment" born of a nasty campaign that coincided with rising attacks on Muslims and immigrants. After the election, she criticized Trump's travel ban in another interview, with Al Jazeera, then told USIP's media team she was taking a break from the press.
She'd become increasingly uncomfortable with having to watch her language when asked about issues she found morally indefensible. And the more Omar heard Trump attack journalists, green-light the militarization of police forces, and demonize immigrants, the more she saw the red flags that preceded unrest in other countries with deep political divisions. She was paid to recognize those signs abroad, she said, but it was taboo to point them out at home.
"The key element that I've seen in my work that prevents conflict is when people are able to name it. You can't change it until you name it," Omar said. "When Trump was campaigning, anyone who does conflict work could tell you that's incitement, and people did. Anyone who was in the peacebuilding world was commenting on Trump's rhetoric."
Omar said she used to joke with friends about when she'd have her "Dave Chappelle moment," referring to the black comedian who famously walked away from a $50 million contract because of misgivings about the message his hit TV show was sending.
After the election, Omar said, she watched the administration play one agency against another, dangling threats of funding cuts. She was sickened, she said, at having to give the Trump team access to her files on Libyan, Iraqi, and other Arab activists; her contacts' lives could be endangered if the data fell into the wrong hands.
Omar couldn't take it anymore. In June, she submitted her resignation, she said, and USIP asked her to stay on until Sept. 30. After the hearing, she and USIP agreed she should leave immediately.
"From almost the time I got into government, I wondered when my Dave Chappelle moment was going to arrive," she said. "And it arrived. With Trump."
The hearing, called by the House Rules Committee, which decides how legislation is considered on the floor, took place Sept. 5 as Omar was flying back to Washington, DC, from a retreat in New Mexico. Upon landing, she found several text messages from friends alerting her that Rep. Scott Perry, a Republican from Pennsylvania, had just brought up her C-SPAN interview.

Omar watched a clip of the hearing in shock as Perry blasted her remarks as a "highly divisive partisan attack" on the president and the Republican Party. She was stunned that she'd been singled out among the institute's more than 300 employees. Omar said she believes the attack was less about her work at USIP and more about what she represented.
"I think it was, 'All right, we're doing budgets, let's see if we can knock out this Muslim in a high-level position,'" Omar said. "Watch him, how he says my name."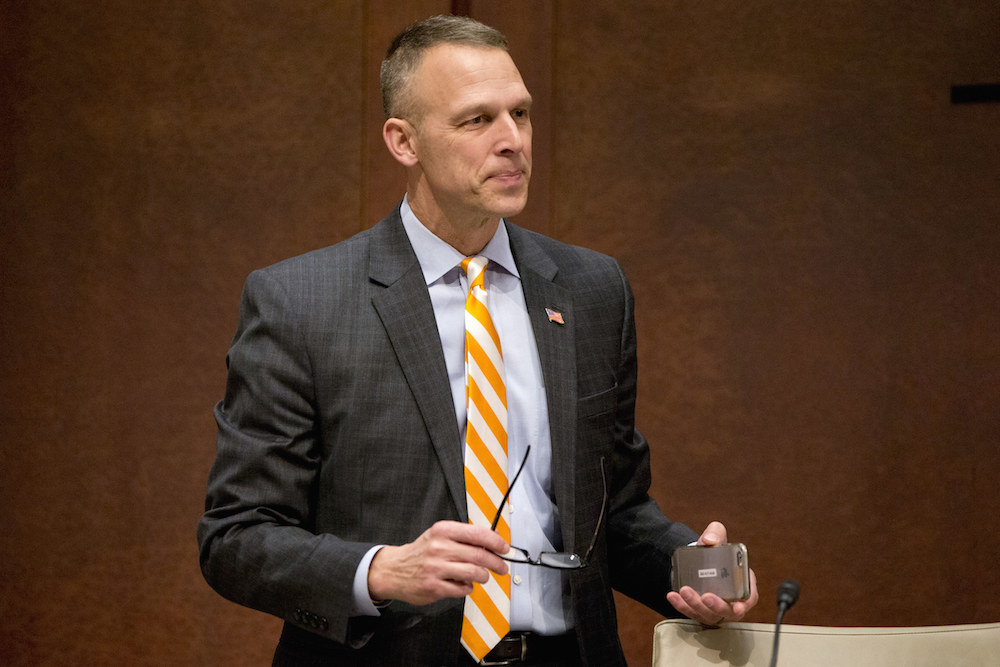 Perry, a Trump supporter and veteran US military officer, stumbles over Omar's name when he brings her up, then shrugs, saying, "That's how I'm pronouncing her name."
Perry noted that USIP had received nearly a billion dollars in federal funding since its inception and raises millions more privately each year. He cited Omar's interview as undermining the nonpartisan nature of the institute "and the need for the federal government to fund it."
Other lawmakers, Republicans and Democrats, joined in the criticism of Omar, but said that one incident shouldn't mean USIP as a whole is punished. Rep. Liz Cheney, a Republican from Wyoming, said of Omar: "She ought to be fired, and there's no question about that." Rep. Alcee Hastings, a Democrat from Florida, said "she should've been fired or at least disciplined, but I don't think you should take on the whole agency."
"Congressman Perry asserted that Ms. Omar came across as completely intolerant of anyone with legitimate political differences."
Brandy Brown, Perry's communications director, said in a statement to BuzzFeed News that Perry happened to have been watching C-SPAN when the interview aired. He sent a letter to USIP right after the segment aired to ask if Omar's comments represented the official views of the organization. Perry's objection, Brown said, was solely about a taxpayer-funded employee violating the nonpartisan nature of her work.
"In no way, shape or form was Ms. Omar singled out for being Muslim, and the insinuation is insulting," Brown said.
Brown said USIP gave no response to Perry's letter until Sept. 6, the day of the hearing. The statement said it was Perry's understanding that Omar had resigned voluntarily "well over a year after the remarks were made."
"Congressman Perry asserted that Ms. Omar came across as completely intolerant of anyone with legitimate political differences," Brown said in the statement. "He added that this doesn't seem like the proper demeanor for an official charged with advocating for peace on behalf of the United States government."

Perry's statement underlines why Omar and other Trump critics who've landed in hot water at work feel unfairly penalized. They say their experiences prove that Trump can say outrageous things from the highest office in the country but those who name it as racism or xenophobia are the ones charged with showing partisanship and lacking "the proper demeanor."
Adding to her disillusionment, Omar said, was the silence of her colleagues and Muslim or Arab-American advocacy groups. A handful of coworkers have messaged her, saying her projects at USIP will endure as her legacy, but that was it. Because she signed a nondisclosure agreement with USIP, Omar is restricted in how much she can say about the institute. She went in after hours to pack up her belongings; she googled her bio to send to a reporter and found that she'd already vanished from the USIP website.
"The reality is setting in that, hey, baby girl, this is DC. When shit hits the fan, you're on your own," Omar said. "If I can save people the 10 years that I lost, I would tell them not to engage with the US government. If you really are about making change, really about peace building, then you want to stay as far away from the US government as possible."