Down hairpin mountain roads and deep in the piney woods of Northern California, there's a campground where more than 175 young Muslims spent a recent week outdoors, discussing their place in the nation as stars twinkled in the vast sky overhead.
Even this outpost, with bear warnings and no cell phone service, wasn't remote enough for campers to feel like they'd fully escaped the heaviness of what it means to be a Muslim in the US. One 18-year-old said she was relaxing, listening to birdsong, when it occurred to her that anti-Muslim attackers could burst onto the grounds and find easy targets.
Like virtually every US Muslim institution these days, the Muslim Youth Camp of California is in flux, with organizers fighting through a climate of fear to preserve a five-decade legacy of molding strong and unapologetic American Muslims.
Founded in 1961, the Muslim Youth Camp of California was the nation's first sleepaway camp of its kind, an early experiment that mixed Islamic studies and rustic Americana. With a history stretching from President John F. Kennedy to President Donald Trump, the camp has helped shape the identities of thousands of Muslim children, many of whom grew up to become civic leaders.
Not long ago, Muslim campers mostly wanted guidance for dealing with tensions between their all-American sensibilities and their foreign-born parents' rules imported from "back home," such as no attending sleepovers or going to prom. Today, the kids ask darker questions, and even the youngest campers understand that much of the country — perhaps including the president — refuses to see them as fellow Americans.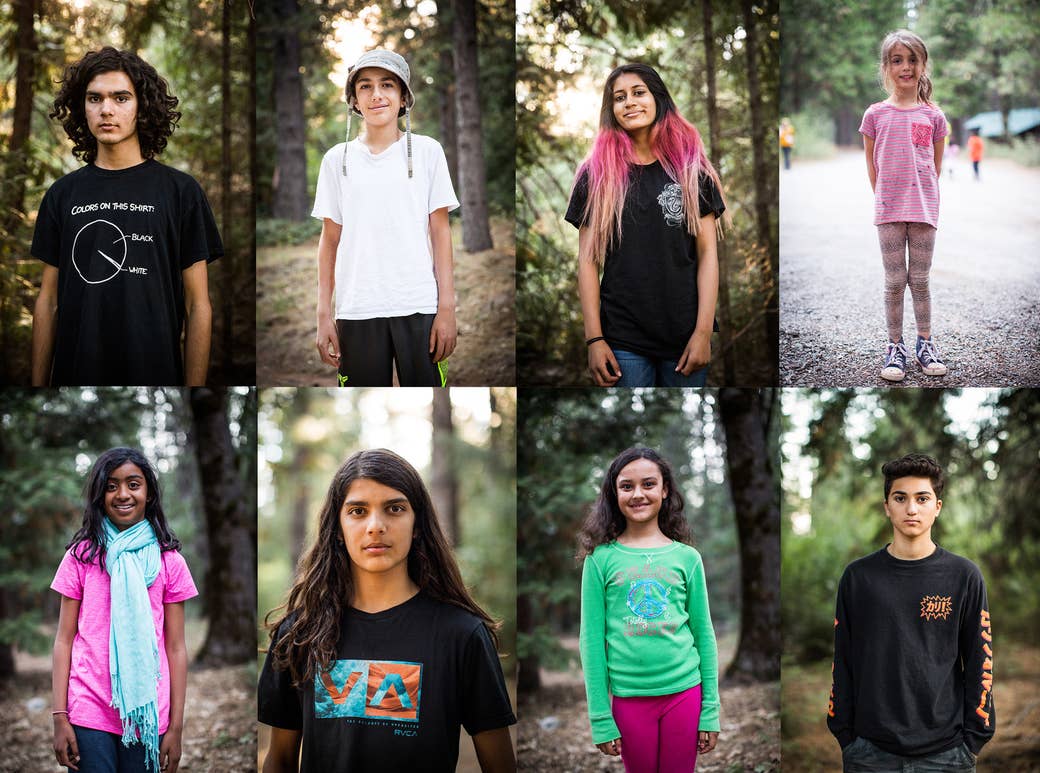 "'Do you let your classmates know you're Muslim?' That's a common one. 'Is it better to let them know or keep it quiet?' And I can't give one answer to that because these kids come from a range of school environments," said camp president Asifa Quraishi-Landes, a law professor whose parents founded the camp 55 years ago.
Security measures introduced at the camp follow the deepening of anti-Muslim sentiment over time. In the 1990s, organizers recalled, skinheads harassed the camp, leading to the formation of safety patrols that year. After the 9/11 attacks, camp leaders received an emailed threat vowing to "come after the children with knives," so they stopped publishing the camp's address. This year, they changed campgrounds for the first time in a decade, moving north from Southern California partly as a precaution amid a spike in anti-Muslim hate crimes. There's a relaxed atmosphere at the new site, but adults stay on alert, partially blocking the driveway and keeping an eye on the door at the main lodge.
Even the youngest campers understand that much of the country — perhaps including the president — refuses to see them as fellow Americans.
The campers are mainly first- or second-generation children of immigrants from the Middle East and South Asia who soak up a week of camaraderie with other Muslims before they go back to being "the only" among predominantly Christian and Jewish classmates. Organizers aim for a balance between protecting that happy refuge of s'mores and songs, and providing confessional space for the deep anxieties that run from the third-graders to the college students.
The theme of the camp changes each year and reflects the main concerns of American Muslims in any given era. In the 1960s, there was a preoccupation with "Islam and modernity;" after 9/11, worries over extremism and surveillance. Last year's theme was a verse from the Qur'an that reads, "With every hardship, there is ease" — a soothing reminder during a presidential race that brought relentless attacks on Islam.
When camp leaders met just after Trump's inauguration to pick this year's theme, they decided they were finished with doom and gloom. Too reactionary, they said. This year, the board voted in favor of a theme emphasizing compassion and respect for humanity: "Love for your brother what you love for yourself," a saying from the prophet that is sometimes called "Islam's golden rule."
"If you give them those tools on the inside, if they radiate that out in the world, that does as much as saying, 'Here's the tools you need when someone attacks you,'" Quraishi-Landes said.
From the first day, however, it was clear that an uplifting theme wouldn't be enough to keep negative forces out of their sanctuary in the woods.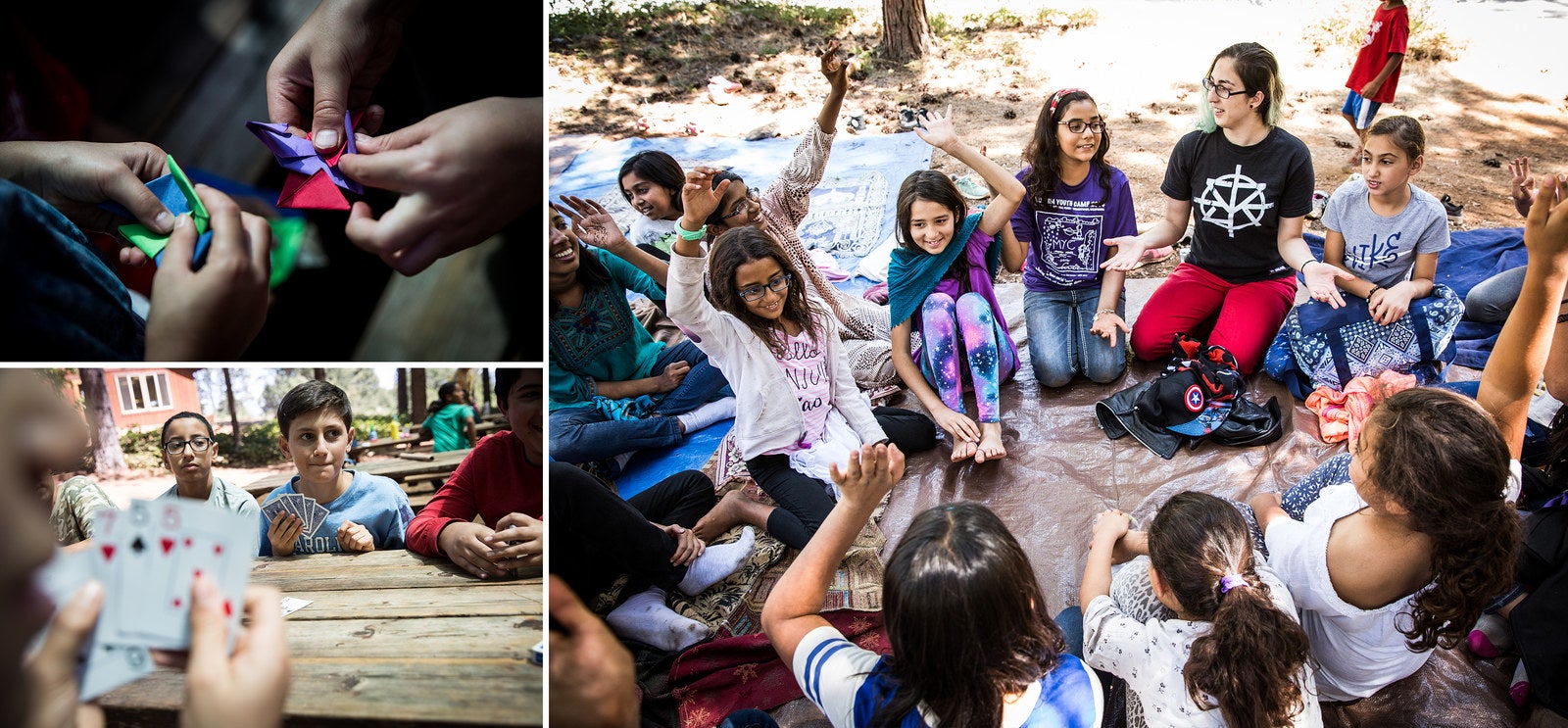 A day at Muslim camp begins with the dawn prayer, the campers standing shoulder to shoulder in a moonlit forest. Here, with no suspicious neighbors or overzealous cops around, the call to prayer can echo as loudly as they like. The first rays of sunshine peek through the trees by the time they finish. Then there's typically a hike; the counselors point to the massive trees and plump blackberries as examples of God's greatness.
Classes begin after breakfast, with the kids splitting up according to age group. On one recent day, three clusters of kids in the same clearing explored Islamic teachings on empathy through stories from their own lives. The groups — elementary, junior high, and college-age students — worked separately, but a common topic emerged: feeling unwelcome in the place where they were born.
Longtime counselor Ronald Chavez Hassan asked his group, the youngest campers, to close their eyes and think of things that made them happy, things they'd want others to enjoy too. The answers were punctuated by giggles: "Sour Patch Kids!" "Family!" "My Nintendo 3DS!"
Campers talked about classmates sneering, "Are you going to bomb us?"
Next he asked them to imagine things that made them sad, things they wouldn't want anyone to experience. The answers started with regular kid nightmares, such as getting braces or having surgery, but quickly turned to the fears inside Muslim households these days. Two kids named discrimination; another answered "being in Syria." Still another said, "An innocent person going to jail."
Some replies invoked the president, starting with a boy who said he most worried about Trump coming to California.
"Donald Trump is gonna kill us all!" another boy yelled from his picnic table. The kids laughed and starting mocking the president's name. "Donald Dump!"
Several feet away, the junior-high campers stood in a circle as their teacher, Subheen Razzaqui, asked about their experiences with anti-Muslim bullying. One boy shared that kids at his school tease him about being a terrorist: "People, say, like, 'He's got a bomb in his backpack, run!' Or, 'He has a bomb on his watch, run!'"
"How many of you deal with jokes of that sort?" Razzaqui asked. Hands shot up.
"One, two, three, four, five, six, seven, eight, nine, ten, eleven. OK, so twelve out of seventeen," she counted. "How many of you have had that moment where you realize the joke's gone too far and it's uncomfortable?" The hands went up again.
Several campers talked about times when questions about their Muslim background led to bullying, with kids sneering, "Are you going to bomb us?" One girl said even Mexican classmates, themselves targets of the White House's anti-immigrant rhetoric, joined in the Muslim bashing at her school.
"One said I'm a part of ISIS, so I said, 'How would you like to be on the other side of Trump's wall?'" the girl told the circle.
"And did that work as a strategy?" Razzaqui asked, a slight scolding in her voice.
"No," the girl admitted.
Under a nearby gazebo, the college students, several of whom were also camp counselors, described similar experiences with prejudice, just in more sophisticated language. Instructor Amira Quraishi, the Muslim chaplain at Wellesley College and another daughter of the camp's founders (and Quraishi-Landes's sister), led a discussion that explored different parts of identity: religion, race, gender.
Quraishi asked the group which parts their parents had emphasized to them as children and which parts they wish they knew more about. The students spoke wistfully of their ancestors' cultures disappearing because families had worked so hard to "fit in" as Americans.
Next, Quraishi asked the students which identity they were most aware of in the cities where they live. "Race" and "religion" were the top answers.
The discussion hit closer to home when the question turned to which identities they felt most keenly at a mosque. Nearly all the women in the group picked "gender," citing frustrations with the disparity they often find between men's and women's accommodations at Friday prayers. Another camper lamented generational tensions with mosque leaders who reject younger congregants' "progressive ideas," and at least two spoke about long-standing racial tensions among American Muslims.
Those are all topics that many Muslims say are long overdue introspection, but there's little room to push for reforms when the religion itself is under attack from the highest office in the land.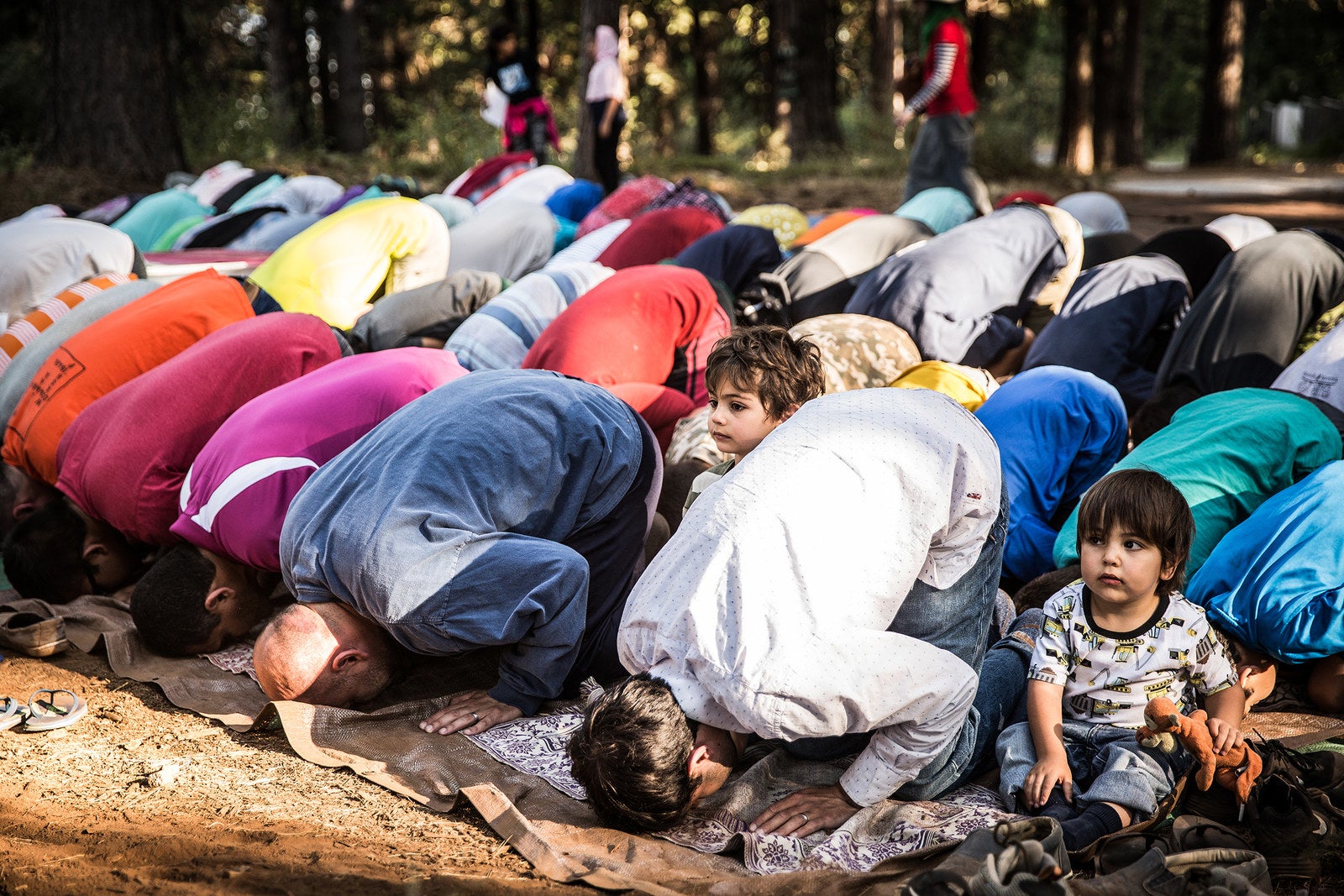 The weight of all these competing concerns can be overwhelming, said Razzaqui, who led the circle of preteens. She knows firsthand, from her day job. She's a headscarf-wearing Pakistani-American high school teacher whose heart aches when students tell her they want to learn more about Islam so they can "understand the enemy."
At the camp, pretty much everyone has felt that sting, and Razzaqui's hope is that at least the students will take away a feeling of solidarity, and maybe some relief from unburdening themselves of painful stories. It will take years longer, she said, to erode the stereotypes students will meet the moment they leave the campground and brace for a new school year.
"It's disheartening but it's the reality. At camp, or even as a teacher, I've realized I can't fix the problem," Razzaqui said. "I think it's about the droplets of water on the stone. Eventually, it'll smooth itself out."

As the family story goes, Marghoob Quraishi left India during Partition in 1947 and traveled to Pakistan and England before landing in Canada for university. He couldn't stand the bitter cold, so when it was time for him to pick a business school, he took a professor's advice and headed to balmy, palm-sprinkled California, where he lived until his death in 2005.
Quraishi was a student at Stanford University in the late 1950s when he fell for Renae Seger, an American teacher who grew up Methodist in rural Oregon but who was struggling with the concept of salvation by the time she got to college. She'd already been looking into other faiths when she met Quraishi and became fascinated with Islam, eventually converting and adopting the name "Iffat."
"They needed to try to figure out how they were going to be Muslim in America."
Quraishi had started campus Muslim clubs wherever he'd studied, and by 1960 he and Iffat dreamed of building the same kind of support system for Muslim immigrant families who were still finding their footing on this new soil. Quraishi was bookish and learned, and wanted a place where Muslims could deepen their knowledge of Islam. Iffat was the creative type, imagining fun ways to entertain and educate young Muslims.
In 1961, six years before they had their own children, the Quraishis organized the first Muslim Youth Camp. The Quraishi sisters say the idea was their mother's — she'd spent happy summers at church camp as a girl. Their father wasn't exactly thrilled about roughing it in the woods, but thought the seclusion would stimulate intellectual conversations about Islam in the West.
"He saw that they were new Muslims in a new country and they needed to try to figure out how they were going to be Muslim in America," Amira Quraishi said.

Camp albums from the 1960s hold black-and-white photos of bareheaded Muslim women frolicking outdoors in knee-length skirts. Later, around the time of the Iranian Revolution and the rise of conservative Islamist movements in the Middle East, camp organizers organizers grew stricter about modest clothing and introduced a headscarf requirement for girls. Only in the past couple of years has the dress code been relaxed, with headscarves now optional, knee-length shorts permitted, and "modest dress" encouraged.
Though all the activities are coed, there's a "no-touching" rule, meaning boys and girls are discouraged from any physical contact, including handshakes and high-fives. Yet even under the close supervision of counselors and relatives, romances have blossomed, resulting in several marriages over the years. Even Amira Quraishi met her husband at camp, 24 years ago.
"We're always criticized for being too liberal and too conservative. Every year. And that makes me feel pretty good."
The curriculum, too, has transformed over the decades, moving from straightforward religious instruction to broader discussions on how to live by Muslim principles in a secular society. Organizers said the old way of talking about temptations — condemnation and judgment — meant that kids often led double lives: "the good Muslim" at home, and the typical American teen with their friends.
At a training session before campers arrived this month, counselors were given tips on how to deal with teens who might seek guidance about drug use or sexual activity. One counselor asked whether they should have a "consent talk" with campers. There was a role-play exercise about how to respond if a camper came out as gay — the counselors were urged to be active listeners and to refrain from preaching. Such thorny scenarios were unlikely, camp leaders said, but they wanted counselors to be prepared just in case.
"We're always criticized for being too liberal and too conservative. Every year. And that makes me feel pretty good," Quraishi-Landes said.
Organizing camp this year was especially difficult for Quraishi-Landes, who's also a law professor at the University of Wisconsin-Madison and president of the National Association of Muslim Lawyers. With the Trump administration's threats to declare the Muslim Brotherhood a terrorist organization — a move that could balloon into a crackdown on Muslim advocacy groups — she's been working overtime to help nonprofits understand their rights and guard their assets.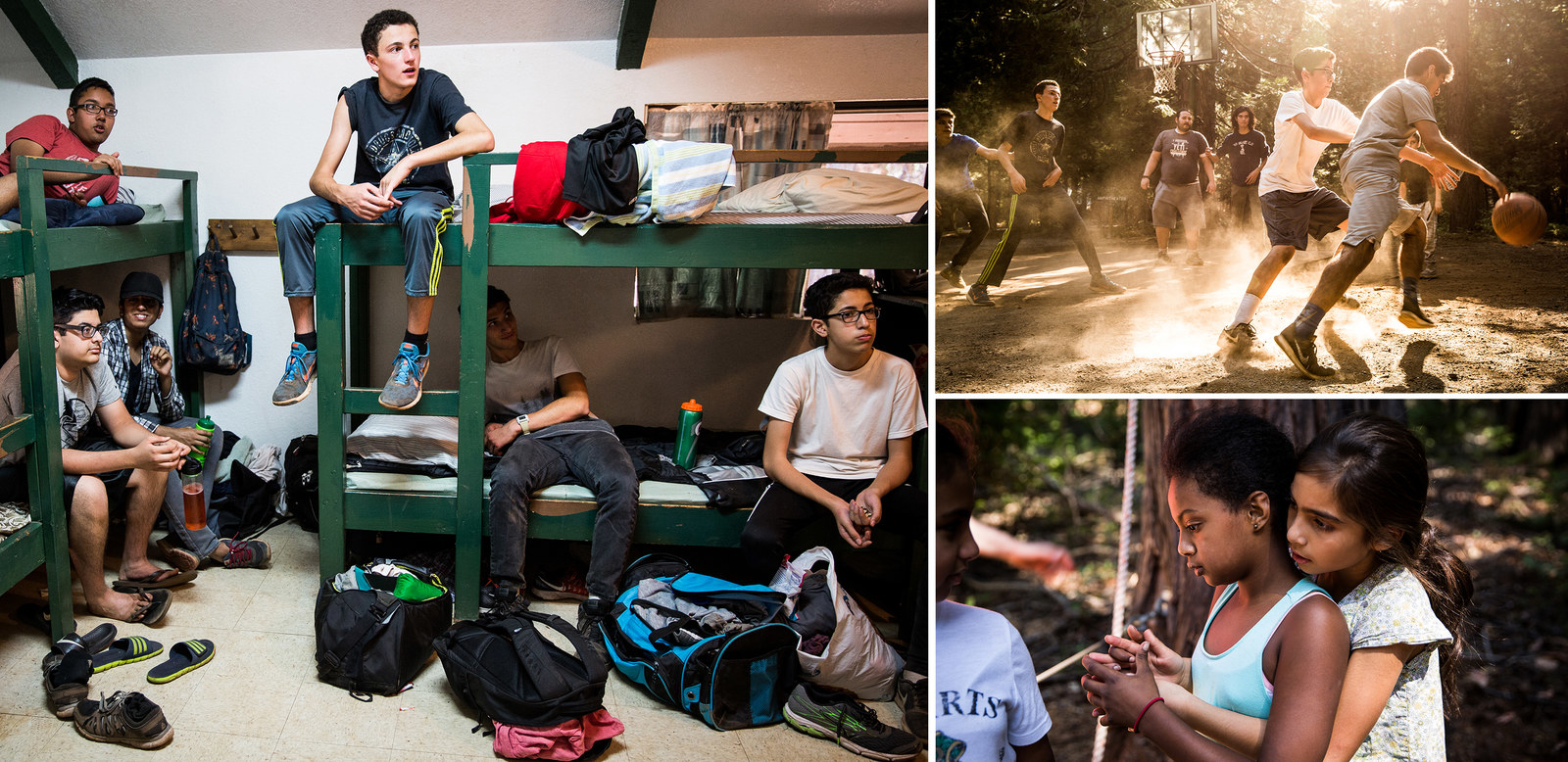 She never truly considered giving up her camp duties, but the juggling has become increasingly difficult, Quraishi-Landes said. She recalled one stressful day where she broke down, telling her husband, "It would be so much easier not to care."
Quraishi-Landes said she draws support from the tightly knit board; many members also grew up going to the camp and want to create the same memories for their children. The scent of pine is inextricably linked in her head with "Muslims in the forest," she said with a laugh.
She and her sister Amira say their work to preserve the camp is about more than honoring a family tradition. In lofty terms, the camp's mission is to support young Muslims whose community service and civic leadership expose the holes in the hateful rhetoric about Islam.
But mostly the sisters just want a fourth generation of American Muslim kids to drop their defenses, forget about bullies, and savor the simple joys of a California summer.
"The way my dad once described it is that he started walking and then, after 20 years, looked back and noticed that people were coming with him," Amira Quraishi said. "He didn't say that he was intentionally planting any kind of seed. He just thought it's good for people to be together." ●

UPDATE
A photo has been removed from this story at the request of a subject and to align with BuzzFeed's editorial standards.