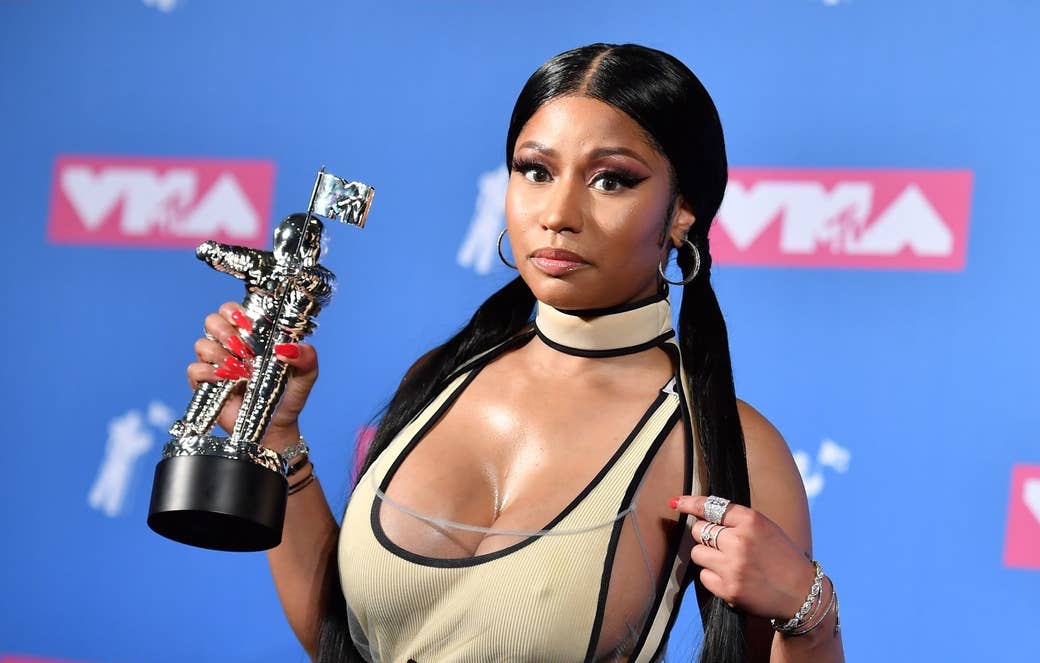 What made Nicki Minaj stand out as a rapper early in her career was her flow, specifically her ability to morph into and out of vocal flourishes in the same song, or same verse. She was singular in this way — armed with a nesting doll of characters, all of them capable of enhancing a song. Not knowing what a listener might get from a Minaj verse or performance made the experience of hearing her thrilling, even if some of the songs faltered along the way. She was a scene stealer, most notably in Kanye West's 2010 single "Monster," but also in songs like Wale's 2013 single "Clappers," where she delivers a 40-second verse that easily topples everything that came before it.
For these reasons, along with her vibrant, fearless, and colorful personality (and personas), Minaj ascended to the top of mainstream rap, and during her most prominent run, from about 2010 until now, she has been the lone woman at the top of the mountain. This isn't as much Minaj's fault as it is a failure of rap music's imagination around gender. There are, and have been, several other women rapping, after all. But with the exception of Lauryn Hill and maybe Missy Elliott, Minaj has been the only woman rapper to achieve such widespread popularity, and — as we are seeing now with Cardi B — any other woman topping the charts is placed in direct competition with Minaj by rap writers and listeners alike.
Thus, she reigned largely unchallenged for a run of chart-topping singles and platinum albums. Not only was her musical consistency lauded, but she also was an artist who knew how to use social media to her advantage, cultivating a fanbase — the Barbz — through Twitter and Instagram specifically. It has been the Barbz who, over the years, have built a wall of defense around her online, and supported her career relentlessly against those who might attempt to detract from her successes.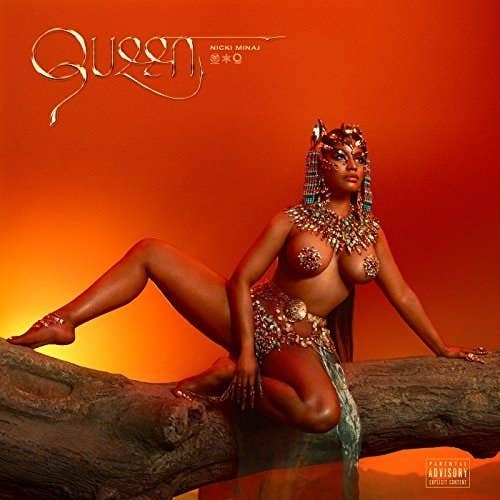 In the waning moments of summer, Minaj continues to remain in the forefront of rap news, but more clumsily than triumphantly. She released Queen, her fourth studio album, on August 10, almost a whole month after her originally announced release date. From the jump, interest in the album seemed tepid. None of the singles really stuck. (Only the first one, "Chun-Li," managed to peak in the top 10 on the Billboard Hot 100). Media coverage of Minaj felt driven mainly by speculation over what conflicts she might or might not be engaging in, or how threatened she did or didn't feel by Cardi B. Rap fans and onlookers suggested that her time was soon to be up, or that she was stagnating.
Minaj didn't exactly help matters during the album's run-up: In early July, writer Wanna Thompson posted a tweet about Minaj's creative direction, stating that she'd appreciate hearing more mature content from the rapper. Minaj caught wind of the tweets and directly DM'd the writer, in a harsh paragraph teeming with both personal insults and proclamations of what she viewed as mature work she'd produced. Thompson shared a screenshot of the DMs, which put her directly in the sights of Minaj fans, and Thompson eventually lost her job. Weeks later, Minaj took to Twitter to insist that Tracy Chapman's inability to clear a sample was putting Queen in danger of further delays, claiming that she needed to get ahold of Chapman by any means necessary. This sent some of her fans to the Twitter and Instagram pages of a Tracy Chapman fan account, begging to connect the two artists.
Finally, days after Queen saw the light of day, Billboard numbers had her falling just short of a No. 1 album. She took the No. 2 spot, second to Travis Scott's Astroworld, which enjoyed its second consecutive week at No. 1. She responded with a series of tweets last Sunday afternoon, shortly after the numbers were released, claiming Scott's merch bundles — fans could buy tour tickets, a copy of the album, and Astroworld apparel — were the reason he had stayed at No. 1. She suggested that Kylie Jenner had used her and Scott's baby to help promote Scott's tour and album, and bizarrely compared herself to Harriet Tubman. This past Thursday, she announced on her new Beats 1 radio show that she would be reading tweets from "haters" and calling them out by name; this just after asking her fans on Instagram to find out the name of the Billboard writer who'd dared to suggest that ticket sales for her now postponed tour were less than robust. It's confusing to witness. It's like we're all watching someone laugh their way into sobs.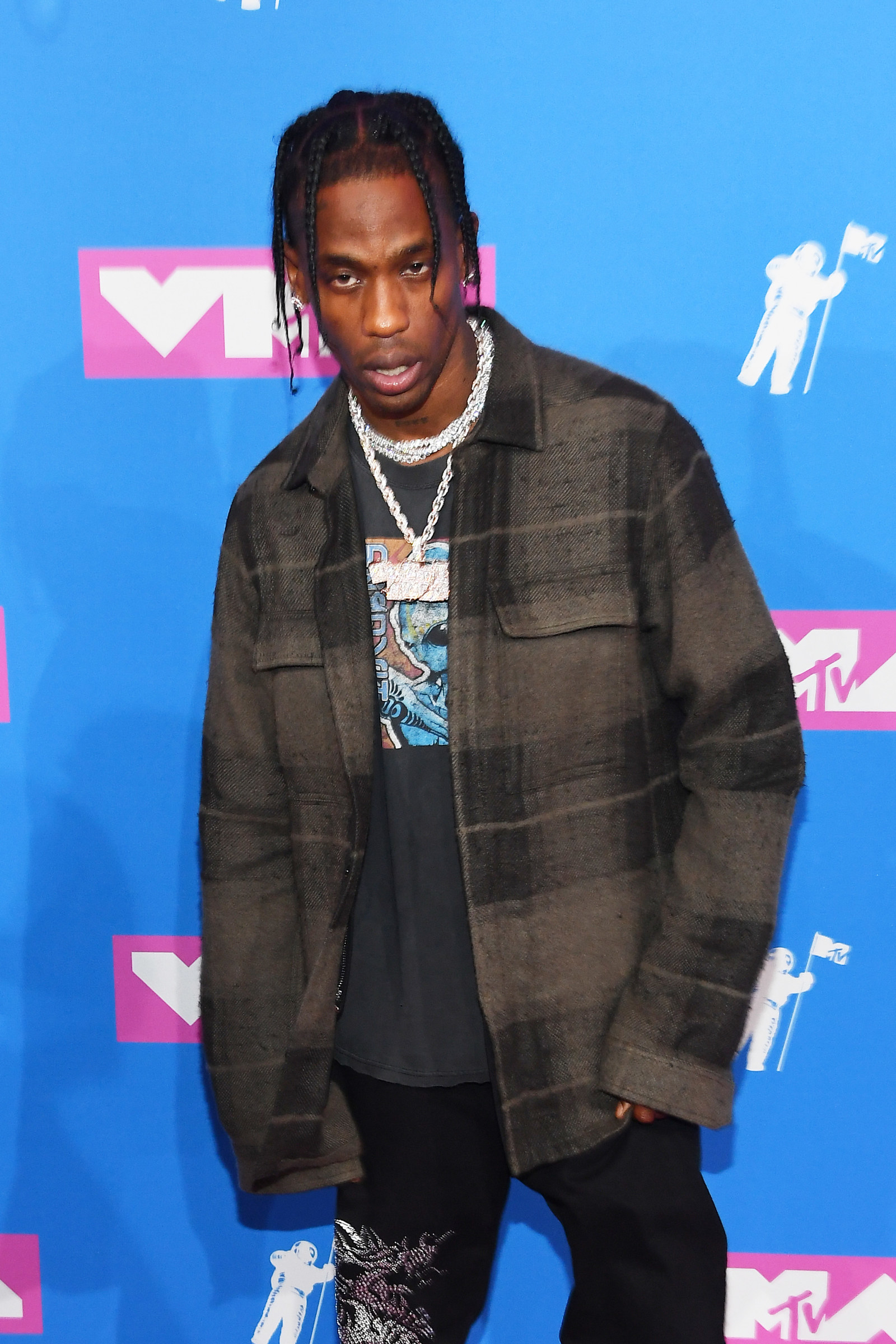 Lost in all of this is that Queen is a mostly solid album by a rapper who many — for some reason — consider well past her prime. The stakes for this album felt high, like a statement needed to be made about Nicki's ability to continue to dominate in a pop climate where she is no longer the only chart-topping woman in rap. Queen reestablishes what Minaj does well; she remains a clever, engaging MC, who can cast a pretty wide emotional net throughout an album. But we aren't talking about Queen. After its initial release, we're still talking about Minaj's antics.
Maybe this is all a part of mainstream music's economy now, where the album release cycle is often competing with an equally fast-paced news cycle. The album becomes a vehicle, something that can briefly push an artist to the forefront of a pop-culture news cycle for a little while. The artist then is tasked with doing anything they can to hold on to the moment, in hopes that such behavior might sell a few albums, or at least grant some infamy to their name. For some artists, this is a simple routine: interviews, rounds on the late-night shows, maybe a magazine cover. For Minaj, this has meant a rash of behavior which feels like she's on edge and out of ideas. Yes, she is still a central conversation point as her album finishes its second full week of being out, but the topic of conversation is her, and not what Queen has to offer musically or lyrically. It is almost as if she didn't trust the album itself to be interesting enough, and so she's allowed herself to be the album cycle, an instrument of chaos which keeps playing.
The way music is released and consumed has shifted since even 2010, when Minaj released her first album, Pink Friday. The physical album was already giving way to streaming services in 2010. Downloaded singles accounted for 67.7% of music sales that year, while CD purchases only accounted for 14.5%. In 2017, downloaded singles jumped to 74.5% of all music sales. Though music sales in general have been on the rise since 2015, thanks to streaming, it's a medium that still prioritizes the single over the album.
It is almost as if Nicki didn't trust the album itself to be interesting enough.
But having a number-one album is still something a lot of artists desire, especially someone like Nicki. And so, many try to find new paths to achieving the goal. Some artists, like Drake, create sprawling, 18-plus-song albums in hopes that the amount of single-song streams will grant them chart success. Some other artists, like Future, release albums frequently and with little warning, dumping them onto a streaming service a week or even hours after the album is speculated about or announced. But because there are more songs and albums and mixtapes coming from more angles than before, to break through, an artist has to be willing to stay in the cultural conversation, no matter the reputational cost.
Kanye West found this out earlier this year, when he returned to Twitter in April in an attempt to draw attention to both himself and his run of projects to be released with G.O.O.D. Music.West publicly expressed support for Donald Trump, boasted sporadically about the projects he was releasing, and in an interview with TMZ suggested that slavery was a choice. But the true goal, it seemed, was to keep himself at the forefront of everyone's mind in the hopes that it might afford him the attention he needed to hold everyone's interest for five weeks and five album releases.
Of the five albums – Pusha T's Daytona, his own Ye, his and Kid Cudi's collaboration album Kids See Ghosts, Nas' Nasir, and Teyana Taylor's K.T.S.E. – all were met with mixed to good reviews, and four of the five debuted in Billboard's top five. Only West's album had a No. 1 debut, and 48 hours after its release, almost all of the interest in it had faded. As the weeks wore on, listening to the album became an act of endurance for me, as opposed to one of interest. It became evident that the five-week project wasn't meant to serve Kanye West's artists as much as it was meant to serve Kanye West's desire to hold the spotlight on himself for as long as he could keep it there. This, too, is a part of the album cycle machine.
And so Nicki appears to be following the same blueprint, opting to engage in unpredictable and sometimes explosive behavior instead of touting her album's merits. If anything, this conduct has made her more insular, as she uses social media to nurse her grudges and coddle her fanbase while alienating almost everyone else. Perhaps this is all part of Minaj's plan. It can be argued that at this point in her career, she isn't going to win over any new fans anyway, and much of her long-tenured fanbase is far too entrenched to cut and run now, regardless of what her albums do or don't sound like. The polarization was already there, and Nicki is exploiting it. Not for album sales, but as a way to be memorable in a rapidly changing music and rap music landscape where the scarcity model she benefited from is (hopefully) coming to an end.
For so long, the palpable ferocity in the rhymes of Minaj were aimed clearly at imaginary foes, issued as warnings, or hints of what she was capable of when pushed. She's being pushed now, and it seems her aim is suddenly off. ●