Women Rule The Tech Scene At D.C. Startup Competition
The gender imbalance in tech financing was center stage as 12 female entrepreneurs competed for a $50,000 grand prize.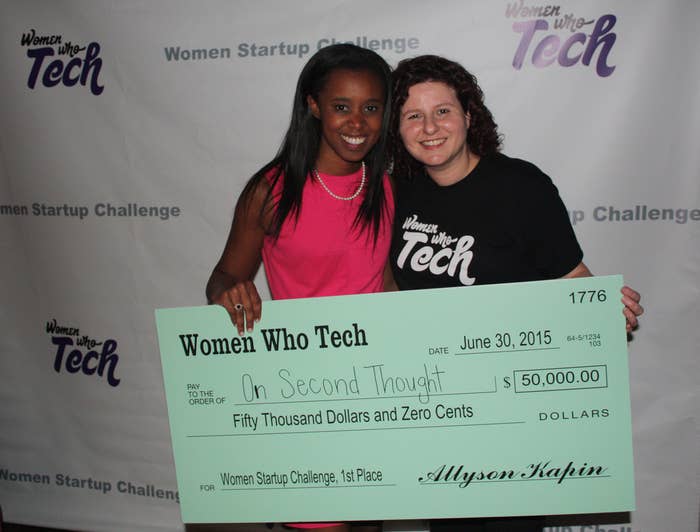 For a brief moment in Washington, D.C., this week, the tech funding world of white male influence was interrupted, and Maci Peterson became $50,000 richer.
Tuesday night, before a packed house at D.C.-based incubator 1776, a dozen women-led startups competed for funding. The founders faced a shark tank panel of judges, an animated crowd of over 300, and, more broadly, a culture and economy that has made it exceedingly difficult for female entrepreneurs to access capital.
Organized by Women Who Tech founder Allyson Kapin, The Women Startup Challenge Pitch Competition was held to call attention to the gender inequities in tech financing and to establish a funding network for female businesses owners. According to a 2012 study by Dow Jones, only 7% of venture capital dollars go to women-led startups, a statistic that Kapin hopes to crush.
One of the competition's four judges, Lorine Pendleton, an angel investor who finances women-led and minority-led companies, told BuzzFeed News that events like this one are crucial to leveling the playing field in tech for those who've struggled for years to access it. "They provide a platform for women and minorities who typically don't get the level of funding that men and their nonminority counterparts do," she said. "This could be a seed round to fund someone's great idea, and get to the next level."
On this night, it was Peterson's idea that emerged victorious. A 28-year old from Oak Park, Illinois — her parents drove down from Chicago to support her — Peterson founded On Second Thought, a mobile app that lets people unsend text messages before they arrive on a recipient's phone. With an easy stage presence, Peterson asked the audience: "How many times have you sent a text only to immediately wish you could take it back? Whether you accidentally sext your boss or autocorrect keeps changing that word to 'duck,' we've all been there." An hour later she was proclaimed the competition's winner and handed a check.
"People think: of course things like this are happening," Kendrick Jackson, an audience development producer with General Assembly and a co-sponsor of the Women Startup Challenge Pitch Competition, said of the event. "But they're not. We want to walk away tonight and think this is when things started to change."
Craig Newmark, founder of Craigslist and Craigconnects, and a co-sponsor of the competition, sounded a similar call to action while addressing the sexism that pervades the industry. "I'm guessing it's a combination of dated corporate culture and attitudes, and cluelessness among male humans about women in business, speaking broadly," he told BuzzFeed News over email. "In tech, we aspire to meritocracy, and do a better job than many, but don't get more than halfway there," he said. "My gut suggests that what's really required is personal involvement with groups that move us ahead, and relentless first hand involvement, in social media and more."
To qualify for the competition, each of the 12 startups ran a crowdfunding campaign that collectively raised $315,000, with each of the businesses keeping the money that they raised.
In between a barrage of photographs and the exuberant exclamations of her parents, Peterson told BuzzFeed News, "There's a lot of lip service about women in tech. People say someone should do something, but when they have other events like these, they are not actually awarding money. It's just so that a bunch of people can feel like they're Mark Cuban. But with this event, they put their money where their mouth is."
"There are so few women in the tech industry," she said. "And we need to shed light on that."