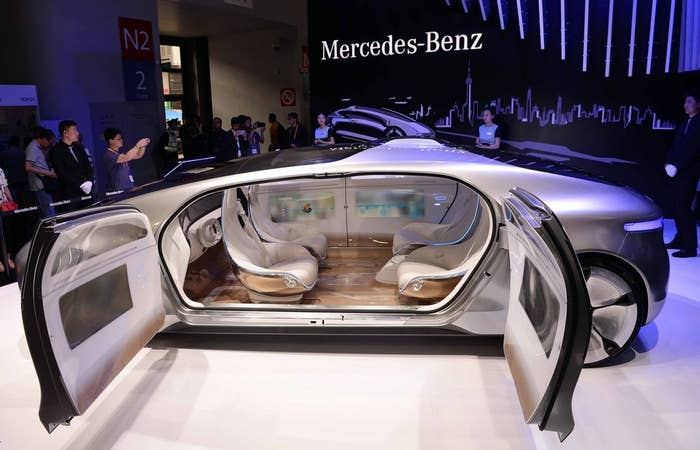 David Strickland, once the nation's top auto safety regulator, is now the spokesperson of an unlikely alliance: a super lobby of sorts featuring the likes of Google, Uber, and Ford, selling the nation on a future vision of transportation strapped to driverless cars. It's called the Self-Driving Coalition for Safer Streets.
To accelerate the adoption of autonomous vehicles, both in the public's mind and in the transportation rulebooks, the coalition — which also includes Volvo and Lyft — will try to persuade federal regulators that clear, national guidelines are necessary for a market of driverless vehicles to flourish.
Strickland, who expects the autonomous car lobby to gain additional members this year, told BuzzFeed News that the coalition's lobbying efforts will proceed on two main fronts. The first will be working with the National Highway Traffic Safety Administration (NHTSA), the agency he used to lead, which defines motor vehicle standards: gas tanks, tires, seat belts.
"The goal is consistent regulations," Strickland said, "one clear set of rules to thoughtfully and safely expedite the deployment full self-driving vehicles."
From the NHTSA, Strickland hopes to see some flexibility on driverless car vehicle standards. Since the coalition is advocating for policies that would enable fully autonomous driving with no expectation of any human input or control, Strickland said federal regulators can either interpret motor vehicle rules in a nuanced way — or, they can create an entirely new category of driverless vehicle standards with its own special requirements.
Industry guidelines for autonomous vehicles might include particular regulations on fail-safe measures, emergency procedures, or special carve-outs for a vehicle's design, such as permitting the absence of a steering wheel.
The second big lobbying push will be in the states, whose officials control traffic policing power and the licensing of drivers. For autonomous cars and their passengers to travel freely across the U.S., the group will try to preempt a patchwork of onerous and contradictory state laws. Companies like Google and Lyft believe inconsistent local rules will stymie the rollout of self-driving cars and undermine their commercial viability.
The coalition will lean heavily on a public safety argument as it works to persuade transportation officials and city planners to welcome cars without human drivers. "This isn't a group that believes this should be the Wild West and anybody can put anything on the road," Strickland said.
During a NHTSA public forum on autonomous vehicles last week, the agency's current chief, Mark Rosekind, began his remarks by citing the most current data for traffic related deaths in the United States: in 2014, over 32,000 people lost their lives to car accidents. "These numbers are exactly why we are here today," Rosekind said, positioning driverless technology as a possible preventative measure for the accidents responsible for some of these deaths.
Strickland said 94% of traffic accidents involve some form of human error. Like Rosekind, he believes that autonomous vehicles may limit such fatalities.
In addition to eliminating dangerous decision making, Strickland also emphasized the boost in access to transportation that driverless vehicles can bring to the elderly and to people with disabilities. "Those that are disabled, the blind, seniors, they regain their independence and their dignity by having their ability to take themselves to the bank, to the grocery store, without having to depend on family or friends or public transit," he said.
What do regulators most want from driverless car companies? "Data," said Strickland. Before issuing new, foundational safety rules, NHTSA will continue to study how autonomous cars behave in simulations, and later, on roadways. The agency will determine how the best systems operate and, using its authority to investigate and recall possible vehicle defects, it will eventually fold in new innovations. Ultimately, we'll see driverless technology first before detailed safety requirements.
"That's how it happens for every new vehicle technology that you see on the road," Strickland said. "There is no pre-market regulation. So it will be the same for automated vehicles."