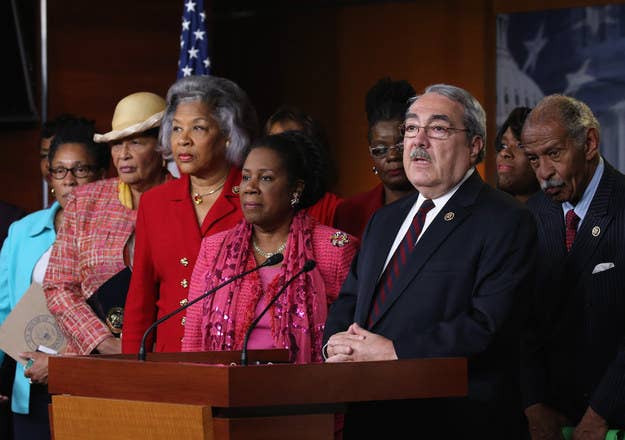 Five years from now will the workplaces of Silicon Valley's leading tech companies remain as overwhelmingly white as they are today? The Congressional Black Caucus hopes not.
Lawmakers from the CBC's diversity task force, Reps. Barbara Lee, Hakeem Jeffries and G. K. Butterfield, the Chair of the Caucus, will meet with top brass of several major tech firms next week, in a push to increase representation of African Americans. Apple, Google, Intel, and Pandora are among the firms hosting the CBC delegation. The trip is part of the Caucus' Tech 2020 initiative, a five-year plan to address the dearth of black employees within the tech world.
"Increasing the representation of African Americans in the tech sector is a moral and economic imperative," Rep. Lee told BuzzFeed News. "When you have a diverse and inclusive workforce and leadership, new doors for growth and opportunity are opened."
A central goal of the Congressional Black Caucus is getting tech companies to develop and publish their plans to increase diversity. These inclusion plans, the Caucus says, should define short and long term benchmarks and capture both engineering and non-technical jobs. That many of the Valley's heavyweights have made a recent habit of releasing their diversity numbers has sparked real optimism within the Caucus, a group eager to partner with the private sector to grapple with enduring racial bias.
"I don't believe that the technology and innovation-economy companies are reluctant to diversify their workforce," Rep. Jeffries told BuzzFeed News. "Quite the contrary, there is a refreshing acknowledgement of the problem, and a commitment amongst many to do everything possible to remedy it."
For the CBC, the pledges of transparency and improvement coming from tech companies is an encouraging first step. Solid plans come next. "This trip will help develop concrete steps that we could collectively take to ensure that the diversity problem is addressed in a meaningful fashion," Jeffries said.
A major focus of the CBC's Tech 2020 initiative, Lee and Jeffries said, is strengthening the pipeline of qualified talent. Not only does this include exposing middle and high school-aged students to the STEM disciplines, but also connecting talented women and people of color with tech companies that have narrow, monochromatic professional networks.
Juanita Leveroni, diversity account manager at CODE2040, a nonprofit that promotes greater representation of black and Latino technologists, says she wants to expand the discussion of the pipeline problem to encompass how tech companies recruit and hire. "We can broaden the pipeline, but if we are not doing anything to change the funnel — the vetting process, the interview process, company culture, company leadership, then we are essentially just getting different people to the same result," she told BuzzFeed News.
In a statement to BuzzFeed News, Pandora expressed excitement for the upcoming visit, while also using a phrase common among tech companies earnestly describing their efforts to improve diversity. "We have work that we need to do, and the CBC will certainly add an important voice in this conversation." Pandora's diversity numbers published last August showed a near 50/50 gender split of its overall workforce.
Intel, another company hosting the lawmakers, has pledged by 2020 to shape its workforce to match the available talent pool of minorities. The company told BuzzFeed News that their diversity programs are aligned with the CBC's goals.
"I look forward to working with the tech executives to find new and innovative ways of advancing our goal of greater inclusion for African Americans in the tech sector," Lee said. "Our goal is to make this a cooperative effort."