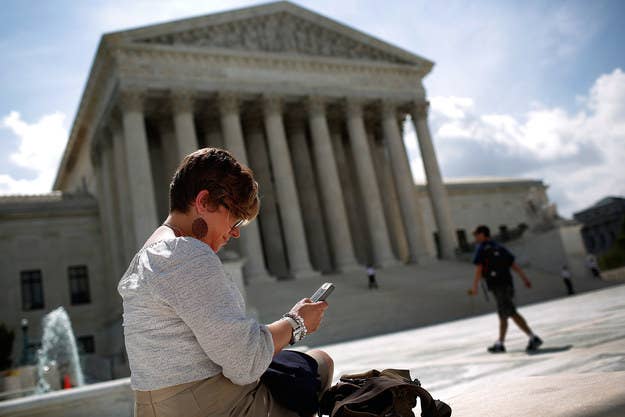 There's a legal battle brewing over your phone's location data, the private acts it captures, and who — besides you and your carrier — can use it and under what circumstances. And given a recent federal court decision, the Supreme Court may have to decide the victor.
In a federal appeals court ruling filed last week, the 4th Circuit declared that phone location data is protected by the Fourth Amendment, which shields citizens against unreasonable searches and seizures.
The ruling brings clarity and protection to residents of Maryland, Virginia, West Virginia, and the Carolinas, where police must now seek a warrant before they can compel a phone company to turn over the recorded GPS data of a customer. But elsewhere, it's more problematic. In Texas, Louisiana, Florida, and Georgia, prosecutors don't need a warrant to secure that information. Judges there have found that the Fourth Amendment doesn't cover cell location data, so probable cause isn't required.
These clashing opinions over warrantless searches — efforts to balance privacy expectations against the unceasing march of technology, and law enforcement's capacity to harness it — bring the Supreme Court closer to taking the issue up.
Over time, phone location data can reveal much about a person's private life: where and for how long they sleep, the doctors they see, the stores and acquaintances and streets they visit. And part of this tracking takes place in the sanctuary of the home — legally sheltered space. The 4th Circuit's opinion held that this information, revealed by phone location data, is protected by the Constitution.
"We conclude that the government's warrantless procurement of the [cell site location information] was an unreasonable search in violation of Appellants' Fourth Amendment rights," the court stated.
The government has previously argued that cell phone customers, simply by using their phones, have willingly given up their location data to phone companies. And by offering this information to them, customers didn't really mean to keep their location information private. Since customers are generally aware that their phone calls are connected through cell towers and that these towers transmit information based on a caller's general location, the government has argued that individuals actively share their location information with phone companies.
"Historically, records that companies create not to aid criminal investigations but simply for their own business purposes based upon information customers voluntarily provide has not required a probable cause warrant," Charlie Dunlap, executive director of the Center on Law, Ethics, and National Security at Duke University, told BuzzFeed News. "Basically, the theory is that people don't have a reasonable expectation of privacy if they voluntarily give information to a third party."
But the 4th Circuit rejected that argument.
"People cannot be deemed to have volunteered to forfeit expectations of privacy by simply seeking active participation in society through use of their cell phones," the court stated.
For the 4th Circuit, the transmission of information based on location is just a function of how phones work. People aren't agreeing to share their location with carriers.
Authorities within the jurisdiction of the 4th Circuit will now need to show probable cause to compel phone companies to hand over stored location data. But in the 5th and 11th circuits — which include Texas, Louisiana, Florida, and Georgia — all that's needed is a court order, a lower legal threshold for law enforcement to clear.
The legal uncertainty introduced by a circuit split of opposing opinions is what makes the Supreme Court more likely to rule on the issue. When it comes to warrantless searches of historical GPS data, most of the country is left with no bright rule defining the privacy rights of citizens or the mandate of the police.
Nathan Freed Wessler, a staff attorney with the American Civil Liberties Union, which has filed a brief in this case, sees Wednesday's ruling as a victory for privacy rights in the digital age.
He told BuzzFeed News that for law enforcement working in places where no binding rule exists on phone location data, they risk having their evidence thrown out if they don't show probable cause.
"Law enforcement agents there should think pretty carefully before going ahead and trying to get this data without a warrant," he said. "They are now on notice that there are some serious constitutional questions raised by warrantless access to sensitive data."
The ACLU recently filed a petition with the Supreme Court hoping to challenge a Florida ruling in which a prosecutor legally obtained 67 days worth of a suspect's phone location data, without a warrant, that contained 11,606 distinct location points.
"This is part of a larger discussion about revisiting the idea of privacy in the internet age," Chris Calabrese, vice president of policy for the Center for Democracy and Technology, told BuzzFeed News. "Everything is records now."
The public embrace of devices and apps that offer a service by following the customer reveals some of the value that individuals enjoy — predicting the weather, avoiding traffic, choosing the perfect restaurant, and maintaining a packed personal calendar. There's GPS and the GPS-inspired: keeping tabs on the family and the fitness routine. And don't forget augmented reality.
What the courts are grappling with now, legal experts say, is interpreting the Fourth Amendment as new technologies arise. Inspired by the disclosures of Edward Snowden and the abuse of phone-monitoring power by the National Security Agency, a broader surveillance anxiety has taken hold in the popular imagination too.
Calabrese told BuzzFeed News that courts are working to end the erosion of privacy as the habits and routines of daily lives have become computerized, offering law enforcement unprecedented ability to track individuals.
"If the government is collecting lots of information about us, if they are creating a detailed picture of our lives — everywhere we've gone all day — that probably deserves Fourth Amendment protection because no reasonable person would expect someone to be tracking them 24/7," he said, explaining the rationale of the 4th Circuit.
While the fight over phone tracking may find itself on the docket of the Supreme Court during its next term or soon after, members of Congress have been trying to bring clarity to the issue through legislation.
Sen. Ron Wyden, a Democrat from Oregon, and Rep. Jason Chaffetz, a Republican from Utah, reintroduced a bill in January that would define when law enforcement can access a customer's electronic location data. The bill, however, has yet to be considered by either chamber.
Chaffetz, who chairs the House Oversight Committee, sent a letter to the Department of Justice in July asking the agency to turn over any internal memos relating to its geolocation policies, including whether the DOJ and FBI require a warrant for the real-time location tracking of private citizens.