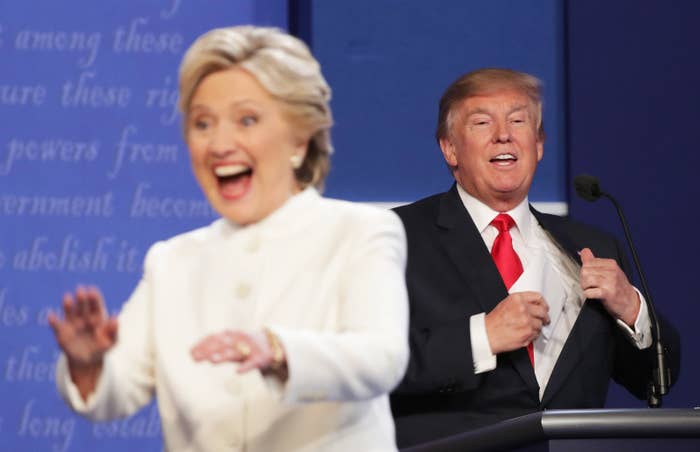 WASHINGTON — Employees from 20 of the nation's largest and most influential technology companies have donated approximately $4.4 million to the Clinton campaign this election, roughly thirty times as much they've given to Trump's campaign, according to a BuzzFeed News analysis of Federal Election Commission data.

The twenty companies BuzzFeed News examined included popular social networks like Twitter and Facebook, incumbent manufacturing giants Dell and Hewlett Packard, and multinational heavyweights Amazon, Intel, Oracle, and Uber. In total, workers for the 20 companies gave about $4.4 million in itemized contributions to Clinton and $146,000 to Trump.
Staffers at Google and its parent company Alphabet topped the list at more than $1.1 million donated to the Clinton campaign through September, either directly to Hillary for America or via other "authorized" committees. Clinton's operation appears to have received more contributions from Google employees than any other employer, in or out of tech. Employees from Apple, Microsoft, Facebook, IBM, and Salesforce have also been among Clinton's top financial backers.
As with any broad analysis of campaign contributions, there's some imprecision involved. For example, some donors may not have correctly identified their employers. Additionally, campaigns are not required to "itemize" contributions from a donor until that donor has contributed $200 or more. And this analysis does not incorporate refunds to donors; in the FEC data, those reimbursements do not identify the payee's employer.
The contributions show not only Silicon Valley's support for Clinton relative to other industries, but the lopsided giving of the tech elite in favor of Clinton over Trump.
Apple employees have donated more than $500,000 to Clinton this election cycle, compared to less than $5,000 to Donald Trump. Facebook staffers (board member Peter Thiel excluded) said "I'm with her" in all the ways $350,000 can, compared to the six employees who gave roughly $4,000 to "Make America Great Again". And apparently "Netflix and chill" may not include financially supporting Trump's campaign to the staffers there, only one of whom donated just $250 to the real-estate developer, while others gave about $68,000 to the former secretary of state. Twitter employees gave more than $92,000 to Clinton, but only two Twitter staffers donated to the Trump campaign; their contributions totaled slightly less than $4,000.
While the disparity in donations favoring Clinton over Trump varied from company to company, employees gave more to Clinton in every case, with staffers from eBay, Airbnb, Box, and Square giving zero recorded donations to Trump, and several others tallying less than $2,000.
BuzzFeed News included several name variations of each company to capture the place of work that individuals must disclose when they donate. For instance, "Amazon" and "Amazon, Inc." But a significant amount of donors don't report their employer, or don't have one. What's more, vast sums of money are funneled and deployed to support candidates through Super PACs, which carry fewer contribution restrictions. But even in that big-donor world, Clinton appears to be leading Silicon Valley.