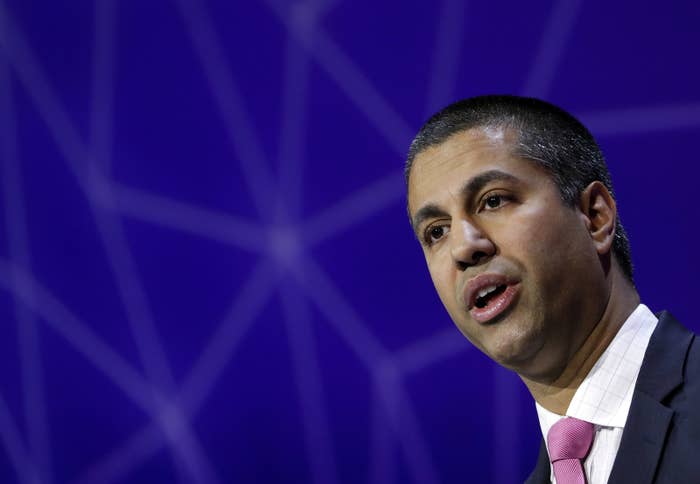 Proponents of strong net neutrality rules in Silicon Valley and beyond are bracing for a big fight in the coming months. Ajit Pai, the new Chair of the Federal Communications Commission appointed by President Trump, is pushing to undo widely celebrated Obama-era rules designed to maintain a free and open internet. Instead, Pai plans to propose that internet service providers would only have to volunteer not to engage in unfair practices. Predictably, net neutrality advocates are already rebelling against the idea.
Pai advanced his proposal, which is still in a preliminary stage, in a meeting with telecom trade groups last week, sources familiar with the matter told BuzzFeed News. The plan would roll back the open internet order passed by the FCC in 2015, which prohibits ISPs from favoring or discriminating against certain types of web traffic, and would replace the net neutrality regulations with pledges by internet providers to avoid anti-competitive behavior like blocking or throttling.
But government officials and tech companies who support open internet rules say the proposal is net neutrality in name only. They warn the proposal is watered down and would strip internet users of crucial protections, while giving internet gatekeepers like Comcast and AT&T more power to influence what people see and do online.
"Chairman Pai's proposal would put the future of an open and free internet in the hands of big corporations."
"If recent press reports are true, we are gearing up for a battle that could eviscerate the widely supported open Internet protections adopted by the FCC," Mignon Clyburn, the sole Democratic commissioner on the FCC, told BuzzFeed news in a statement. "Rolling back these basic consumer and competition protections should be highly alarming to anyone who cares about the free and open internet."

For consumer advocates, Democratic lawmakers, and much of the tech industry, network neutrality is a vital protection against internet companies manipulating online activity. Without strictly enforced rules, ISPs will have more power to unfairly promote their own content, or dissuade users from using competing services, advocates say. And not only does net neutrality protect online businesses like video streaming services and media outlets, it also promotes the free speech rights of Americans who rely on the free flow of information and expression online.
"The only way to protect a free and open internet is with strong net neutrality rules of the road – not voluntary guidelines – that ensure businesses, innovators and families can use the world's greatest platform for commerce and communications," Democratic Sen. Ed Markey of Massachusetts, told BuzzFeed News in a statement. "Chairman Pai's proposal would put the future of an open and free internet in the hands of big corporations and the powerful few at the expense of consumers.

A spokesperson for the FCC declined to comment.
ISPs maintain that net neutrality regulations are overly burdensome and discourage the telecom industry from investing in infrastructure, since broadband providers must shoulder the costs of surging web traffic — without the ability to charge businesses that use massive amounts of data.
"The FCC decided to apply last-century, utility-style regulation to today's broadband networks," Chair Pai said during a speech at Mobile World Congress in Spain earlier this year.
In a major victory for net neutrality advocates last year, however, a federal appeals court upheld the open internet rules that require internet providers to treat all web traffic equally. Further appeals are still pending.
According to the sources familiar with Pai's meeting, the Federal Trade Commission, which can hold companies accountable for their marketing statements and terms of service, would enforce ISPs' promises.
"The framework is voluntary. I think we all know what voluntary commitments are worth."
But some in Silicon Valley view the proposal as a non-starter. "Getting commitments from ISPs that have campaigned vociferously against net neutrality seems like a recipe for disaster for meaningful net neutrality protections," Evan Engstrom, the executive director of Engine, a policy and advocacy group for startups, told BuzzFeed News.
Chris Riley, the director of policy for Mozilla, described the proposal as "misguided," and criticized the lack of clear enforcement mechanisms.
"This isn't real net neutrality," said Michael Cheah, Vimeo's general counsel. "Even if these were great rules, which they are not, this is not a framework that helps the industry. This is a framework that is meant to help the incumbent ISPs," he told BuzzFeed News.
Even with commitments to not block people from accessing certain websites and services, net neutrality is more than just adhering to strict rules, Cheah said; it's a broader concept that ISPs shouldn't mess with traffic, at all. If the FCC repeals the rules, ISPs could more easily create internet fast lanes, privilege the content of partner media companies, discount data used for select services, and place caps on web data, Cheah said.
"The framework is voluntary. I think we all know what voluntary commitments are worth. It is every industry's dream to be voluntarily regulated," Cheah said.

For video streaming companies like Vimeo and the broader community of startups, weaker net neutrality rules could mean higher costs and impaired growth. Data-hungry businesses might need to broker deals with ISPs to quickly deliver their services over the web. Cheah said that without the money or right business connections, this could stifle innovation for a multitude of services.
While streaming TV company Roku declined to comment on reports of Chair Pai's proposal, a spokesperson told BuzzFeed News, "[I]n general we believe that clear rules should be in place to ensure that the Internet remains open for content and services to be distributed to consumers without interference or other discriminatory practices."

Netflix also declined to comment on the proposed net neutrality roll back. But a spokesperson referred BuzzFeed News to the company's January shareholder letter. In it, Netflix said that a weakening of net neutrality rules is unlikely to affect its business because of its popularity and existing relationships with ISPs. But Netflix went on to say that internet providers should not be the ones to decide which services can grow and succeed on the internet.
This week, the Internet Association, a major web trade group representing Netflix, Google, Facebook, and Amazon will meet with Chair Pai to discuss a range of tech policy issues, including net neutrality, a source familiar with the meeting told BuzzFeed News.
A spokesperson for the Internet Association declined to comment on the meeting, but told BuzzFeed news: "People expect access to the entire internet when they pay for their connection, which is why it is so important for strong, enforceable net neutrality rules to be in place."