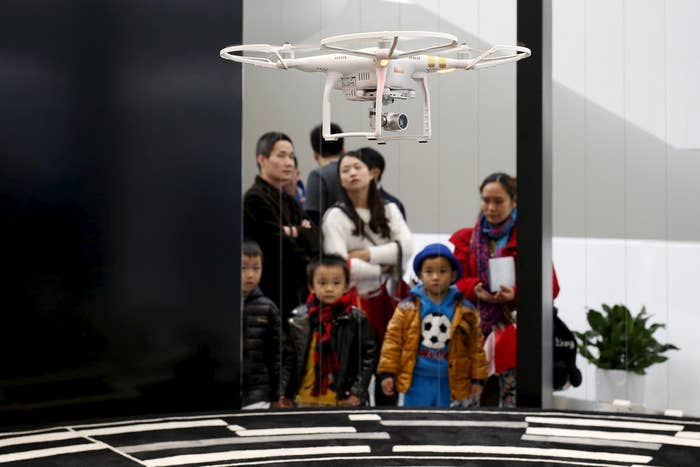 It will now be easier for students to pilot drones as part of their schoolwork, thanks to new Federal Aviation Administration rules that exempt high schools and colleges from the more stringent aircraft regulations placed on businesses.

In a memo released Wednesday outlining the new guidelines, federal regulators have designated drone schoolwork as a hobby or recreational — as opposed to commercial — activity, allowing students for the first time to fly unmanned aircraft without a pilot's license or special authorization from the government.
"Schools and universities are incubators for tomorrow's great ideas, and we think this is going to be a significant shot in the arm for innovation," said FAA Administrator Michael Huerta during a drone conference in New Orleans.
But the agency's policy prohibits teachers from being the primary operators of unmanned aircraft, because they are paid for their work and therefore "would not be engaging in a hobby or recreational activity" while flying a drone. (They can, however, pilot drones in a limited way — in case of emergency, for instance.)
Matt Waite, founder of the University of Nebraska-Lincoln's Drone Journalism Lab, told BuzzFeed News that the prohibition on teachers flying drones puts serious limits on the new policy's efficacy.
"I'm the one with the pilot's license. I'm the one who's been operating these for years. And now you're telling me that I can't fly it?" he said. For example, Waite said, the new policy would not allow a hands-on lesson in which he would fly an aircraft as his students practiced controlling the drone's camera.
"My students are coming in fresh and they have no experience at all. And now the only thing I can do is stand by and wait for something to go wrong," he said.
Waite also took issue with how drone-based journalism is classified by the FAA, particularly in schools, which the memo does not address. Like drone photography, the FAA views drone journalism as a commercial activity, which requires the drone's operator to have a manned-aircraft pilot's license and to apply for a special exemption, known as a 333. While the FAA has granted over 5,000 of these 333 exemptions to date, Waite says the University of Nebraska-Lincoln has still not received one, even after submitting an application eight months ago.
"It clears up some things in education but not a whole lot. If you are a journalism school and want to partner with a professional news organization, you still have to get a 333, that's not covered here."
Journalists are not the only professionals critical of the FAA's exemption process, which the drone industry and some lawmakers view as cumbersome and inefficient. This summer, the FAA is expected to present finalized drone rules that would do away with the entire application system and replace one-off 333s with a blanket approval for all American drone businesses.
Leading up to the finalized rules, Huerta, the FAA's chief, said a special advisory council will be formed to help speed up the adoption of drones into the national airspace. The council will include government officials and industry representatives and will be led by the CEO of Intel, Brian Krzanich, and Michael Whitaker, the FAA's deputy administrator.