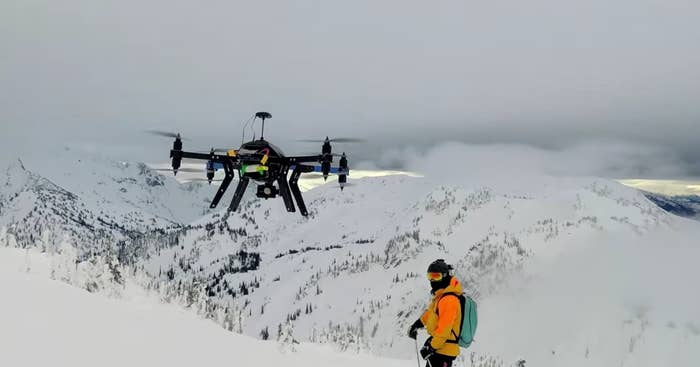 Cape Productions, a San Francisco sports video company, has chiseled away at strict government rules that limit commercial drone operations. In a first-of-its-kind exemption, the Federal Aviation Administration has granted Cape, which specializes in capturing video from athletes on North American ski slopes, the ability to fly its drones within close proximity of members of the public, relaxing a rule that binds every other drone business in the country.
In the United States, operating drones commercially remains illegal by default. But through a special exemption process, known as Section 333, businesses wishing to use drones in moneymaking ventures — real estate companies, agricultural firms, aerial photographers — can petition the FAA to do so. As of Jan. 15, the federal agency has granted more than 3,000 exemptions. These business are bound by a long list of requirements, however, including always having to keep the drone in sight and not operating its aircraft within 500 feet of people.
"For businesses, this is huge," Jason Soll, Cape's CEO told BuzzFeed News. "The only commercial applications that were legal at this point were closed-set filming or operations in the middle of nowhere," he said. Cape was given its Section 333 exemption last year, but its new ability to fly near skiers puts the company in a unique class of approved drone operations.
In the past, the FAA has given TV and movie production companies exemptions to fly drones close to people, relaxing the 500-foot set-back rule, but these operations could only occur on a closed film set, and the people involved had to be necessary to the film's production. Last November, Kansas State University, which runs a pilot school that includes drone instruction, was also given permission to fly its unmanned aircraft near student pilots and to people closer than 500 feet.
"We think this is going to tee up the next chapter of drones in the U.S.," Soll said. Cape must receive consent from the people in proximity to their drones, but the company can operate outside of a film set and among members of the public.
Cape's exemption sets a precedent for drone businesses. Other commercial drone operators can cite Cape's exemption as they apply for their own. And the industry at large can point to Cape as a model as the FAA comes to a decision on the government's first set of drone regulations, to be announced this summer.
These regulations, first proposed in February 2015, will broadly legalize commercial drone operations. Although many of the current rules are expected to remain in place — no nighttime flying, having to keep the drone in sight, and a ban on flying near people — they will replace the FAA's Section 333 exemption, giving the green light to the entire drone market and ending the case-by-case process.
"The exemption route, until we have rules that authorize the commercial operations of drones in our country, is the way to go," Lisa Ellman, a partner at the law firm Hogan Lovells and co-chair of its global unmanned aircraft practice, told BuzzFeed News. "But it's not a final answer — it's a Band-Aid."
Ellman said that Cape's exemption is a step in the right direction for a commercial drone industry frustrated with tight controls absent wider government approval. "Ideally, we need a rule that allows us to fly drones near people in a way that is safe and allows us to take advantage of the benefits," she said.
The FAA will use the exemption process to inform the rules it will put forward later this year. But for entire classes of businesses, like news outlets, delivery services, and construction companies, the 500-foot set-back requirement is a huge obstacle. — even with an exemption like Cape's, where a drone can fly close with people's permission.
"It's important and interesting that the FAA is allowing people to get closer [to drones]," Matt Waite, a journalism professor and founder of the University of Nebraska-Lincoln Drone Journalism Lab, told BuzzFeed News. "But in terms of news having to get permission from people to fly closer to them, it's about as unworkable as not being able to get within 500 feet of them."
For Waite, it's not just drone journalism that presents a dilemma for aviation regulators, but any drone-based enterprise wishing to operate in densely populated areas. "When in a major city are you more than 500 feet from a person at any given time?" he asked.
When the FAA unveils its finalized drone rules this summer, businesses will be closely watching for the set-back requirement. In its initial proposal, the agency did not indicate a specific distance, instead stating, "No person may operate a small unmanned aircraft over a human being." What remains unclear is what "over" refers to, and what the FAA will ultimately decide. "Does it mean literally you couldn't fly over somebody's head, like a laser beam directly above them, or could it be there is a halo around everybody, 10 feet, 20 feet, 100 feet?" said Waite. "It is a complete mystery."
In the meantime, special exemptions like the one granted to Cape will shape the boundaries of the burgeoning drone market.