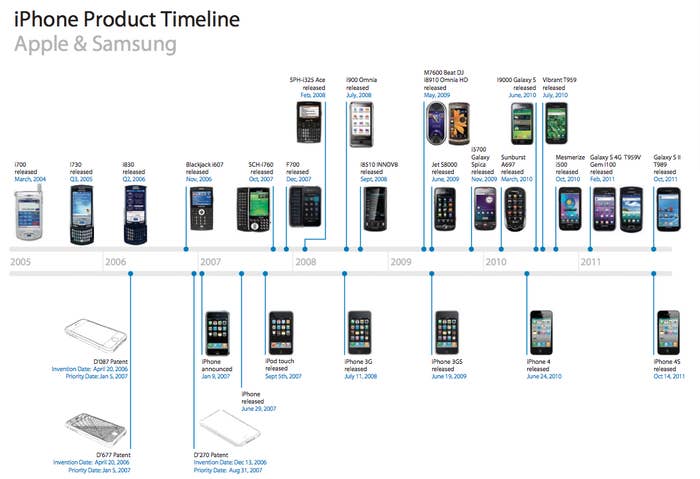 For the first time in more than 100 years the Supreme Court will take on a design patent case pitting the world's two largest phone manufacturers against each other, a major legal battle that both sides say will shape the future of consumer technology and alter incentives for designers and engineers to create new products.
Next month, the Supreme Court will hear arguments from Samsung and Apple over how much money Samsung should be forced to pay for infringing on several of the iPhone maker's design patents. The design elements include the iPhone's rectangular face with rounded edges and bezel, and a home screen populated by a grid of icons. Stemming from a lawsuit that began in 2011, Samsung was ordered to hand over $548 million. A significant portion of that amount, $399 million, was derived from the total profits Samsung took in from the sale of patent-infringing phones. Samsung will try to convince the Supreme Court that it shouldn't have to forfeit all of the profits it generated from its devices, since only some components of its phones were patented by Apple.
In its latest brief filed this week, the final written argument before the two parties appear before the Supreme Court in October, Samsung argued that a ruling in favor of Apple would inspire a new breed of patent troll. Samsung believes that it shouldn't be forced to hand over all the profits from its infringing phones, but only a percentage. This reflects the fact that portions of the phone were patented by Apple, but other significant portions were Samsung's. Otherwise, Samsung argues, a company that infringes on a tiny percentage of another firm's product could unfairly be held liable for 100% of its profits.
By forcing companies who infringe on design patents to hand over all their profits, as opposed to just a portion of their earnings, Samsung contends that litigation-hungry entities will be encouraged to target technology companies whose products encompass hundreds or thousands of complex parts. Samsung argued that Apple's take on patent law "would open up new frontiers of litigation that would stifle the very innovation that the patent system seeks to encourage."
Samsung isn't alone in thinking so. In a brief backing the company, tech giants including Google, Facebook, Dell, and eBay argued that the rationale behind Apple's stance was "out of step with modern technology." By way of analogy, the tech companies said that a manufacturer of a smart TV could be required to pay its total profits in damages if the TV infringed on someone else's design patent, even in a very insignificant way. Samsung offers a more striking hypothetical: A car manufacturer that copied someone's design for a cup holder would be compelled to turn over its entire profit generated from the car.
Apple maintains that the design of the now iconic iPhone was crucial to its success, and that Samsung's copycat infringement was not merely ornamental. Last month, more than 100 design professionals including Calvin Klein and Alexander Wang agreed with Apple, writing in a brief to the Supreme Court that design is not just one insignificant aspect of a product, but — in the minds of consumers — represents the product itself.
Apple insists that the lower court correctly interpreted the law by ordering Samsung to turn over its total profits. "Samsung's arguments are addressed to the wrong branch of government," Apple's lawyers wrote, suggesting that its rival take the issue to Congress rather than seek a reinterpretation of the law by the high court.
David Opderbeck, a law professor at Seton Hall University, told BuzzFeed News that the Supreme Court will likely rule in one of three ways: The justices may decide that the infringement of a design patent should always lead to damages equaling the total profits of a product; that the damages should be limited to the specific components and not the entire product; or take a kind of dynamic middle ground, where each case must depend on the specific facts and damages would be determined by how important the design patents were to the total product.
"In this age when product design is so closely wedded to technology, how does patent law adjust?" Opderbeck said. "Giving a reward to an innovator but not allowing an innovator to dominate the whole technology just based on design?"
Samsung and Apple will argue in front of the Supreme Court on Oct. 11.