Ron Wyden: The "Going Dark" Debate Is "New Dog Whistle Of National Security Politics"
In an interview with BuzzFeed News, the Democratic senator touted a new Harvard study contradicting Obama administration claims that encryption technology has hamstrung law enforcement investigations.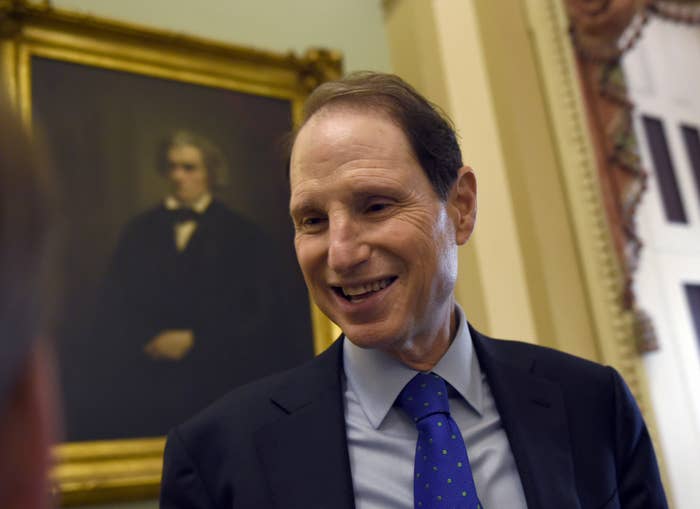 WASHINGTON -- Democratic Sen. Ron Wyden of Oregon said a new Harvard study released this week shows that Obama administration claims about the impact of encryption technology on law enforcement "are overblown."

The study, titled "Don't Panic: Making Progress On The 'Going Dark' Debate," found that government surveillance powers are strengthening, contrary to claims made by law enforcement and intelligence officials.
In an interview with BuzzFeed News Wednesday, Wyden touted the study's findings and said he is is trying to get it into the hands of as many of his colleagues as he can.
"This argument, where everybody runs around and says that without weakening encryption America is going to suffer, this is going to be the new dog whistle of national security politics," Wyden said.
The mass adoption of encryption technology — and fears that the popularity of encrypted phones will prevent law enforcement agencies from doing their jobs — was the subject of heated debate in Washington throughout 2015. Led by FBI Director James Comey, the Obama administration maintains that robust encryption may prevent the collection of crucial evidence.
"We call it 'Going Dark,' and what it means is this: Those charged with protecting our people aren't always able to access the evidence we need to prosecute crime and prevent terrorism even with lawful authority," Comey said in 2014. "We have the legal authority to intercept and access communications and information pursuant to court order, but we often lack the technical ability to do so."

Referring to the study, Wyden said, "The central point is the FBI director's concerns about encryption are overblown."
Wyden is one of the staunchest surveillance watchdogs in the Senate, but he is also often limited in what he can say due to his role on the highly sensitive Senate Select Committee on Intelligence.
"If you read the report, this is the first report where you have people with real national security chops who say this is just off-base," he said.
The Harvard report's research team included Matthew Olsen, the former director of the U.S. National Counterterrorism Center and general counsel of the National Security Agency. Two sitting NSA officials were also core participants of the report.
New encryption legislation will likely be debated in the spring, Wyden said. And he pledged to vigorously oppose any proposed law that would limit the technology. Wyden believes such proposals would jeopardize consumer privacy and national security. "The bills being produced give us less of both," he said.
Not only does encryption shield citizens and government agencies from hackers and foreign attacks, Wyden said, but any new policy designed to limit U.S. encryption products will simply lead bad actors abroad, to markets with fewer restrictions.
And while the White House decided in October to not pursue legislation forcing Silicon Valley to change or weaken encryption, the pressure on tech companies to offer special government access into their products continues.
Wyden told BuzzFeed News he believes the fears surrounding encryption have been exaggerated. He pointed to the consensus among technologists, policy experts, and tech companies who view encryption as a tested security tool.
Even as the Harvard study downplayed the concerns revolving around encryption, it highlighted the many other ways law enforcement and intelligence agencies can spy on suspects. Connected devices like smart refrigerators, light bulbs, and door locks can also serve as effective informants, providing law enforcement with avenues of surveillance never before available.
To Wyden, these findings seemed like cold comfort, however, and he said he is determined to work on novel 4th Amendment issues that these new technologies present.