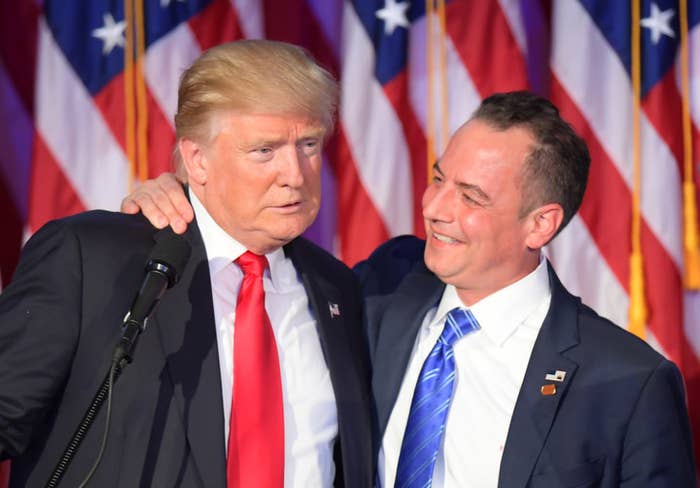 President-elect Donald Trump on Sunday picked Reince Priebus, the chairman of the Republican National Committee, to be his White House chief of staff and appointed former campaign chairman and conservative media firebrand Steve Bannon his chief strategist and a senior counselor.
In a list of potential Trump cabinet picks previously obtained by BuzzFeed News, Priebus was the only candidate listed for the position. However, Trump advisers had indicated that Breitbart News executive Bannon was also in the running for the job.
Priebus and Bannon are the first two people to officially join the Trump administration. "Steve and Reince are highly qualified leaders who worked well together on our campaign and led us to a historic victory. Now I will have them both with me in the White House as we work to make America great again," Trump said in a statement.
Both men said they were thankful for the chance to serve in Trump's White House.
"I want to thank President-elect Trump for the opportunity to work with Reince in driving the agenda of the Trump Administration," said Bannon. "We had a very successful partnership on the campaign, one that led to victory. We will have that same partnership in working to help President-elect Trump achieve his agenda."
"It is truly an honor to join President-elect Trump in the White House as his Chief of Staff," said Priebus. "I am very grateful to the President-elect for this opportunity to serve him and this nation as we work to create an economy that works for everyone, secure our borders, repeal and replace Obamacare, and destroy radical Islamic terrorism. He will be a great President for all Americans."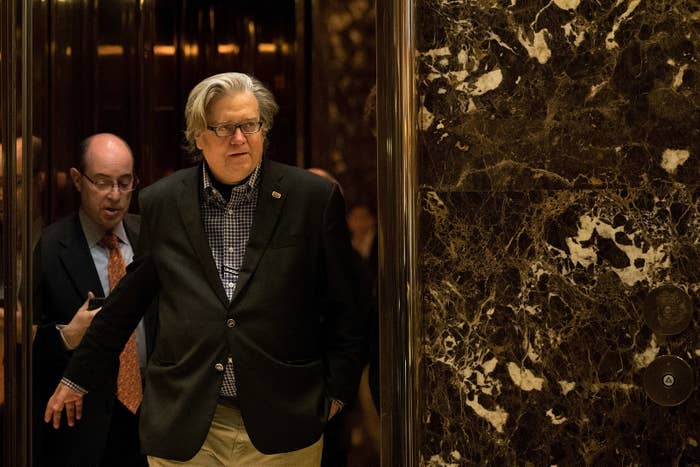 Unlike other mainstream Republicans, Priebus maintained a close relationship with Trump during the chaotic 2016 presidential election campaign, urging the businessman to tone down his controversial comments while repeatedly pleading with his party members to unite behind their nominee.
During Trump's victory's speech early Wednesday morning, the president-elect singled out Priebus for his assistance during the campaign, saying, "Reince is really a star and he is the hardest-working guy."
The position of chief of staff is a hugely influential role during any administration, with the officeholder serving as a form of gatekeeper to the president and providing advice.
Despite this, Bannon's appointment was listed first in the statement released by the Trump team. Before taking the reins of the Trump campaign in August, Bannon helmed Breitbart News, a right-wing media outlet known, in part, for its critical coverage of establishment conservatives. Bannon has framed Trump's rise as part of a "sea change in American politics," connected to a global nationalist wave.
Some political observers on the left voiced their dismay to the announcement. David Axelrod, the former top adviser and chief campaign strategist to President Barack Obama said Bannon's appointment is "deeply troubling." Jon Lovett, a former Obama speechwriter said, "My stomach dropped when I saw the Bannon news, but not because I was surprised. It's just our worst fears in the grim wide open."

Democratic leader Nancy Pelosi said in a statement Monday, "Bringing Steve Bannon into the White House is an alarming signal that President-elect Trump remains committed to the hateful and divisive vision that defined his campaign."
John Weaver, the top campaign strategist for Republican presidential contender and Ohio Govenor Jon Kasich, was even more critical. "The racist, fascist extreme right is represented footsteps from the Oval Office. Be very vigilant America," he said on Twitter, referring to Bannon's new post.

In a statement released Sunday night, the head of the Anti-Defamation League, Jonathan Greenblatt, said the organization "strongly opposes the appointment of Steve Bannon."
"It is a sad day when a man who presided over the premier website of the 'alt-right' — a loose-knit group of white nationalists and unabashed anti-Semites and racists — is slated to be a senior staff member in the 'people's house,'" Greenblatt said.


In a statement, J Street condemned Trump's appointment of Bannon, calling the decision "alarming and unacceptable."
In response to a tweet saying they were "apoplectic" about Bannon's appointment, a spokesperson for the American Israel Public Affairs Committee (AIPAC) told BuzzFeed News, "AIPAC has a long-standing policy of not taking positions on presidential appointments — any suggestions or rumors to the contrary either privately or publicly are completely false."
A spokesperson for the RNC did not initially respond to a request for comment as to who would serve as the interim RNC chair.

"The Bannon-Priebus team is a tremendous choice by President elect Trump," Newt Gingrich said on Twitter after the announcement. "Bannon for key strategies, Priebus for daily management. Great team."

Gingrich is among other names being considered for the Trump cabinet, according to a list obtained by BuzzFeed News, including Chris Christie, Ben Carson, Sarah Palin, Rudy Giuliani, and Mike Huckabee.