Mobile Banking Could Take Over The Developing World
A new Brookings Institution report says financial tech is helping to close the economic gender gap and connect marginalized communities that lack access to banks.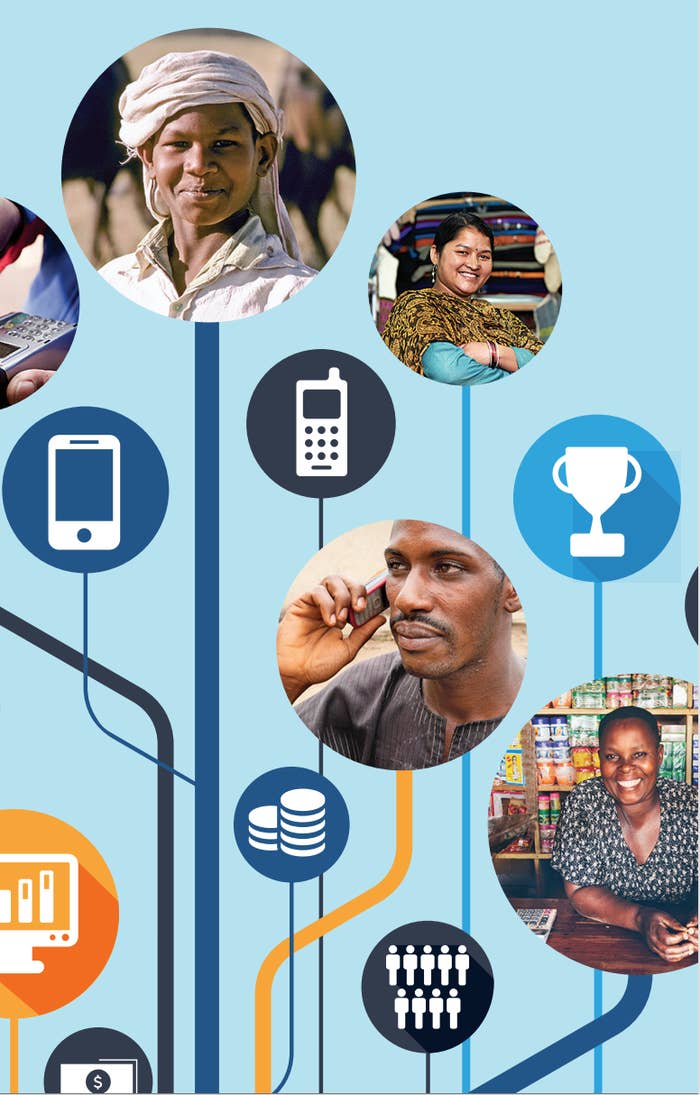 According to the World Bank, 2 billion people around the world live on the margins of the formal financial system. That's 2 billion people without a secure means of saving their money, 2 billion people without credit cards or any of the new wireless payment systems they enable. In developing economies, the situation is improving. But it still has a long way to go. And with financial access and participation varying wildly across the globe, there's no one-size-fits-all solution.
On Wednesday, the Brookings Institution's Center for Technology and Innovation published a comprehensive report evaluating the state of financial access in 21 developing countries in Latin America, Africa, and Asia. The study ranks nations across four broad categories: commitment of a nation's government to increase access to financial tools; the regulatory environment; adoption of traditional bank accounts and digital services, like mobile money accounts; and the strength of phone networks.
The main finding? Financial services are taking off in the developing world, and tech-minded African nations are leading the way. Of the top five countries Brookings ranked, only one, Brazil, was outside of the continent. Kenya claimed the top spot, followed by South Africa, Rwanda, and Uganda.
"Mobile money and other digital financial services are enabling enormous progress in access to finance," the report states, "particularly in places — for example, in many sub-Saharan African countries — where there is often a lack of legacy systems and established traditional financial institutions."
The rise of mobile payment technology, the authors hope, will also foster a wider range of services beyond purchases and sending money to family members. They expect, over time, that interest-bearing savings accounts will be offered over mobile and that a wider adoption of government subsidies going directly to citizens' mobile accounts will take hold (limiting corruption, theft, and waste).
While feature phones (the non-smart kind) are prevalent among impoverished nations, John Villasenor, one of the lead researchers of the study, sees enormous financial potential for an app economy based on cheap, off-contract smartphones. "In the developing world, in particular among the people who are unbanked, one of the really interesting transitions we are going to see in the next couple of years is the mass adoption of smartphones," he said.
Villasenor told BuzzFeed News that a country's commitment to bringing disadvantaged people into the financial system is fundamental. In India, for example, where lawmakers launched an initiative to provide 75 million people with bank accounts and debit cards, public subsidies for kerosene, fertilizers, and food are now being paid directly into citizens' accounts to encourage their use. (India claims one-fifth of the world's entire adult population without a bank account.) In Peru, under the leadership of the national bank association, mobile payment technology is being developed that will someday allow anyone with access to it to send and receive money across different mobile platforms.
Financial empowerment can be particularly transformative for women, people living in poverty, and other marginalized groups. "There's a big gender gap in access to financial services with women being disproportionately excluded in some countries," said Villasenor; according to the World Bank, 65% of the world's adult men have accounts with financial institutions, compared to only 58% for women. Brookings authors believe that technology can help close this gap. "Digital financial services such as mobile money give women more control over their financial lives," states the report.
Many observers assume that people on the lower end of the economic spectrum can't afford even low-end smartphones, Villasenor said. "But that's actually not going to be true for very much longer. And the social impact of that transition, not only in financial inclusion but beyond, is going to be truly profound."
While the countries evaluated in the study were pushed to invest in their 3G networks and to allow entities like retailers and post offices to take on the responsibilities and services of formal banks, the U.S. has enormous influence over the landscape too.
Through international banking standards, the U.S. helps shape financial policy around the world, Villasenor explained. A banking regulation known as Know Your Customer (KYC) sets the identification requirements for a person opening a bank account (for example, multiple forms of government-issued ID and proof of stable employment). According to Villasenor, because of the U.S.'s intense focus on preventing terrorist financing and money laundering, strict KYC requirements are common practice abroad, and validating one's identity and employment can be an onerous challenge for economically disadvantaged people.
"The problem is this collateral damage that can be created," Villasenor said. "People who really pose no threat at all, who just want to open an account with $15 in it, might find that they are unable to do so because they are unable to fulfill these very stringent KYC requirements."
Villasenor advocates for KYC requirements that are scaled depending on the size of the account — less rigorous ID verification is used for people with smaller bank accounts and more rigorous ones used for bigger accounts. That way, he says, honest individuals won't be excluded from the financial system abroad.
And for those tech entrepreneurs eyeing the rest of the world from Silicon Valley? Villasenor sees a big opening to develop smartphone technology. "The opportunity here is that it hasn't really happened yet," he said. "It's well understood how to use feature phones for mobile money, but what people haven't done yet is use the capabilities that smartphones provide."
Villasenor pointed to the security features that engineers could implement for consumers in the developing world — using the phone's screen for fingerprints, using the camera for bar code scanning, and voice recognition. He also noted the need to develop apps and interfaces that accommodate the range of reading levels among populations with low literacy rates.
"As smartphones become more common, as you get hundreds and hundreds of millions more people becoming digitally engaged, and some of these people are on the margins of the financial system, what are some of the ways that smartphones can be used to help these people?"