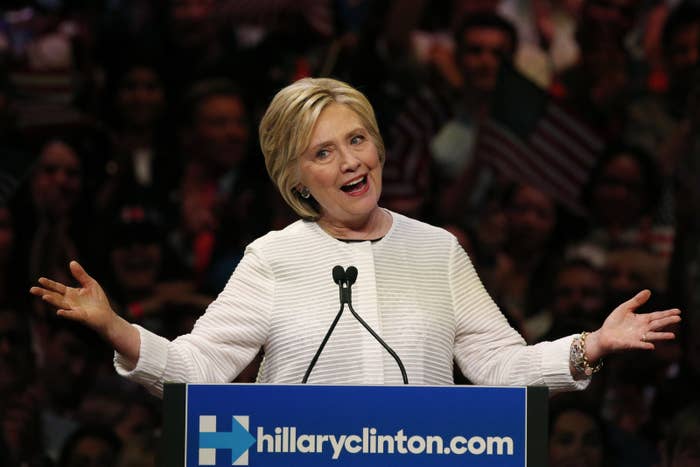 A host of tech advocacy groups are pressuring Hillary Clinton and Donald Trump to adopt a comprehensive internet agenda on vital issues like net neutrality and consumer privacy.
Their efforts build on work from 2012, when some of the largest internet companies in the world joined millions of American consumers to protest the anti-piracy bills known as SOPA and PIPA. Facing enormous public pressure, the legislators behind those laws ultimately scrapped their plans, marking a major victory not only for concerned consumers, but for the activists who had turned an obscure internet policy issue into a firestorm. Now, some of the same advocacy groups behind the SOPA defeat and the passage of net neutrality are hoping to harness that energy again.
"It's time that all these internet issues are elevated in the political conversation," Craig Aaron, the president of Free Press, told BuzzFeed News. Aaron has helped organize a coalition of groups that plan to push the presidential candidates to adopt a robust tech policy agenda, one that addresses broadband access for low-income families, the sprawling surveillance state, and the market dominance of cable companies like Comcast and Time Warner.
"As the parties draft their platforms for 2016, they must not ignore the millions of voters who want an affordable, open, and secure internet," Aaron said, adding that the tech policy discussion in Capitol Hill has been too often influenced by industry players, rather than public interest voices.
The internet policy platform, supported by 17 advocacy organizations, which focus on minority rights, civil liberties, and freedom of expression, will serve as a measuring stick, Aaron said. The groups don't expect the two major parties to adopt their entire platform, but the proposals are meant to lay down a set of policy principles and shape the commitments of the candidates.
With one month to go until the party conventions, technology issues have yet to feature prominently in the campaign. The two presumptive nominees did wade into the Apple vs FBI controversy earlier this year, with Trump calling for a boycott on Apple, and Clinton seeking to appease both Silicon Valley and law enforcement. The fight against ISIS propaganda also inspired them to chime in. Trump infamously suggested "closing the internet up in some way." And while Trump's position on net neutrality is unclear, Clinton has expressed her support.
Aaron said that he has been in talks with party leaders to set a meeting, but nothing has yet been scheduled.
A key part of the coalition's agenda is Network Neutrality— the set of rules requiring internet service providers to treat all web traffic equally. Reining in controversial government surveillance programs, including portions of the Patriot Act and others that target foreigners but also capture the communications of Americans, is another priority.
But more broadly, and perhaps more importantly, the coalition hopes to translate what can often be esoteric and elite-focused chatter on technology into an economics-based discussion rooted in the needs of working-class people.
"We still talk about smartphones as a luxury, instead of a necessity," Brandi Collins, media justice director at Color of Change told BuzzFeed News. "When the reality is that we live in a world where you can not even apply for a job at the gas station without going online."
Part of the reason internet issues haven't played a larger role in the election and political debates, Collins said, is that it can be hard to connect the dots between "this encryption issue that Apple is talking about and a person who is having trouble paying their cellphone bill." To inspire the kind of popular and inclusive engagement the groups are after, she said, the discussions around tech policy need to cater to the majority of voters, beyond Silicon Valley boardrooms and beltway meetings.
Jessica J. González, executive vice president and general counsel at the National Hispanic Media Coalition, told BuzzFeed News that educating the public on technology issues is an effective way to inspire political participation, as it has with SOPA and Net Neutrality.
And unlike older policy battles that have crystallized into "red vs blue" disputes, González believes issues like internet access and affordability can remain bipartisan, garnering widespread public interest. "Regardless of what side of the aisle you are on, or even if you are not a politician person, it's issues people can understand: It's frustration with the cable company."