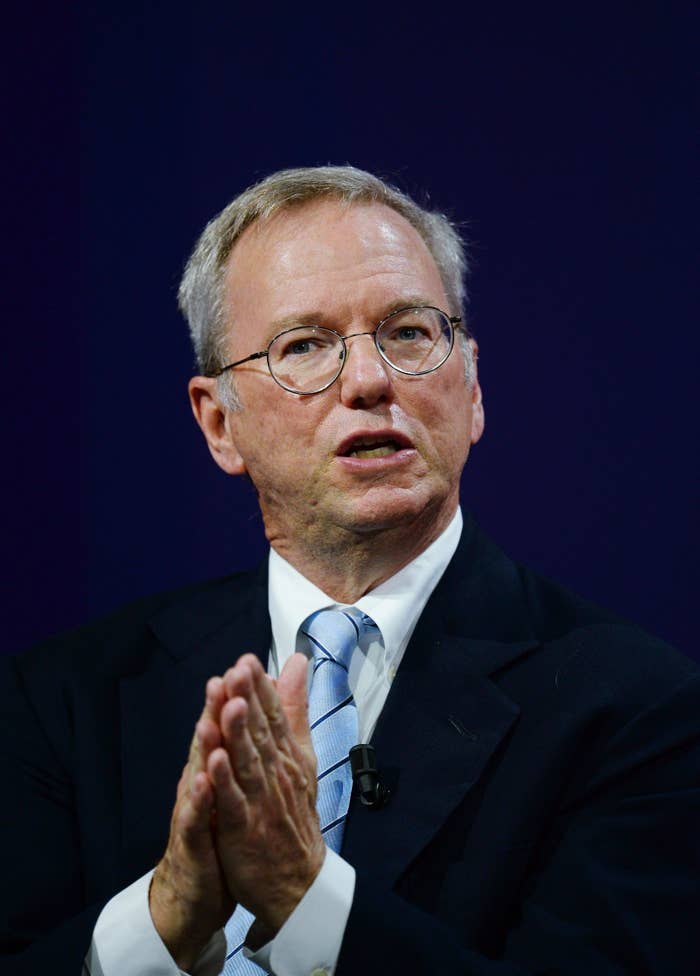 After vocally opposing President Trump, Alphabet, Google's parent company, has been making quiet inroads in Republican circles with a series of new hires and administration outreach.
Alphabet was one of several tech companies that led the charge in opposition to President Trump's initial travel ban — it helped mount a legal challenge, hosted rallies on its campuses, and one of its co-founders took part in an airport protest. Its executive chairman, Eric Schmidt, who supported Hillary Clinton's presidential campaign and had close ties to Obama, even told employees that the administration is going to do "evil things." Yet simultaneous to that vocal opposition, the search giant has been working to secure its footing in the new GOP-dominated landscape.
Google recently made a handful of staffing changes to bolster its outreach to conservative groups and the Trump administration. It promoted Lee Carosi Dunn, who was previously head of elections sales and a Republican lobbyist for Google; she is now the head of White House strategy and outreach. And it hired Max Pappas, formerly a top adviser to Republican senator Ted Cruz, who will now serve as Google's manager of outreach and public policy partnerships, working as Google's point person to conservative advocacy groups.
The company is also looking for an account team leader to helm Republican political advertising. Posted late last week, the position calls for candidates with "a wealth of experience with Republican campaigns," and "strong relationships with GOP campaign managers, pollsters and general consultants." In addition to an advanced degree and five years of management experience, the preferred qualifications include "deep relationships in Republican politics."

Luntz Global, the corporate and political consulting firm founded by Republican pollster Frank Luntz, has also been tapped by the company to help with messaging and outreach to the administration, according to a person familiar with the partnership. Google has worked with Luntz Global in the past. The company is listed as one of its corporate clients alongside Uber, HBO, Walt Disney, and several others. Neither Google/Alphabet nor Luntz Global responded to a request for comment.
Vincent Harris, CEO of Harris Media, who led digital strategy for Rand Paul's presidential run and managed digital operations for Ted Cruz, told BuzzFeed News that the company has vastly improved its relationships among Republican operatives since he began working with it eight years ago.

"Google always has to be concerned about looking too liberal as a company from the perspective of the Republicans," he said.
"Their management's politics are often out of sync with the Republican party, but from my personal perspective, the company has bent over backwards to try and work with Republican agencies and campaigns." He added, "They often go out of their way to avoid any appearance of favoritism for Democrats."
Matt Stoller, a fellow at the Open Markets program at New America, whose research focuses on competition policy, described Google/Alphabet's influence during the Obama years as "Wall Street West."
"They weren't going to repeat the mistakes of Microsoft," Stoller told BuzzFeed News, referring to that company's antitrust issues during the Clinton administration. "Microsoft showed disdain for Washington and thats why they got hit with the antitrust suit. That's why Google curried so much political favor."
But courting Republicans in Trump's Washington may come as a challenge. And under the new administration, Stoller thinks the company is in a bind. "There are multiple factions in the Trump world that do not like Google — both corporate competitors who are up against a monopoly, but also some of the nationalists don't trust Silicon Valley."
Another point of tension exists between the company's valuable engineering workforce, which generally opposes President Trump's policies, and Alphabet's corporate leadership, which has to curry favor with the White House.
Still, Alphabet remains a Washington powerhouse. Last year the company spent over $15.4 million lobbying Congress and federal agencies, and hired nearly two dozen outside firms to help push its priorities. It continues to outspend every other technology company in the nation's capital.
Who President Trump appoints to fill top antitrust posts in the federal government may also serve as a sign of Alphabet's influence in the post-Obama era. Trump has yet to nominate a permanent chair of the Federal Trade Commission or the chief antitrust lawyer at the Department of Justice. How these officials might grapple with Alphabet's sprawling businesses and those of other tech titans like Amazon and Facebook will be closely watched. While regulators in Europe have brought several anti-competitive charges against Alphabet, the FTC closed its probe of the company's search practices in 2013, a contentious move that critics point to as a troubling aspect of Obama's tech legacy.
Three people with knowledge of Trump's staffing decisions have told BuzzFeed News that Utah Attorney General Sean Reyes, who has called for the FTC to reopen that antitrust case, is a leading contender for the FTC chair.