What began as a tool for people in Nepal to mark themselves "safe" after 2015's devastating earthquake is now being used by protestors in Charlotte, North Carolina.

Facebook's Safety Check — a feature that has so far been deployed in the wake of natural disasters, bombings, and violent crime — was activated Thursday following protests sparked by the police killing of Keith Lamont Scott, a 43-year-old black man.

A Facebook spokesperson told BuzzFeed News that this was the first time Safety Check has been activated for a protest. The company also confirmed that it was initiated by people in the protest area, and not by Facebook itself.
Thursday marked the third night of demonstrations in Charlotte, with Mayor Jennifer Roberts declaring a midnight curfew. But police did not enforce it early Friday morning, as the protests remained peaceful.

Earlier in the week, however, the violence led Gov. Pat McCrory to declare a state of emergency in Charlotte, calling in the National Guard and state troopers to help maintain order. In the midst of the unrest Wednesday night, one protestor, 26-year-old Justin Carr, was shot and later died on Thursday, according to the Charlotte-Mecklenburg Police Department.
Since its release in October 2014, Facebook's Safety Check had been used by people in the immediate aftermath of earthquakes and cyclones, but that changed last year when the mass-shooting in Paris compelled Facebook to provide the tool to those affected by the bloodshed.

Safety Check has since been triggered by other violent events, including the Orlando nightclub shooting and the attack in Nice, France. But never before has it been activated by protests.
According to the company, the Charlotte Safety Check was triggered by the Facebook activity of people in the area. "When a significant number of people post about a specific incident and are in a crisis area, they will be asked to mark themselves safe through Safety Check," the spokesperson said.
Those individuals can then invite their friends to mark themselves safe. Facebook began testing this community-based activation in June, but the social network can still choose to deploy Safety Check itself, notifying everyone in a particular area, as it did in Orlando.
For events that impact a large number of people, and demand haste, Facebook's procedure is to "look at a combination of the scope, scale and duration of the incident to determine when it is appropriate for Facebook to notify everyone in an area," the spokesperson said.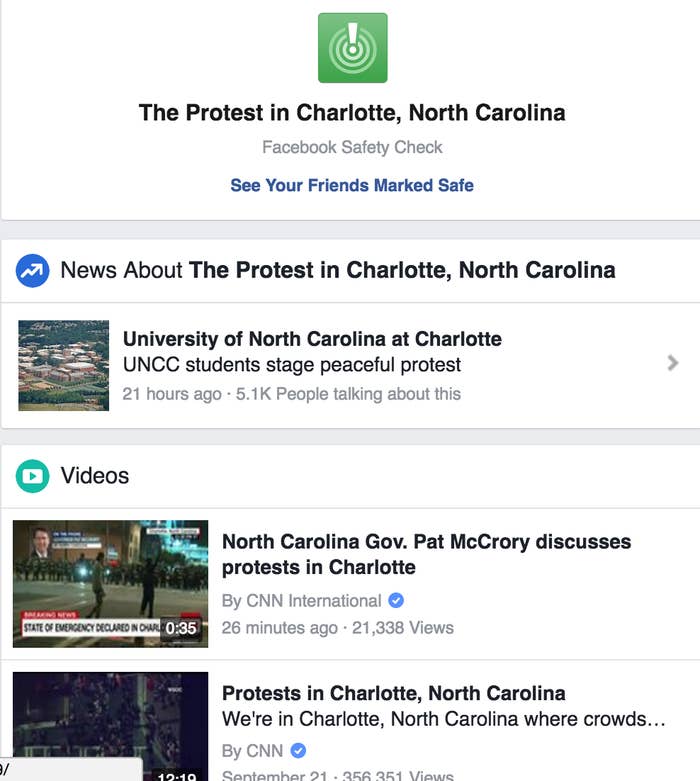 As with previous Safety Checks, notably following the Paris shooting, Facebook has drawn criticism for what some see as bias or selectivity in determining which events merit a Safety Check.

Addressing charges that Facebook was ignoring the plight of people in Beirut following a deadly suicide attack last year, the company's vice president of growth said Safety Check isn't useful for enduring conflicts. "During an ongoing crisis, like war or epidemic, Safety Check in its current form is not that useful for people, because there isn't a clear start or end point and, unfortunately, it's impossible to know when someone is truly 'safe,'" wrote Alex Schultz in a Facebook post last November.
The Charlotte Safety Check has prompted another strain of criticism — this time, about coloring the perceptions of what the protests represent.
The spokesperson said that Facebook is working "to find the best way for Safety Check to be helpful to the most people," including testing and improving on safety alerts initiated by people in affected communities.