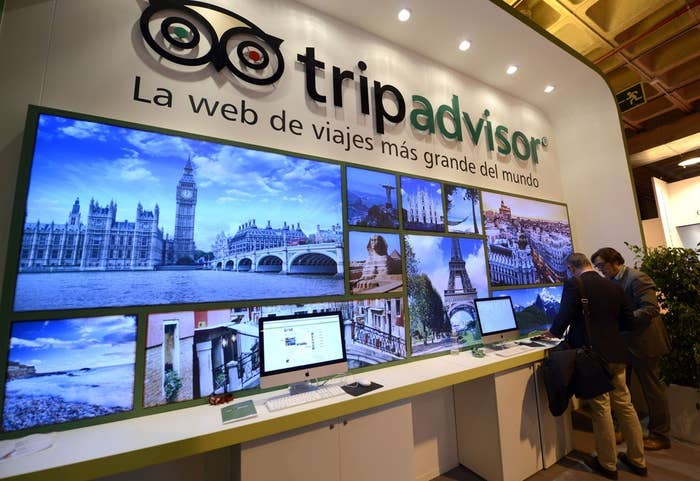 Days before Christmas in 2008, John Palmer, a Utah resident, purchased a keychain and a small desk toy as holiday gifts from the online merchant KlearGear. When the $20 worth of trinkets never arrived, he complained to KlearGear customer service. His PayPal account automatically canceled the sale and the items were never delivered, but when Palmer tried to get a resolution from KlearGear, it went unresolved. Annoyed, Palmer's wife, Jennifer, posted a critical review of KlearGear to RipoffReport.com.
Three years later, Palmer opened his email to an unexpected message from KlearGear. The company claimed Jennifer's negative review violated the non-disparagement clause in its terms of sales agreement and threatened John with a $3,500 penalty unless the review was taken down. That clause prohibits KlearGear customers from "taking any action that negatively impacts KlearGear.com, its reputation, products, services, management or employees."
Unable to remove their review from Ripoff Report, whose policy forbids deletion, the Palmers tried to reason with KlearGear. It didn't work. KlearGear reported the $3,500 penalty charge as unpaid debt to credit reporting agencies. The move damaged the Palmers' credit, the couple claims, preventing them from purchasing a badly needed furnace and securing a car loan. It also deterred them from applying for a mortgage. Without the resources to pay KlearGear off or to hire a lawyer, the Palmers were on their own. It took them 18 months to remove the debt from their credit report.
As unusual as the Palmers' case might seem, it's surprisingly common. Indeed, companies threaten consumers over negative reviews often enough that Congress is moving to pass a law banning the practice.
During a Senate hearing Tuesday, TripAdvisor's senior vice president of global product, Adam Medros, explained to lawmakers how important customer reviews are to his company and advocated for a ban on non-disparagement clauses.
TripAdvisor warns customers on its platform of businesses who employ so-called gag clauses, viewing the "unscrupulous behavior" as a hindrance to the free market, working to chill free speech. "Placing a muzzle on one's customers with contractual boilerplate goes against everything we stand for at TripAdvisor," Medros said. Because TripAdvisor only flags businesses that were reported by consumers, Medros said his company is aware of only a small percentage of clauses that exist.
With online reviews increasingly playing a larger role in shopping decisions, brands are using gag clauses like the one the Palmers encountered to manage their reputations, explained Eric Goldman, a professor at Santa Clara University School of Law. And those clauses unfairly expose customers to legal liability, even when a critical review is accurate. Goldman noted that "anti-review" contracts are fairly common in the medical field, with some patients prevented from honestly reviewing their doctors. But these clauses proliferate in other industries, too, including retail and hospitality.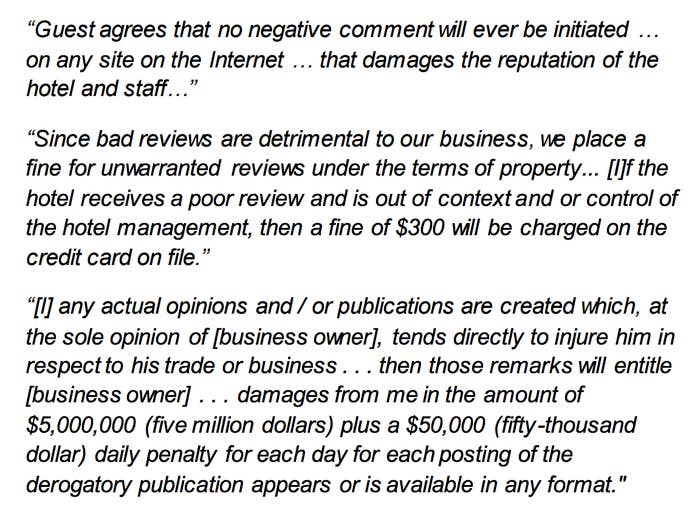 "When I see non-disparagement clauses, I unfortunately see the logical conclusion of a decades-long corporate effort to strip consumers of yet another fundamental right," said Ira Rheingold, the executive director of the National Association of Consumer Advocates. "Buried in fine print, consumers today are typically required to waive all sorts of rights, including the right to seek relief in our public justice system, and now with these gag clauses, the right to even speak."
With a bipartisan effort, Congress hopes to do something about that.
Sen. John Thune, chair of the Senate's commerce committee, is sponsoring legislation that would ban these gag clauses, granting the Federal Trade Commission the power to go after companies who use them. "A core tenet of the internet is the ability to freely share information with whomever you like," Thune said Tuesday. "What good is information if it's been sanitized to remove truthful criticism?"
Thune, a Republican from South Dakota, is joined by fellow Republican Sen. Jerry Moran in putting forth the Consumer Review Freedom Act, along with Democratic Sens. Claire McCaskill, Brian Schatz, and Richard Blumenthal.
"Regrettably, there are a growing number of businesses in the marketplace that are blocking honest consumer speech through gag clauses rather than responding to negative criticism by providing a better product or service," Thune said.
Medros of TripAdvisor said his company supports the legislation. Asked if the private sector alone could help consumers navigate these clauses, he likened TripAdvisor's and Yelp's efforts in policing the abuse of these contracts as never-ending whack-a-mole.
While a few senators expressed concern that the proposal might impede the ability of small businesses to protect themselves from defamation, Thune assured his colleagues that his bill would still permit businesses to pursue good-faith claims against dishonest reviews.
"Feedback is a gift," said Sen. Steve Daines, a Republican from Montana, expressing his support for the bill. "I think it's insecure companies, like bullies on a playground are insecure, that have these anti-disparagement clauses. Welcome to the free markets of the internet. Let's compete and let the consumer have its voice."
As politicians with national prominence, members of Congress are not strangers to receiving the gripes of the masses. "In our line of work we get plenty of feedback," Sen. Thune said, to a big laugh in the audience. "I'm going to embrace the idea that it's a gift."