Apple released a new report on employee diversity Wednesday, touting a year in which more than half of the company's new employees are minorities.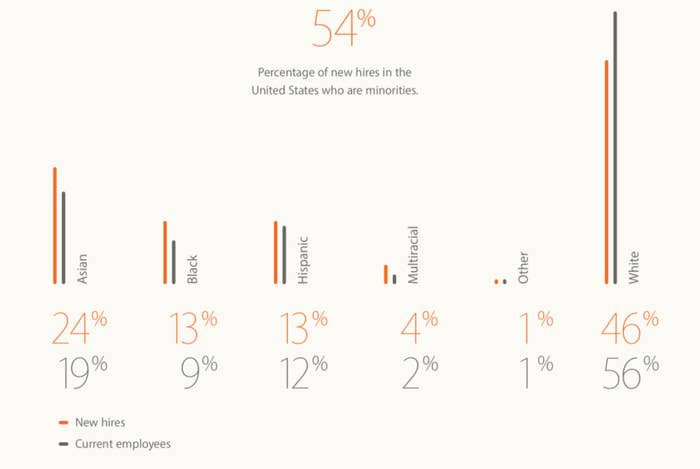 Since last year, Apple's overall percentage of minority employees has increased, slightly.
Black employees now make up 9% of the company's workforce, up from 8% in 2015; the number of Asians has increased from 18% to 19%; and Hispanics are up from 11% to 12%.
But the company remains 68% male and 56% white.
Last year, it was 69% male and 54% white. Diversity among Apple's leadership remained essentially the same as last year, too, at 72% male and 28% female.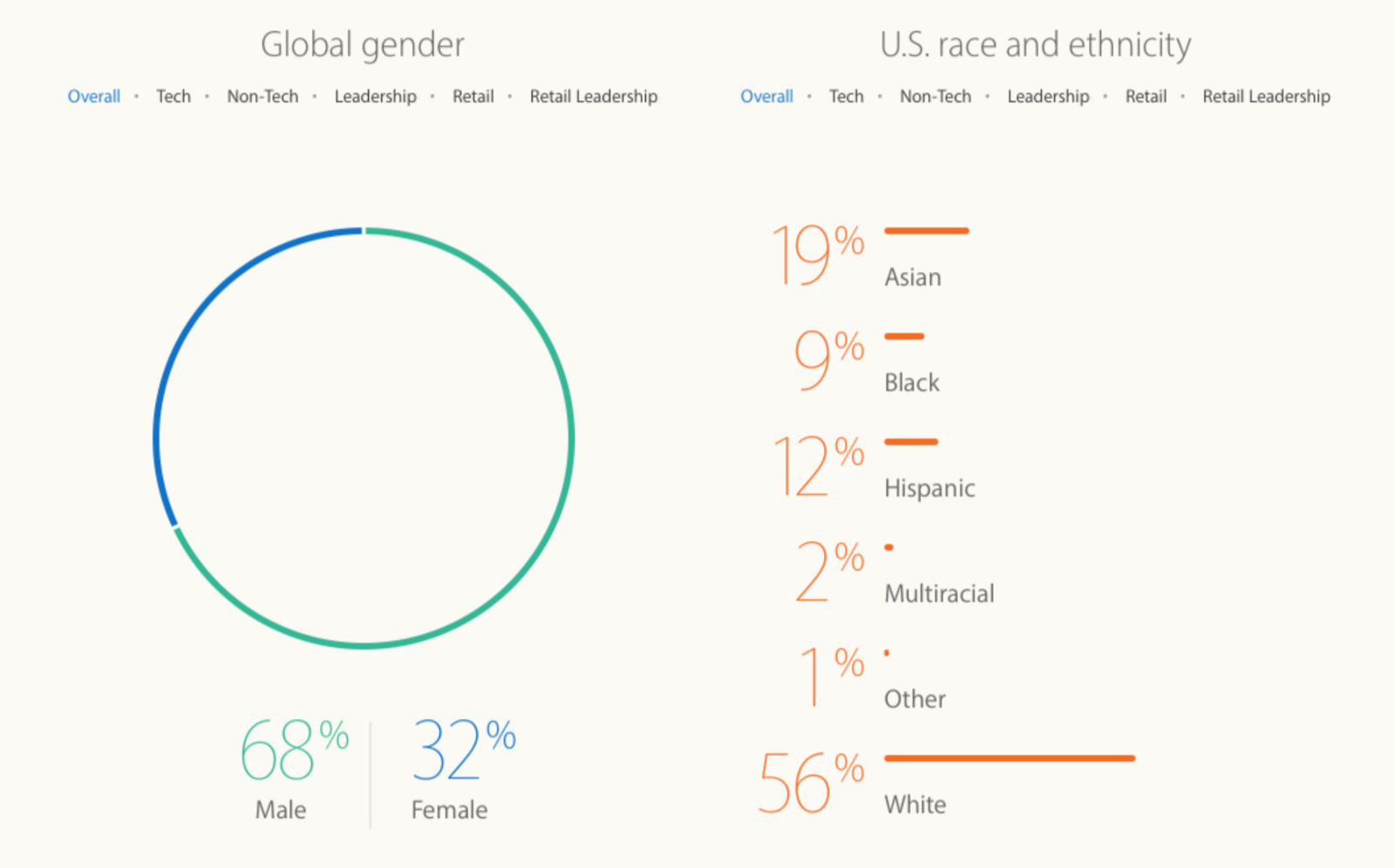 Like many of its peers in Silicon Valley, Apple has faced public pressure in recent years to make its work environment more diverse. Though many tech companies cite innovation as one of their core values, they maintain glaring racial, ethnic, and gender disparities in their workforces.
Apple is making some progress: Under CEO Tim Cook, women and minorities at Apple have been promoted and appointed to key leadership positions. They include Denise Young Smith, who leads global human resources; Lisa Jackson, the vice president of environment, policy and social initiatives; as well as Susan Wagner and James Bell, who sit on the board of directors. The percentage of female and black leaders within the company remained the same as last year, however, at 28% and 3% respectively. (Hispanic leadership saw a one percent increase, to 7%.)
Apple's diversity statistics are similar to other tech industry giants, although Apple does a little better when it comes to its percentage of black and Hispanic employees — minority groups that have been historically underrepresented in tech. Facebook's workforce is 52% white and 38% Asian, but only 4% of its employees are Hispanic, and 2% are black. Google's workforce is 3% Hispanic and 2% black.

Apple's Young Smith told BuzzFeed News that the new report reflects the company's standing commitment to a more inclusive workplace and a richer, more diverse tech culture. "We believe that there are talent pools out there, and we have to create access to them," she said. That contrasts with Facebook's diversity report in July, which appeared to blame the company's diversity problem on a lack of available talent.
One way Apple is trying to attract more diverse employees is with its Thurgood Marshall College Fund partnership that it announced last year, pledging over $40 million to a new multi-year diversity initiative. The first program of the initiative offered a $25,000 scholarship to 33 students from historically black colleges and universities, as well as a summer internship and mentorship program with the company. The inaugural class of students are currently halfway through their internships. So far, eight of them have been offered full-time jobs at Apple, Young Smith said.
"We are absolutely accountable to making sure that we are as richly represented as we can be," she said. "That's not just for the future. That's for now."
Rev. Jesse Jackson, who successfully pressured tech companies in 2014 to begin disclosing their diversity hiring data, told BuzzFeed News in a statement that he is pleased with Apple's progress. "Apple is showing that a large tech company with 80,000 US employees can move the diversity and inclusion needle," he said. "That stands in stark contrast to Facebook and other tech companies whose data shows that [they] have made little, if any, progress."
"Stagnation is already unacceptable," US Representative Barbara Lee told BuzzFeed News. Rep. Lee led a congressional delegation to Silicon Valley last year, pushing tech firms to develop and publish diversity plans with clear benchmarks. "For too long, diversity and inclusion in the tech sector has been an afterthought. This increase shows Apple's real commitment to addressing this issue. While much work remains, by working together, I am confident we can achieve parity."