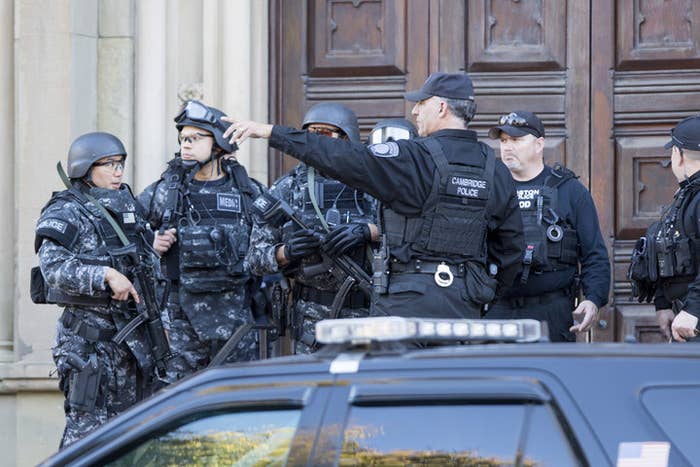 Rep. Katherine Clark, a U.S. lawmaker from Massachusetts working to make "swatting" a federal offense, was herself targeted in a swatting hoax Sunday night.
After an anonymous call was made around 10:00 p.m. warning of "an active shooter" with "shots fired" in Clark's home, several police officers were dispatched to her residence, swarming the front of her house, she told BuzzFeed News.
"It was a very scary first moment, walking out into my front yard and seeing a number of police, some with long guns," Clark said. She was at home with her husband and her two teenaged sons at the time of the incident. While no one was harmed, swatting is intended to elicit an aggressive, armed response from law enforcement.
A representative for the Melrose Police Department referred BuzzFeed News to a statement from Police Chief Michael Lyle. "It appears that someone was trying to elicit a police response by making a false report," Lyle said. "We take incidents like this very seriously, and will conduct a thorough investigation." The phone call that initiated the police response was anonymous and computer-generated.
Clark believes she was targeted because of her work speaking out against swatting and gender-based online abuse.
Just three months ago, Clark introduced legislation in the House of Representatives to criminalize swatting. Under the proposed law, convicted perpetrators would face up to 20 years in prison and could face civil lawsuits. More than 400 swatting attacks occur each year, according to the FBI, with a cost to local law enforcement totaling as much as $100,000 per incident.
"No mother should have to answer the door to the police in the middle of the night and fear for her family's safety simply because an anonymous person disagrees with her," Clark said. "This is the exact reason that I introduced the Interstate Swatting Hoax Act – I want perpetrators to know that there are legal repercussions to their actions, and I'm committed to giving law enforcement the tools to deter these dangerous crimes."
Clark's swatting bill is part of a bundle of policies designed to protect women and minorities from internet-enabled crimes that often go unpunished. Directing additional federal resources to investigate severe online threats and harassment and criminalizing the publication of non-consensual pornography are among Clark's recent initiatives on Capitol Hill.
Clark said she is even more determined to continue her work after her personal ordeal. "I didn't need extra motivation but it certainly provided that."