Amazon Is Clearing A Flight Path Through Congress For Delivering With Drones
"It just pops up on a drone right in front of your door?"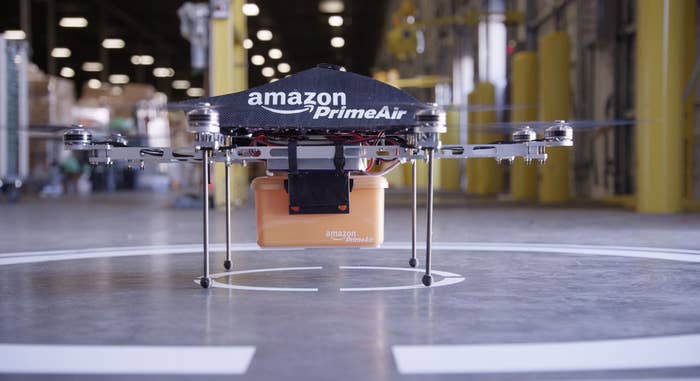 Before Amazon's drone deliveries can take flight, the retail giant wants state and local regulators to step aside.
Amazon's Vice President of Global Public Policy, Paul Misener, told a congressional oversight committee on Wednesday that it was crucial for the Federal Aviation Administration to set federal oversight rather than leaving rule-making to states and municipalities. "Uniform federal rules must apply," he said.
The FAA offered the first federal guidelines governing the use of commercial drones, or unmanned aircraft systems (UAS), on Feb. 15. While the draft rules were seen as a step toward unleashing the moneymaking potential of UAS, the policy has been challenged by privacy advocates and businesses bullish on drones.
Misener wants the FAA to lift bans on nighttime flying, operating more than one drone at a time, and piloting drones beyond an operator's natural line of sight. These prohibitions "make no sense and must be avoided," he said.
While Misener acknowledged that automated flights require more skill and complexity, he said that Amazon is working with NASA and the FAA to establish their reliability and safety. NASA is currently developing a UAS traffic management system, similar to ones used to guide commercial airplanes, said John Cavalowsky, director of NASA's airspace systems program.
"We think we will get there," said FAA administrator Michael Whitaker, saying that the federal drone policy would be finalized within a year. The draft rules currently limit drones to less than 55 pounds and restrict their flying altitude to below 500 feet. On a case-by-case basis, the FAA can grant commercial operators the ability to fly drones. Over 600 certifications have been granted so far.
Several lawmakers expressed their excitement for Amazon's ambitions. "It just pops up on a drone right in front of your door?" asked Rep. Elijah Cummings, gleefully. "Yes, sir," Misener replied, earning the chamber's laughter.
But the hearing often oscillated from amusement over improved pizza delivery logistics to concerns about pervasive surveillance, with drones seen as roving cameras or unaccountable data reapers. "Presumably somebody is flying in to deliver fine chocolates and French bubbly to my neighbor," Rep. Gerald Connolly said. "They may need to get close to land, and may be trespassing."
Harley Geiger, senior counsel for the Center of Democracy and Technology, a nonpartisan advocacy group, shared with the committee two scenarios of stark privacy violations. He sketched a scene where law enforcement agencies establish a drone-based dragnet, constantly tracking individuals in outdoor spaces and "chilling the public's right to free expression and free assembly," he said. In another, he imagined a network of private companies using Unmanned Aerial Vehicles to record footage of virtually every American who ventures outside, even while on private property.
Geiger said that current laws do not provide adequate protections of civil liberties when it comes to the use of drones by businesses or law enforcement. While an industry code of conduct may protect citizens from abuses by commercial firms, Geiger argued that the government's use of UAS is the more acute danger faced by the public.
"Prolonged physical surveillance of individuals in public places violates Fourth Amendment principles," he said. Geiger and the CDT believe that new legislation is needed to establish due process standards concerning drones and law enforcement. When individuals or private property are monitored by police UAS, Geiger believes a warrant should be required, barring exigent circumstances.
Amazon's Misener reiterated his company's commitment to protecting data privacy and emphasized that the retailer's drones would be put to use delivering packages, not as sentinels in a surveillance operation. "Even a commercial drone [whose] mission is purely delivery of a good could be equipped with surveillance equipment," Connolly said.