After Paris Attacks, Surveillance Remains A Key Issue In EU-U.S. Privacy Negotiations
The commissioner of justice for the European Union hopes to strike a new transatlantic data agreement by the beginning of next year.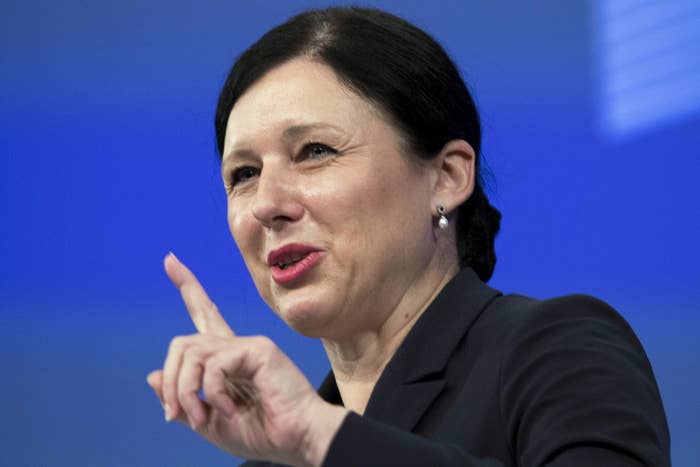 The commissioner of justice for the European Union struck an optimistic tone Monday, outlining a way forward for negotiations between the EU and the United States over consumer privacy and the future of internet commerce. During a speech at the Brookings Institution in Washington, D.C., Vera Jourová said a new agreement regulating the transatlantic flow of commercial data will be set by January next year.
Though her remarks were conciliatory, in part to to ease the concerns of an American tech industry under increased European regulatory scrutiny, Jourová emphasized that disagreements over national security and data privacy stand as key points of contention between the two sides.
Before Jourová began her talk, a moment of silence was held to honor the victims of the Friday attacks in Paris. And even as the events have prompted calls for increased surveillance power in Europe and the U.S., Jourová stressed the need for thoughtful government action.
"This is an attack on our values and basic principles," Jourová said. "And what we value is our freedom. And what is part of our freedom is the protection of privacy."
Negotiations between Jourová and her American counterpart, Department of Commerce Secretary Penny Pritzker, began anew in early October, aiming to restore a transatlantic trade agreement that allowed American tech companies to transfer the data of European customers to the U.S. — as long as the companies provided adequate privacy protections. That agreement, known as Safe Harbor, was invalidated by the EU's highest court, however.
The court found that American national security interests had intruded upon the privacy rights of European citizens. At the heart of the court's opinion were American surveillance programs that rely on consumer data provided by giant internet companies.
"Surveillance is the main issue and is the reason we did not conclude the negotiations ... before summer," Jourová said. The justice commissioner explained that the political commitment to making a deal is there, but more work is needed to define when American law enforcement agencies can gain privileged access to the data of Europeans. As negotiations proceed this winter, clarification on basic but fundamental terms like "national security" and "public interest" will need to be made, she said.
"Surveillance issues have been at the center of safe harbor negotiations," said Cameron Kerry, a fellow at Brookings' Center for Technology Innovation. Kerry pointed to a controversial law passed by the French Parliament in May, expanding the government's surveillance powers, to show that debates over privacy rights and state power remain unresolved on both sides of the Atlantic.
As Jourová took questions from the audience, which turned the discussion again to Paris, she insisted that the EU's commitment to protecting the privacy of its citizens would not change in light of the tragedy, just as it did not after the terrorist attacks on the French newspaper Charlie Hebdo. "In those days we decided not to react with panic," she said, "not to bring any hysterical changes and reactions dictated by fear, and to be steady on the principles which are so dear to us."