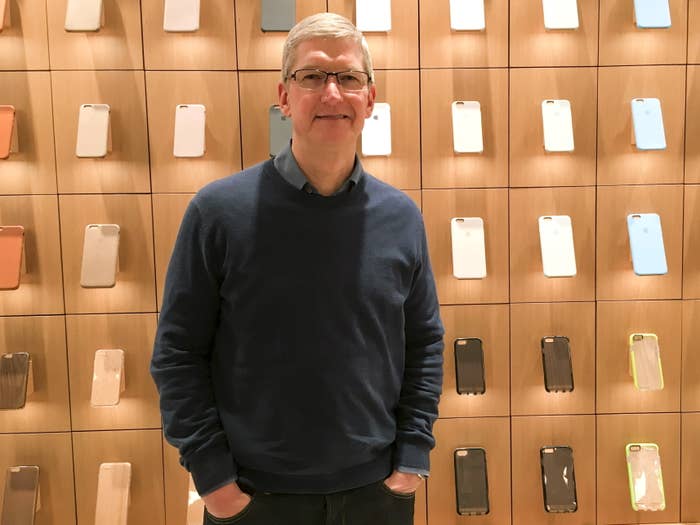 Just days before a courtroom showdown between Apple and the Department of Justice, Time published an interview with Tim Cook, Apple's chief executive. Here are some takeaways worth noting.
1.
The Government Didn't Tell Apple It Was Filing Suit
"...they started talking to us about how they might sue, or they may put a claim in. But they never told us whether they were going to do it or not. ... I think most people here felt like it wouldn't occur, and I felt that if it would occur, I would get a call. And that didn't happen. We found out about it actually from the press, who were being briefed about it in advance of the filing."
2.
Apple Hasn't Spoken to President Obama About the Case
Have you spoken to the President?
"Not about this case."
3.
...Or Donald Trump
When Donald Trump calls for a boycott of Apple products, do you think that's because he doesn't understand the arguments that you're making?
"I haven't talked to him so I don't know what he thinks."
4.
Apple Feels the Government Is Using a Very Old Law in Unintended Ways
"...at the end of the day I'll follow the law. But in our view there's no law today that says I have to do this. The government is saying that this two hundred-plus year old law gives them the right to tell me I have to do it. I look at that and say, come on guys, this is crazy."
5.
For Apple, the San Bernardino Case Is Not About One Phone
"You've got other cases springing up all over the place where they want phones taken through the process. So it's not about one phone, and they know it's not about one phone. I mean, that's a purpose of the case, to set a precedent to get a process so they can kind of turn a crank without regard to what the case is about, honestly."
6.
Either Everyone Gets Security — Or No One Gets Security
"...you can't have a back door that says, good people only. It doesn't work that way."
7.
Apple Does Not Want Access to Read Your Information
"My business is not reading your messages. I don't have a business doing that. And it's against my values to do that. I don't want to read your private stuff. So I'm just the guy toting your mail over."
8.
Shouldn't the Government Should Be Defending Our Civil Liberties?
"We're in this bizarre position where we're defending the civil liberties of the country against the government. Who would have ever thought this would happen?
… The government should always be the one defending civil liberties. And there's a role reversal here. I mean I still feel like I'm in another world a bit, that I'm in this bad dream in some wise."
9.
The "Privacy Versus Security" Debate Is a False Setup
"I think it's privacy and security or privacy and safety versus security. It's not that people's wellbeing, their physical wellbeing is not a part of privacy. It is. It very much is.
It's not that one side has life and one has side is a your financial information or your photo or whatever, it's not that."
10.
Forcing Apple to Comply in San Bernardino Could Lead to Far More Intrusive Demands
"...if this All Writs Act can be used to force us to do something [that] would make millions of people vulnerable, then you can begin to ask yourself, if that can happen, what else can happen? In the next senate you might say, well, maybe it should be a surveillance OS done. Maybe law enforcement would like the ability to turn on the camera on your Mac."