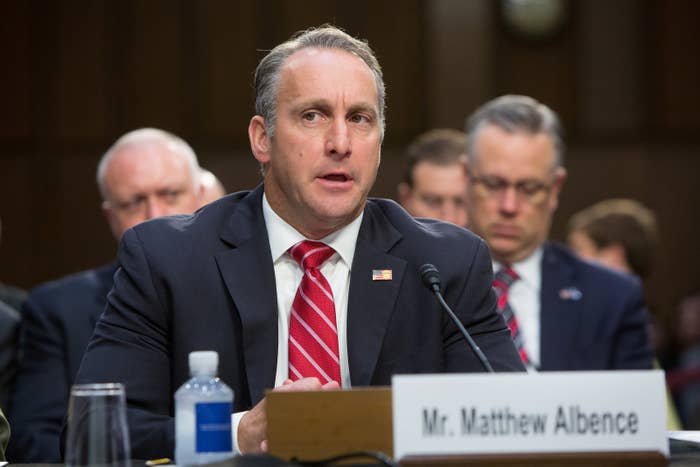 The official who spurred headlines by comparing migrant family detention centers to "summer camp" has made a dramatic ascension at Immigration and Customs Enforcement, where former senior ICE officials describe him as a policy hardliner whose rise symbolizes the Trump administration's embrace of aggressive immigration enforcement.
In the past 18 months, Matthew Albence, a career official and ally of former ICE director Thomas Homan, has risen to a height that would normally take years, these officials say — from a management position to overseeing the entire immigration enforcement wing of ICE before being named acting deputy director and second-in-command of the agency just last week.
"The joke was, 'Matt never met an undocumented immigrant that he wouldn't deport,'" said one former senior ICE official who worked alongside Albence. "That's his M.O. If you're here impermissibly, it's time for you to go. There's no need for discretion. What the hell is that for?"
Under his newly expanded responsibilities, Albence will have vast power to dictate policy and control the budget of the agency during an especially volatile time, as some advocates and politicians call for its abolishment because of its ramped up arrests and the fallout of the separation of children from parents at the border.

"I think the big takeaway is that it's very clear that this administration is all in for full enforcement. If you're here illegally for any reason, for any length of time, you need to worry," said another former senior ICE official who worked with Albence and described him. This ICE official said that Albence was frustrated at the Obama administration's focus on arresting and deporting only segments of the undocumented population, like those convicted of serious crimes. Like others interviewed for this story, he did not want to be named discussing a former colleague.
If anything, Albence's rise is an indicator that the administration has no plans to back off from aggressive tactics, the former officials said. "The way he would talk about folks, he was clear in his view that if you were not in status, you didn't belong here," the official said.
ICE spokesperson Liz Johnson said that Albence "is uniquely qualified to serve as acting deputy director, given his broad experience with both immigration enforcement and criminal investigations, which reflect ICE's complementary missions." BuzzFeed News requested an interview with Albence but was denied.
A senior ICE official said that during his more than two decades as a law enforcement officer, Albence's "priority has been to carry out the agency's mission within the legal and policy framework determined by Congress, the administration, and the department."
The official also added that Albence has worked his way up since 2012 when he became a deputy assistant director at ICE.
To supporters of the administration's approach, his placement as deputy director is a welcome sign that immigration enforcement will continue to ramp up. Ronald Vitiello, a former acting deputy commissioner of US Customs and Border Protection, was recently nominated as director of the agency.
"I have known Matt for a few years, and always been favorably impressed. He has a deep grasp of the policy, management, and operational issues," said Jessica Vaughan, director of policy studies at the Center for Immigration Studies, which advocates for more restrictive immigration policies. "This is restoring the relative importance of immigration enforcement within the agency in a very reassuring way."
The new deputy director first began his career at the former Immigration and Naturalization Service in the mid-90s before moving to the Transportation Security Administration and then returning to ICE in a position overseeing operations and field training among other things.
As he rose under the Trump administration, he played a role in shaping policy. Albence wrote a memo in February 2017 that ordered immigration officers to take action against all undocumented immigrants that they come across — a shift from the Obama administration.
In the past, Albence has advocated that family members who showed up to take custody of unaccompanied minors at the border be detained if they were undocumented, according to another former senior ICE official who worked with him.
But nothing placed Albence in the public eye more than his appearance on Capitol Hill July 31 during which he said that the family detention centers were best described as "more like a summer camp," to the shock of advocates and politicians.
"With regard to the FRCs," Albence said, referring to what ICE calls family residential centers, "the best way to describe them is more like a summer camp. These individuals have access to 24-7 food and water...There're basketball courts, exercise classes, soccer fields...In fact, many of these individuals the first time they've seen a dentist is when they've come to one of our FRCs."
Those who've worked with Albence weren't taken aback.
"I wasn't remotely surprised he said that," the former senior ICE official said. "I think that's what he really believes."
The former official added that "to suggest that depriving them of their liberty is equivalent to the fun of summer camp makes a mockery of the seriousness of enforcing the law and of the seriousness of the impact on the real people, including small children."
David W. Leopold, an immigration attorney and counsel to the advocacy organization America's Voice, said the comment should be "disqualifying" for Albence.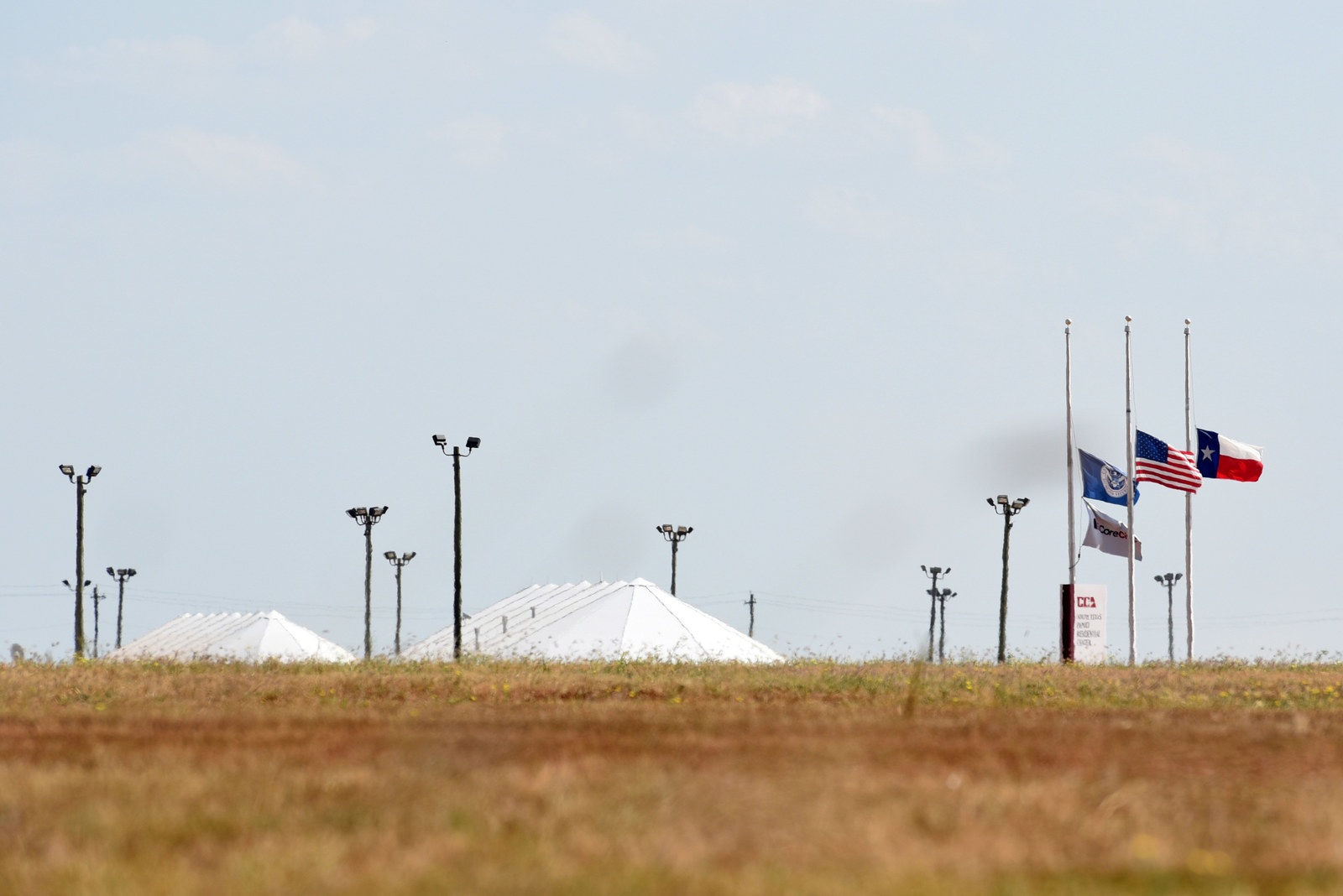 In the backdrop of the public battle over the future of the agency is a long-standing but recently intensified battle within the agency.
ICE is broken into two primary components — its immigration enforcement and deportation wing and its criminal wing. The deportation officers come from the Enforcement and Removal Operations division, while its criminal investigators come from the Homeland Security Investigations side, which handles major, transnational human trafficking and drug cases, among other things.
In late June, 19 HSI special agents in charge released a letter calling for their agents to be broken off from ICE because, among other reasons, cities and counties stopped working with them on criminal investigations.
"Many jurisdictions continue to refuse to work with HSI because of a perceived linkage to the politics of civil immigration," the letter said.
At the time of the letter, as had long been the usual custom, an HSI official was second-in-command at ICE. A month later, the HSI official, Peter Edge, retired, and Albence, who comes from the immigration enforcement wing of the agency, was promoted to his role. Some officials think that the HSI agents could be sidelined and see their focus continue to expand into the immigration work, including increased worksite raids.
The senior ICE official pushed back at that concern, saying that Albence had spent many years as a criminal investigator at ICE with HSI's predecessor before moving to the immigration enforcement side. The official also noted that HSI "has taken a lead role in targeting MS-13 and transnational gangs, combating the opioid crisis, and increasing worksite enforcement — all priorities of the Administration" and any suggestion "that their important work in these and many other areas would cease to be a priority is simply absurd."
But one former senior official was blunt in his assessment of where the HSI investigators stand after the release of the letter and the promotion of Albence.
"I think that it sends a strong message in terms of the direction of the agency as a whole and its priorities," the former official said. "This is a two-fold response: 'fuck you, HSI, thank you very much for your goddamned opinion.' HSI is no longer priority. The 1st, 2nd, and 3rd priority is immigration enforcement."
In a note to ICE staff following his appointment, Albence said he looked forward to serving in the role.
"In the midst of unfair criticism and attacks against our agency, it is now more important than ever that we remain unified in our commitment to our vital and lawful mission," he wrote in the memo. "The road ahead will not always be easy, but I know that you are up to the task."