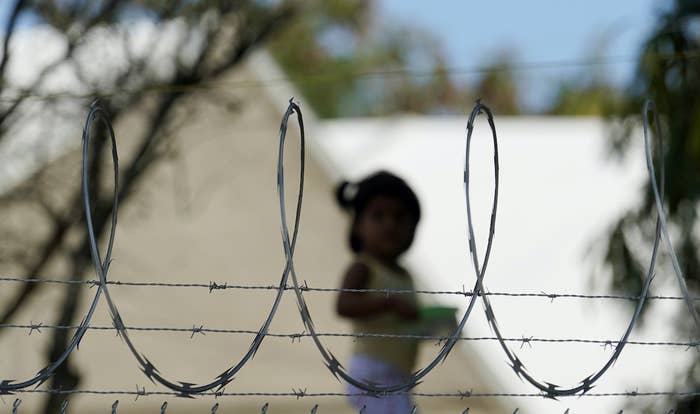 Department of Homeland Security officials have considered using a Trump-era policy to turn back certain unaccompanied 17-year-olds to address the rising numbers of minors crossing the southern border and overwhelming the government's housing capacity, according to a document obtained by BuzzFeed News.
The number of unaccompanied immigrant children in Border Patrol custody has grown rapidly, jumping to more than 3,700 this week, according to government statistics reviewed by BuzzFeed News. More than 100 of the children have been in custody longer than 10 days, the statistics showed. In recent days, officials have reported that around 2,000 of the children have been in Border Patrol custody, which is not designed for minors, for more than the government-mandated 72 hours.
US officials are struggling to keep up with the numbers as they attempt to discharge the children to shelters and facilities run by the Health and Human Services Department, which are also strapped for beds.
The border situation has become the latest challenge for President Joe Biden's efforts to undo immigration policies set by his predecessor. While the administration continues to turn back most immigrants at the southern border under a Trump-era order, known as Title 42, that cited protecting against the spread of the coronavirus, unaccompanied children have been the exception.
The document obtained by BuzzFeed News, which was created by Federal Emergency Management Agency officials, considers different scenarios and policy ideas for dealing with the increased number of unaccompanied children at the border. One of the options, described as a "possible policy," would be to "negotiate limited application of Title 42 to 17 year old UAC (or 16 and 17 year old) UAC."
The scenario projects that if the Title 42 policy were used against 17-year-olds, it would drop the referrals to HHS shelters by 35%; if it were also applied to 16-year-olds, it would bring the referrals down 59%. The document describes how 35% of the unaccompanied children detained in February, overwhelmingly from Central American countries, were 17 years old; 24% were 16.
That DHS was considering using the Trump-era policy for teenagers — a measure that was blocked by a federal court in the fall before an appeals court stayed the decision in February — offers a window into the options the agency has analyzed as it seeks to come up with a solution to the rising numbers of children at the border.
HHS officials were assessing a NASA property in California to potentially house immigrant children in the future and have talked about other solutions to clear their shelters quickly enough to avoid crowding border stations.
"After having made the strong statement early on of exempting unaccompanied children from expulsions, the fact that the administration is now considering expelling some children shows that between the pandemic and the rising numbers, the system is under considerable strain. The northern border of Mexico is not a welcoming place for 16- or 17-year-olds," said Sarah Pierce, a policy analyst at Migration Policy Institute. "It is clear the administration is trying to consider every available option after having been handed a resource-strapped system and a border that was ill-prepared to handle high numbers, even though they began rising far before President Biden took office."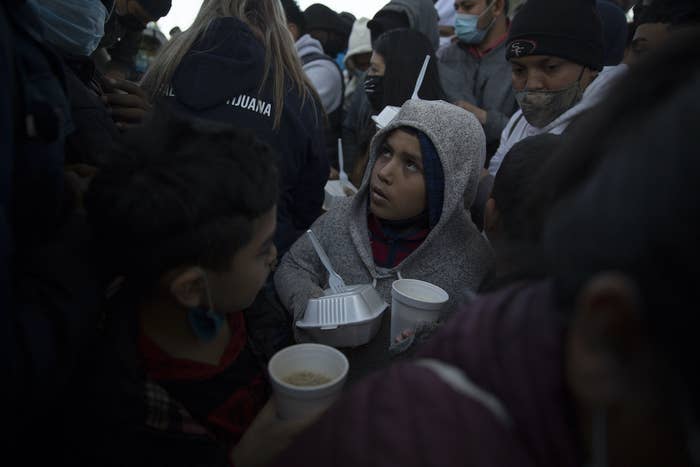 A DHS spokesperson said that the agency "does not comment on deliberative documents," which is what was obtained by BuzzFeed News.
"DHS continues to implement the CDC's public health order by preventing the admission of most non-citizen adults and families," the spokesperson said. "Depending on the circumstances, some individuals may be processed under other available legal authorities on a case-by-case basis. In making its determinations, DHS considers multiple factors, including U.S. legal requirements, COVID-19 protocols, changes in Mexican law, U.S. holding capacity, and individual health situations."
The document includes a section for the situation that's expected in March and April, when the turn-back policy is only applied to families and not unaccompanied children, leading to a further increase of their numbers at the border.
It's unclear how seriously the Biden administration has taken the idea of using the Title 42 policy against 16- and 17-year-olds, but another scenario considered by Homeland Security officials is if it is no longer applied to families crossing the border.
"If the administration starts expelling minors again, we will be back in court," ACLU attorney Lee Gelernt told BuzzFeed News.
Currently, they can be immediately expelled under the policy, though those with children under 6 years old who are crossing parts of the border in Texas are not being taken back by Mexican officials. The scenario considered by the DHS would come as a result of a potential court injunction if Mexico decides to stop taking back all families. Biden could also scrap Title 42 altogether as it applies to families.
In either case, officials would expect to stop seeing an increase in unaccompanied minors at the border who instead attempt to cross with their families.
The scenarios also consider the potential for COVID-19 outbreaks in HHS facilities and Customs and Border Protection holding units that are being increasingly crowded with children. Those situations, they predict, would exacerbate border operations.
Unaccompanied children from Central America who are picked up by Border Patrol agents are generally sent to the Office of Refugee Resettlement, where they are housed in shelters across the country as they begin officially applying for asylum and wait to be reunited with family members in the US.
On Monday, border officials had requested more than 500 immigrant children be referred to ORR shelters. That number is a 40% increase when compared to February. ORR recently expanded shelter capacity after restricting it as a precaution against the spread of the coronavirus.