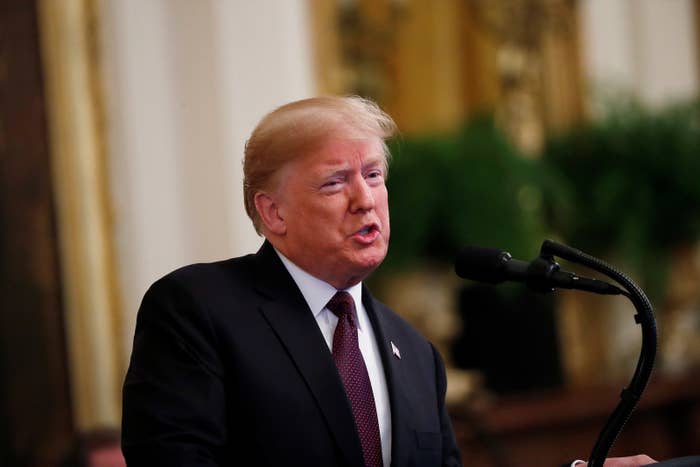 US immigration officials met this week to discuss a proposal to send those who arrive at the US–Mexico border to Mexico while their immigration cases are being processed in the United States, according to sources close to the administration.
The meeting, which included officials from US Citizenship and Immigration Services, Immigration and Customs Enforcement, and US Customs and Border Protection, was meant so officials could consider a potential regulation that would apply immediately to individuals at the US–Mexico border, including asylum applicants.
Such a proposal would forgo the normally deliberative system that allows for public comment before a new rule is implemented. The ACLU recently sued the administration for following such a process when it instituted major changes to asylum applications at the border.

It's unclear how the Mexican government would react to such a proposal. The discussions appear to be a renewed effort to discuss a proposal first raised in an executive order signed by Trump in 2017. The Mexican government previously publicly rejected those plans, and the Trump administration made no effort to implement the president's instructions.
In the executive order, Trump directed the Department of Homeland Security Secretary to pursue the option. In a memo written by then-DHS chief John Kelly, officials were told to return individuals at the border "to the extent appropriate and reasonably practicable." Kelly cited a statute that states that certain individuals can be sent back to the contiguous country they arrived from.
"It is cruel and misses the point," said Juan Camilo Mendez Guzman, an immigration attorney at the San Francisco–based Pangea Legal Services. "It's just a brazen attempt to force people to give up on their claim and not take responsibility for the issues the US has created with policies in Central America and Mexico. It creates a lot of questions but doesn't solve any problems."

An administration source said that discussions with the Mexican government are ongoing.
Mexican officials said they had no comment on the matter.

"Implementing this policy without prior approval from Mexico would be extremely detrimental for the US's relationship with the new Mexican administration," said Sarah Pierce, an analyst at Migration Policy Institute. "If they move forward with this, it could result in Central American asylum seekers waiting in Mexico for months or even years."
Trump administration officials have long complained that limited detention space forces them to release migrants who then live in the country for months or years as they wait for their case to be heard in immigration courts.
The Trump administration has recently imposed a series of new policies intended to limit asylum as an avenue for entering the United States, including a recent move to block asylum for those who cross the US–Mexico border illegally.