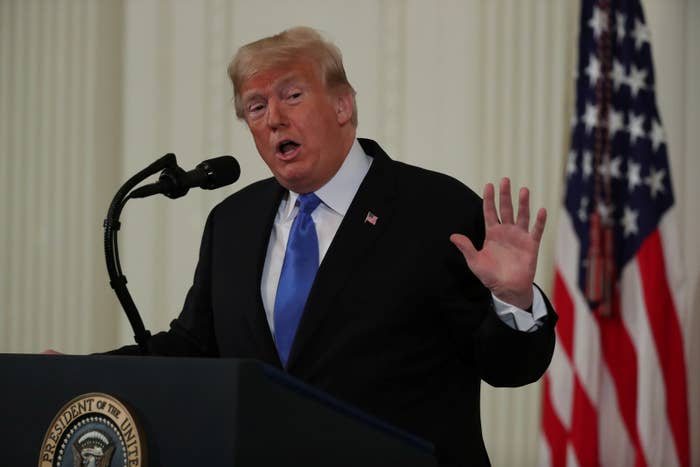 The Trump administration announced Thursday new moves to block migrants who cross the US–Mexico border without authorization from claiming asylum.
The announcement is the first step in what is expected to be a two-step effort. The second step, expected to come as soon as Friday, will be a presidential proclamation declaring that some migrants are ineligible for admission to the US because their presence would be detrimental to the country's interests.
The maneuvers are the latest by the Trump administration to restrict immigration. Other moves have included an effort to bar admission of people from several Muslim countries, the end of the DACA program that protected immigrants who came to the country as children, and the end of temporary protected status for people from a variety of countries that had suffered natural disaster.
Many of these maneuvers were later blocked by federal courts, and the latest policy will undoubtedly face similar challenges. The ACLU sent out an email shortly after the policy was announced, calling the policy illegal. Legal experts said the challenges were likely to be swift and successful.
"I see this as the president unilaterally rewriting the asylum law that was passed by Congress," said Ur Jaddou, former chief counsel at the US Citizenship and Immigration Services, noting that Trump was utilizing the same provision of law he used in the travel ban to block individuals from coming into the country. "Where does it end? If he can do this here, why can't he just throw out the entire immigration act because he thinks all of this is detrimental to the US. 'So, I'm going to close the borders period.' That is not the way of a democracy."
On a call with reporters, administration officials did not say who would be affected by the forthcoming presidential proclamation, but the regulation appears to tip off its intentions, referring to individuals who cross the southwest border illegally.
The new rule would attempt to alter US law, which has long allowed those who enter the country without authorization to claim asylum. If the rule withstands legal challenge, that right would be limited to people who request asylum at a port of entry.
Sarah Pierce, an analyst at the Migration Policy Institute, said the measures appeared to be drafted to meet international and federal legal standards on asylum.
"There's no doubt this will immediately be challenged," she said. "The questions will include: Are they punishing asylum seekers for irregular entries? Does the new screening process create an effective bar to even applying for asylum?"
Former Department of Homeland Security officials said the move was stunning in its scope.
"It is a shockingly brazen attempt to allow the president to unilaterally decide who is eligible for asylum," said John Sandweg, former head of ICE in 2013 under the Obama administration. "It contradicts long-standing statutes and treaties and ignores the will of Congress in a sweeping assertion of executive power."
Stephen Legomsky, a professor at Washington University Law School and former Department of Homeland Security counsel, predicted a battle over the extent of the president's authority.
"It's true that the president has the authority, granted by Congress, to suspend the entry of 'any class of aliens' whenever he finds that their entry would be 'detrimental to the public interest,'" he told BuzzFeed News. "But this otherwise very broad authority is limited by the provision of the [immigration law] that guarantees every person who is 'physically present' in the US the right to apply for asylum ... whether or not the person arrived at a designated port of entry."
The Immigration and Nationality Act says any immigrant who is in the US, regardless of whether they're at a port of entry, can apply for asylum.
Nearly 400,000 people were apprehended between ports of entry on the US–Mexico border in the 2018 fiscal year — up from around 300,000 from the year before but a far cry from the 1.6 million individuals caught in 2000, according to the Department of Homeland Security.
Trump and members of his administration have long complained about the asylum process, claiming that individuals who know they don't really qualify abuse the system to remain in the country while their claim is processed.
Trump made that accusation in remarks on Nov. 1. "What happens is ... first of all, they were told what to say by lawyers and others. 'Read this statement.' You read the statement, and now you're seeking asylum. The whole thing is ridiculous. And we won't put up with it any longer."
Despite efforts to restrict asylum grants, the actual number of people gaining asylum rose in fiscal year 2018, reaching more than 14,200, the highest number since 1996.
"What we are trying to do is funnel asylum claims through the ports of entry where we are better resourced and have better capabilities and better manpower," an administration official said Thursday.
Officials said rising asylum claims were stretching US government resources.
"There's been, in the last five years, a 2,000% increase in aliens claiming credible fear once placed in expedited removal," an official told reporters during a conference call Thursday. "So we've gone from 5,000 credible fear interviews in 2008, [to] 97,000 in 2018. The vast majority of these applications eventually turn out to be non-meritorious."
There have long been concerns raised at how claims are processed at the ports of entry. A report made public by the Department of Homeland Security's Office of Inspector General in October, examining the administration's "zero tolerance" policy, found that delays in the number of people able to seek asylum at ports of entry caused some to cross the border elsewhere.
Alex Mensing, project director for the Pueblo Sin Fronteras advocacy group, which organized the spring caravan of migrants and is accompanying the current one, said the Trump administration is trying to force asylum-seekers to go to ports of entry while currently turning them away at those entrances.
"The administration is deliberately preventing people from exercising the right to seek asylum at ports of entry by blockading them by collaborating with Mexican authorities to prevent people from getting to ports of entry and by pretending there is a capacity issue which is completely false," Mensing told BuzzFeed News. "It's not a lack of capacity, it's a lack of will, it's a lack of welcoming, it's a lack of values to open our arms to people who need refuge."
The American Immigration Council has filed a federal lawsuit challenging the practice of so-called metering, where immigration officials limit the number of asylum requests they take.
Beth Werlin, executive director of the American Immigration Council, said the Trump administration's plans is only the latest in a series of specific attacks on asylum seekers.
"U.S. officials illegally and routinely turn away asylum seekers at ports of entry. We have been forced to sue over this illegal practice. These regulations will only worsen the situation," Werlin said in a statement. "In its rush to obstruct asylum seekers, the administration is attempting an end run around the law. Congress has spoken clearly. Individuals are not required to ask for asylum at a port of entry."