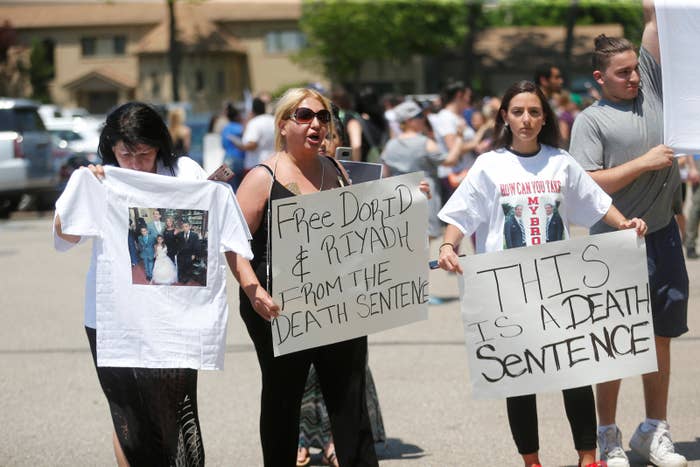 A federal judge in Michigan on Tuesday accused federal immigration authorities of making false statements in court, ignoring court orders, and shattering families in a ruling that ordered the release of up to 100 Iraqi detainees who've been held by Immigration and Customs Enforcement since the middle of 2017.
US District Judge Mark Goldsmith's ruling is the latest immigration-related court defeat for the Trump administration, whose policies have been rebuked by federal judges almost since President Donald Trump was sworn in. On Monday night, a federal judge in San Francisco blocked a Trump administration policy that sought to bar asylum for anyone who crossed the border without authorization. In the past year, federal judges have also stopped the administration's repeal of DACA and prevented the administration from terminating the protected status of about 300,000 people who'd fled disasters in their home countries.

Tuesday's rebuke came in a case sparked by the June 2017 arrests of about 1,400 Iraqis whom ICE had targeted for removal, most for overstaying their visas or being convicted of crimes. The arrests came weeks after Iraq had agreed to take back a small number of citizens in exchange for being removed from the Trump administration's travel ban list.
But that agreement didn't extend to all Iraqis or alter the Iraqi government's long-standing policy of refusing involuntary repatriations, according to documents released by the government in the case. In the meantime, the ACLU of Michigan had requested the release of about 100 Iraqi detainees who've been locked up because prolonged detention is unconstitutional when deportation is unlikely.
Goldsmith agreed and ordered those who had been detained for more than six months be released within 30 days and placed under ICE supervision.
"[T]he Government has acted ignobly in this case, by failing to comply with court orders, submitting demonstrably false declarations of Government officials, and otherwise violating its litigation obligations — all of which impels this Court to impose sanctions," said Goldsmith, who noted that he will write a separate order laying out what sanctions he'll impose.
ICE said on Tuesday that it was reviewing Goldsmith's decision.
The ACLU had originally asked Goldsmith to block the repatriations because many of the detainees would face persecution in their home country. Goldsmith agreed, finding in June that the Iraqis, many of whom are from religious minorities, would face torture or death based on their residence in the US, their publicized criminal records, or their religious affiliations.
ICE officials maintained in court that it was Goldsmith's order that had stopped a repatriation flight when in fact Iraq had refused to accept the flight. At one point, according to the documents filed in court, former ICE director Thomas Homan called the Iraqi ambassador to the US, Fareed Yasseen, and implored him to accept the flight. Yasseen emailed Homan his rejection on June 26, 2017.
In his ruling, Goldsmith called ICE claims that it was his fault the plane never left for Iraq "demonstrably false."
"From the earliest stages of this case, the Government made demonstrably false statements to the Court designed to delay the proceedings," Goldsmith wrote. "It represented that [Iraq] was ready and willing to accept repatriation of its nationals without limitation, and that but for the Court's stay of removal, it would have done so. The Government has maintained this position even while it was considering sanctions against Iraq, noting it is one of the most recalcitrant countries with respect to repatriation."
The government has maintained that there are documents showing that Iraq was willing to take back all of the individuals ordered removed from the country, that steps were in place to get the Iraqi immigrants back before the court-ordered blocks, and that the government believes all of the individuals will be approved for flights there.
Goldsmith was skeptical. "The Government's representations in this case are often suspect," he wrote.
The ACLU hailed the decision. "Today's decision is about accountability," said Miriam Aukerman, a senior attorney with the ACLU of Michigan. "ICE thought it could get away with lying to a federal judge. ICE thought it could get away with using indefinite detention to coerce Iraqis to accept deportation despite the dangers they face in Iraq. Today, Judge Goldsmith made it clear that ICE is not above the law."
The federal judge, who was appointed by President Barack Obama in 2010, said the continued detention of Iraqis had ruined families and caused serious harm that would never be fixed.
He pointed to Firas Nissan, who has been in the US for 17 years after fleeing Iraq because he had been threatened and locked up there. Nissan missed an asylum hearing in 2004 because of an illness and was ordered deported but was still able to live in the country by agreeing to check in with ICE officials for 13 years, the ACLU said.
Then, in June 2017, he was arrested by ICE officers and has been jailed ever since and separated from his two children.
"Detention has inflicted grave harm on numerous detainees for which there is no remedy at law. Families have been shattered," Goldsmith wrote. "The harm to Petitioners, who are ostensibly not being punished for criminal activity, is intolerable and ongoing."