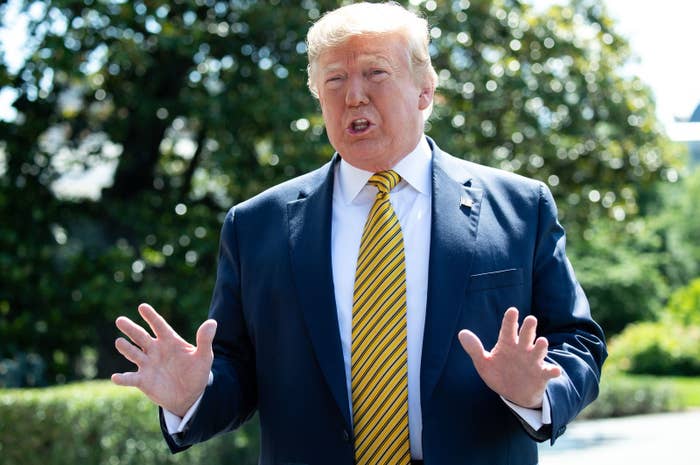 President Donald Trump suddenly canceled on Saturday a planned US Immigration and Customs Enforcement operation targeting undocumented immigrant families from across the country that was set to begin in the predawn hours Sunday.
The operation details, which had been reported by multiple outlets, including BuzzFeed News, had set off an unprecedented level of preparation among immigrant advocates this week.
But in a tweet Saturday, Trump said that he had "delayed" the plan at the request of Democrats to work on a plan to solve issues at the border, including what he believes are inherent loopholes to the system.
"At the request of Democrats, I have delayed the Illegal Immigration Removal Process (Deportation) for two weeks to see if the Democrats and Republicans can get together and work out a solution to the Asylum and Loophole problems at the Southern Border," Trump tweeted. "If not, Deportations start!"
However, two senior administration officials told BuzzFeed News that those within the administration believe Acting Homeland Security Secretary Kevin McAleenan, or his staff, leaked operational details, which ultimately put the ICE operation in jeopardy.
"Leaking the locations and details to stop the operation from happening not only harmed operational integrity, but it put the safety and well-being of his own officers in jeopardy," said one senior administration official. "The ICE mission is enforcing the nation's laws and ensuring those who are unlawfully present in the country are removed if ordered by a judge; this will leave an unerasable mark on his tenure."
DHS officials did not immediately respond to a request for comment on the matter.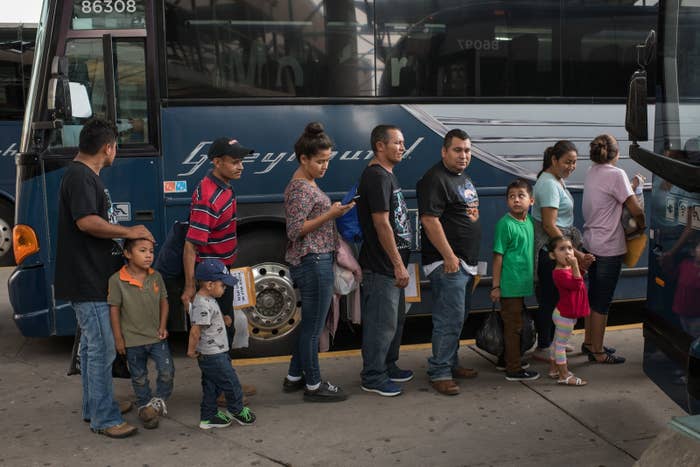 The roundup had been expected to begin Sunday in several cities across the country, including Los Angeles, targeting families who have been issued final removal orders after not appearing in court, according to sources close to the administration. The enforcement action was scheduled to take place during a period when the administration has called for additional funding to provide resources to handle the record number of immigrant families crossing the border this year.

Earlier this week, Mark Morgan, the acting ICE director, signaled that the agency would conduct a raid on immigrants who are in the country without authorization. In a call with reporters, Morgan focused on a group of around 2,000 individuals who were part of expedited dockets at immigration courts reserved for family units who have recently arrived. Across the country, 10 immigration courts, in cities including San Francisco, Miami, Houston, Baltimore, and Los Angeles, have quick dockets for immigrant families.
The 2,000 individuals, Morgan said, had been ordered to be removed "in absentia" — without appearing in court — and had been notified to present themselves at ICE offices to facilitate a compassionate removal. These individuals, Morgan argued, had been given an adequate level of due process and a chance to make their case in court. Without officers targeting and removing them, immigrant families from Central America would continue to come without any fear of consequences.
Within the agency, some ICE officials were concerned Trump's tweet last week, which warned ICE would soon "begin the process of removing the millions of illegal aliens who have illicitly found their way into the United States," had tipped off the operation, one source with knowledge of internal agency discussions said.
Theresa Brown, a former DHS official who now heads immigration policy at the Bipartisan Policy Center, said that the cancellation would allow ICE officers to continue their normal, ongoing operations across the country. In recent weeks, the agency has conducted sweeps, not specifically targeting families, that have resulted in dozens of arrests at once.
Brown noted, however, that any discussion of the operation being used as a ploy by the Trump administration to secure changes to immigration laws in ongoing conversations with Democrats could be an issue. "The idea that this is a negotiating tactic with the Hill might not sit very well with the agents," she said.
For her part, House Speaker Nancy Pelosi appreciated Trump's decision to call off the raid for now. "Mr. President, delay is welcome," she tweeted. "Time is needed for comprehensive immigration reform. Families belong together."
Alexandra Morales, policy manager at CARECEN-LA, the largest Central American immigrant rights organization in the US, said that despite the fear and anxiety the raids produced, it was an opportunity for communities to organize and remain vigilant and informed.
"The rhetoric aims to criminalize immigrants for 'missing their day in court' because they are not bona fide asylum seekers," Morales said in a statement. "In reality, the US immigration system is extremely complex and difficult to navigate particularly for recent arrivals fleeing harm. Yet, the administration has engaged in tactics to deprive asylum seekers of access to counsel and due process."
Trump officials have maintained that most asylum-seeking families fail to show up to court. Morales pointed to an analysis of nearly 47,000 immigration cases for newly arrived families that found that 6 out of every 7 families released from custody showed up for their initial court hearing.
The report from the Transactional Records Access Clearinghouse at Syracuse University also found that in cases where the families had an attorney, more than 99% had appeared at every hearing held.
Trump's threat of raids has also had the unintended effect of giving undocumented people a renewed chance to prepare for future operations, said Alfredo Salazar, a member of the Congress of Day Laborers, an immigrant rights organization. The group, he said, has been fielding calls from concerned undocumented people seeking information and US citizens inquiring about how they can help.

"ICE is going to keep arresting people on a daily basis like they always have," Salazar told BuzzFeed News. "So we're going to keep preparing just like we always have."
Rachel Taber, an organizer with the Congress of Day Laborers, said Trump's public announcement of the raids, and its subsequent delay, is another example of the president playing with people's lives for his reelection campaign.

"The community will keep organizing, living their lives, staying with their families, because it is their right and they shouldn't let fear change that," she said.