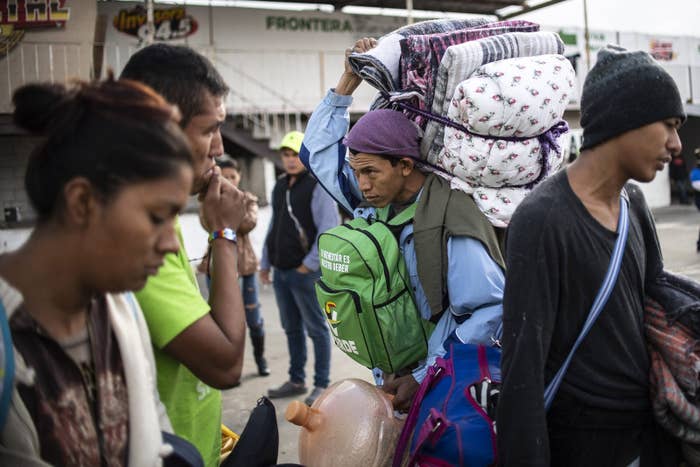 WASHINGTON — Homeland Security and Justice Department officials are feuding over a controversial plan that would force asylum-seekers at the southwestern border to remain in Mexico until their cases are decided, according to sources close the administration.
Department of Justice officials have been pushing for asylum-seekers at the border to be immediately returned to Mexico as they arrive at the border, instead of first undergoing screening for fear of persecution or torture if they are not allowed in.
Department of Homeland Security officials want asylum-seekers screened for persecution, torture, and fear before being immediately returned to Mexico, to ensure that there are no serious concerns for their safety in Mexico.
The dispute highlights the fact that key details regarding the plan are still up in the air.
A Justice Department official said there was no dispute over the screening process but that the matter was under consideration between both agencies. The official said the discussion between the two US departments were "a normal part of the process." DHS declined to comment.
Jeffrey Chase, a former immigration judge, said the dispute goes to the very heart of asylum law, which grants foreigners who otherwise would not be admissible the right to enter the country if they can show that they have a "credible fear" of persecution if they are returned to the country they came from.
"'Credible fear' was created over 20 years ago to be the standard for those arriving and not deemed admissible. It was designed to be a low bar, as those at the border have just arrived, are often scared of government officials, are sometimes traumatized, usually don't yet have legal counsel, and have very limited ability to gather evidence," Chase told BuzzFeed News. "Imposing a higher standard for political purposes would be contrary to our treaty obligation to not return genuine refugees."
BuzzFeed News reported earlier this month that the administration had been considering such a plan and that discussions with Mexico had been ongoing. The Washington Post reported last week that a deal had been agreed upon with Mexico and that asylum-seekers would remain in that country while their cases were being adjudicated. But that story was later denied by Mexican officials, and the status of any talks is uncertain. A new administration takes office in Mexico on Saturday.
The proposal was first focused on individuals who come to a port of entry to request asylum but has since been extended to include those apprehended between border crossings as well, sources said.
The discussions appear to be a renewed effort to implement a directive first raised in an executive order that President Donald Trump signed in the early days of his administration in 2017. The Mexican government publicly rejected that plan, and the Trump administration made no effort to implement the president's instructions.
In the executive order, Trump had directed the Department of Homeland Security Secretary to pursue the option. In a memo written by then-DHS chief John Kelly, officials were told to return individuals at the border "to the extent appropriate and reasonably practicable." Kelly cited a statute that states that certain individuals can be sent back to the contiguous country they arrived from.
Advocates have said that implementation of such a measure would put families and migrants in danger and would be quickly challenged in court.