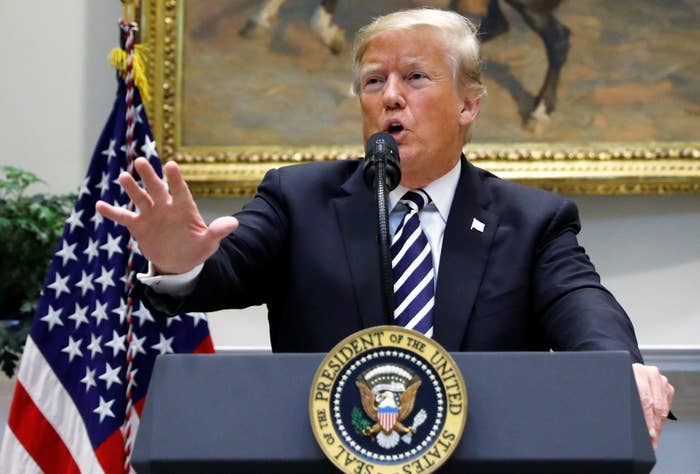 President Donald Trump, whose administration is focused on a caravan of migrants heading toward the southern border as the midterm election approaches, said Thursday that a change to the asylum process will be finished in the near future.
In a speech in which he repeated many of the false claims about immigration he's deployed at his rallies, Trump said his administration was finalizing an executive action to "end rampant abuse of our asylum system" and force people to go to ports of entry to apply for asylum. Individuals who enter between those ports will no longer "be able to use meritless claims" and the administration will "hold them" in tents, Trump said.
The president did not offer further details about the plan.
"This is an invasion," he told media again on Thursday afternoon, noting that the action was coming next week.
The new policy, if put into place, would be a sweeping change by the Trump administration and its latest move to restrict immigration broadly. The impetus for these changes, according to the administration, is a caravan of migrants from Central America slowly marching toward the US. Department of Homeland Security statistics show that in the 2016 fiscal year, nearly 90,000 people apprehended at the border made humanitarian claims.
Several thousand people are traveling as part of the caravan, many of whom are women and children, through southern Mexico on their way to the United States. The majority of those in the caravan are from Honduras and Guatemala. Two smaller caravans have also set off in recent days.
"There will be time to address the specifics of the policy proposals announced, but let's be real. This isn't about policy, it's a cynical attempt to stoke fear, blow smoke and hang onto power," Frank Sharry, head of America's Voice, an advocacy group, said in a statement after Trump's remarks.
Trump has repeatedly attacked the group of migrants, vowing to prevent them from entering the country and stoking fears that "criminals and unknown Middle Easterners are mixed in" with the crowd. Earlier this week, Trump tweeted: "The World is using our laws to our detriment. They laugh at the Stupidity they see!"
Earlier this week, the administration announced that more than 5,000 troops would be deployed to the border. Trump tripled that number when speaking with reporters on Tuesday, though no changes were confirmed by the Pentagon.
Last week, BuzzFeed News reported that a proposal being considered by the departments of Homeland Security and Justice would attempt to make certain migrants ineligible for asylum by barring them from the country by a presidential proclamation. That proclamation would cite a statute that allows the president to block people he considers detrimental to the interests of the country.
Proponents of the proposal said a recent Supreme Court decision would allow such a proclamation, but it would likely trigger a legal challenge. Previous past proclamations have included exceptions for those filing for asylum.