Trump's Plan To Make Asylum-Seekers Wait In Mexico Is Likely To Be Challenged In Court
The announcement is a massive shift in immigration policy.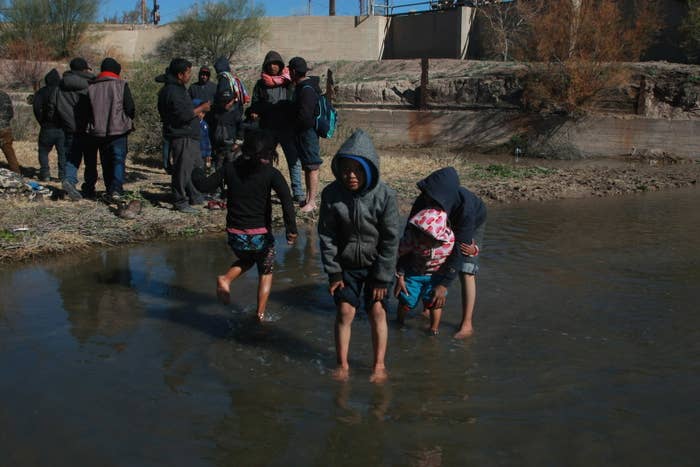 Migrants seeking asylum at the Southwest border will be forced to remain in Mexico while their cases in the US are being processed, the Department of Homeland Security announced Thursday.
The plan, released as DHS Secretary Kirstjen Nielsen appeared before the House Judiciary Committee, represents a massive shift in immigration policy at the border and is the culmination of months of attempts by the Trump administration to discourage immigrants, including asylum-seekers, from trying to enter the United States. Its previous attempts, banning asylum for those who crossed without papers and separating children from their parents, were blocked by the courts, and this effort also is likely to face a court challenge.
"It's flatly illegal," said Stephen Legomsky, a former chief counsel at the U.S. Citizenship and Immigration Services during the Obama administration. "The law does allow the government to return certain foreign nationals to Mexico or Canada while they await their removal proceedings, but the same law creates a specific exception for those who arrive without documents, typically to apply for asylum. There is no authority to force those latter individuals to remain outside the country while they await their hearings."
In a statement, Nielsen called the decision to force asylum-seekers to return to Mexico to await a decision in their cases "historic measures to bring the illegal immigration crisis under control." She said the initiative "will confront this crisis head on, uphold the rule of law, and strengthen our humanitarian commitments."
During at times heated testimony Thursday morning, Nielsen told members of the House Judiciary committee that the new protocols will result in a significant drop in illegal immigration and discourage migrants from making the "perilous journey" to the US.
"They will not be able to disappear into the United States," Nielsen said. "They will have to wait for approval to come into the United States. If they're granted asylum by a US judge they will be welcomed into America. If they are not, they will be removed to their home countries."
Under the plan, those who enter the US without authorization or those who arrive at ports of entry without proper documents will be returned to Mexico for the duration of their proceedings. Nielsen cited a statute that provides that certain individuals can be returned to Mexico or Canada while they await the results of removal proceedings as the legal foundation for the policy.
The plan is consistent with the US' domestic and international obligations, Nielsen said, adding that DHS had worked very closely with the Justice Department and legal counsel on the issue.
The initiative will not extend to Mexicans and unaccompanied minors, and will be implemented in stages across the Southwest Border, a DHS official told reporters Thursday. Key details of the change, like how individuals would have their cases processed, gain access to attorneys, or be informed of their hearing dates while they are in Mexico, were not released Thursday but will be in coming days, the official said.
Immigration advocacy groups immediately condemned the new policy. Chris Rickerd, senior policy counsel at the American Civil Liberties Union, called the plan "cruelly punitive"and "fundamentally at odds with our nation's commitment to provide protection to those fleeing persecution."
John Sandweg, the former director of Immigration and Customs Enforcement during the Obama administration, agreed that the plan was a dramatic reversal of US immigration policy.
"Historically, if you can come up to the US, make an asylum claim, and pass a credible fear interview, you're going to stay in the US pending an immigration court hearing," he said. He said there can be no doubt that the Trump administration was hoping the new plan would result in the exclusion of people from the US who currently are allowed in.
"This is an effort to permanently keep people out of the US," he said. "And it could be successful."
Trump administration officials have repeatedly voiced frustration that Central American migrants have relied on US asylum law to win entry to the United States, particularly since a caravan of more than 1,000 migrants arrived at the US border across from Tijuana last spring. More than 400 of those migrants sought asylum in the United States, and nearly all of them passed what is known as a credible fear interview and were released into the US.
Immigration statistics also show that while the percentage of asylum-seekers ultimately granted permission to stay in the US reached historic lows last year, the actual number who were granted asylum by immigration judges was the largest of any year since the mid 1990s — despite steps that the Trump administration have taken to make it harder to request asylum.
Nielsen referred to the practice of releasing immigrants into the US while their case is pending, or "catch and release," as a loophole. Nielsen also said that the administration wants to discourage fraudulent asylum claims from people believing they will be released into the US after asking for refuge, noting that 80% pass an initial screening for credible fear but only a small portion actually win their case.
"Only one out of ten Central Americans are actually granted asylum by a judge, much of that is because they've been misled by smugglers," Nielsen said.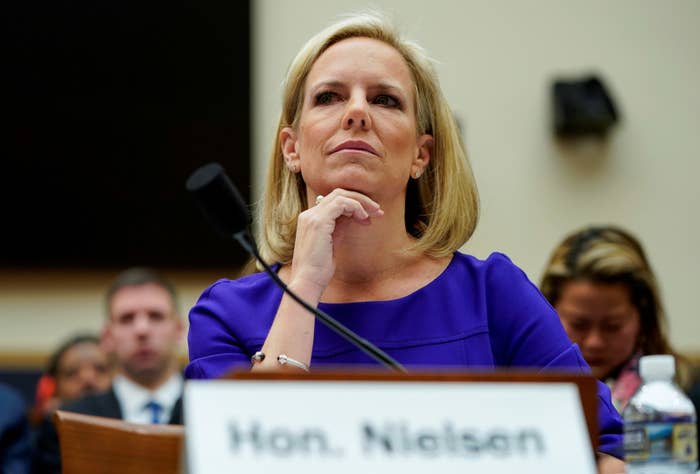 In June, then-attorney general Jeff Sessions restricted when migrants requesting asylum could receive it because of fear of gang violence or domestic abuse. The asylum changes, however, was overturned by a federal judge last week, who said they violated US and international legal standards.
A new caravan of Central Americans who arrived in Tijuana in October also reflected the new role of asylum in US immigration. An estimated 5,000 people are now on an informal waiting list in Tijuana to apply for asylum in a wait expected to take months.
US officials have limited the number of people allowed to request asylum daily to about 100, officials say, saying the US doesn't have enough detention space or asylum officers to process the huge numbers of would-be asylum-seekers arriving at the border.
Trump administration officials have accused the asylum-seekers of gaming the US system, requesting asylum that they know they won't qualify for so that they can remain in the country for months or years while the immigration courts hear their cases.
Nielsen repeated that claim in her statement Tuesday.
The Mexican government said it was told early Thursday about the Trump administration's intentions to move forward with the plan.
"At eight in the morning, the Government of the United States informed the Government of Mexico that the Department of Homeland Security of the United States of America (DHS) intends to implement a section of its immigration law that allows returning non-Mexican foreigners to our country so that they can wait for the development of their United States' immigration process," read a statement from the Mexican government.
Mexico, the government announced, will allow in a "temporary fashion" the entry of "certain foreign persons from within the United States who have entered that country through a port of entry or who have been apprehended between ports of entry and interviewed by the authorities of migration authorities of that country, and have received a notice to attend a hearing before a judge."
A DHS official said that the US had moved forward with the plan "unilaterally" and that the Mexican government had said they would provide the appropriate measures needed.
It was unclear whether Mexican authorities participated in the final decision taken by the Trump administration. In a 13-minute video released Thursday morning, legal adviser for the Mexican government Alejandro Alday González first called the plan "bilateral," then repeatedly referred to it as "unilateral." Alday underscored the "sovereign" nature of Mexico's decision to grant migrants awaiting asylum in the country the freedom to enter and leave the country.
Local authorities seemed blindsided by the US government's announcement. Genaro López, Tijuana's municipal delegate, said he learned about the plan from a BuzzFeed News reporter who reached out via telephone for comment. López said that the city mayor was likely unaware of the US government's decision as well. "We don't want that. It will create a huge problem for us," López said.
Christopher Wilson, deputy director of the Wilson Center's Mexico Institute, said Mexico's migration system was not prepared to handle a massive influx of migrants waiting for years to have their cases processed in the US.
"The recent caravan in Tijuana clearly demonstrated how easy it is for a Mexican border town to become overwhelmed by a group of migrants waiting on the very slow US asylum application process," he said. "This decision is politically dangerous for the new government in Mexico. Andrés Manuel López Obrador is still on his political honeymoon following his inauguration at the beginning of the month, but a piling up of asylum applicants in Mexican border towns will put this at risk."
Advocates said the plan would expose migrants, especially women, children, LGBT people, to increased and unacceptable dangers in Mexico.
Margaret Huang, executive director of Amnesty International, said that for years the organization has documented the threats faced by people seeking protection while traveling in Mexico.
"Make no mistake—Mexico is not a safe country for all people seeking protection," Huang said in a statement. "Many people seeking asylum in the United States face discrimination, exploitation, sexual assault, murder, or the possibility of being disappeared while traveling through Mexico or while forced to wait for extraordinarily long times in Mexican border towns."
Last Saturday two teenage boys from Honduras who traveled with the migrant caravan were killed in Tijuana, an incident that advocates pointed to as an example of the dangers migrants face on the Mexican side of the border.
In the spring transgender members of the caravan said the shelter was robbed and set on fire while they were there. Other spring caravan members who stayed in Tijuana said they faced harassment and indifference from authorities.
Women, children, and LGBT people could face heightened risks under the new plan to make asylum-seekers wait in Mexico, Huang said.