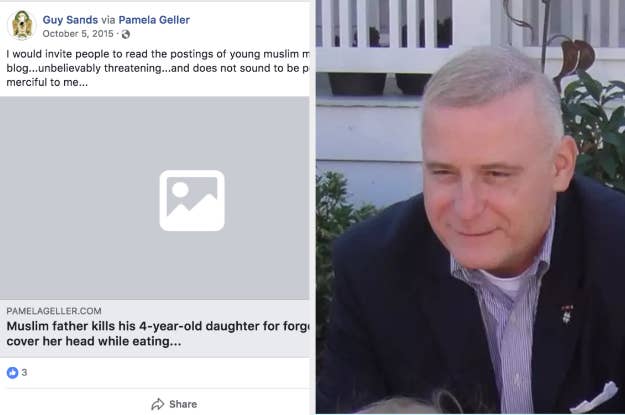 A US Army director recently offered a job as deputy director of the federal agency that oversees immigration applications made anti-Muslim statements and posts on Facebook in recent years.
Guy Sands-Pingot, who was at one point a brigadier general, was tapped to be deputy director of US Citizenship and Immigration Services and was slated to begin in mid-September. Sands-Pingot would have served under an administration that is seeking to significantly cut back on the number of legal and undocumented immigrants and has, with the travel ban, targeted Muslim-majority countries. He would have also helped oversee an agency that recently created a denaturalization unit.
In October 2015, Sands-Pingot posted a link to an article from GOPTheDailyDose.com on Facebook with the headline "If you wipe your butt with your bare hand but consider bacon to be unclean, you may be Muslim." The link on the page was dead but the headline has been part of anti-Muslim jokes spread on the internet for years, such as "If you were amazed to discover that cell phones have uses other than setting off roadside bombs, you may be a Muslim."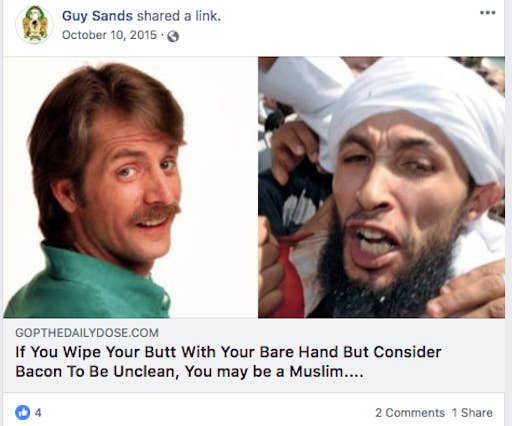 In a comment from about two years ago, Sands-Pingot compared Islam to the Nazi Party. He said Muslim intellectuals and a "political axis" continually exonerate terrorist attacks as solitary acts of violence despite a clear connection.
"It would undermine their fantasy of their not being an islamic threat to the non-islamic world and peoples," Sands-Pingot wrote. "This is similar to saying crimes committed by nazi storm troopers had nothing to do with the Nazi Party even though every propoganda [sic] point of the Nazi Party political and social platform clearly spelled out what they would do and why they would do it, and to whom they would do it to."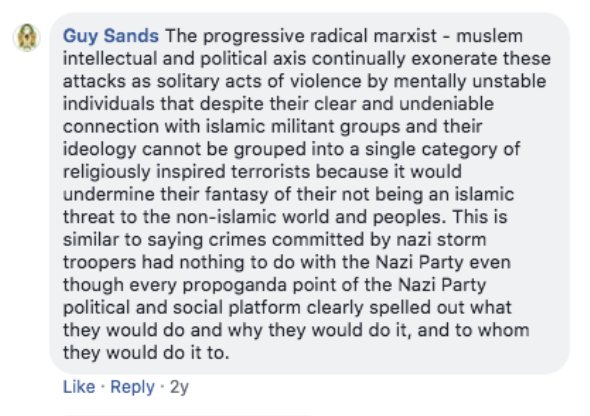 After BuzzFeed News asked USCIS about some of the material on Facebook, spokesperson Michael Bars said Sands-Pingot will no longer fill the role he was recently hired for.

"After conducting a full and open competition in compliance with all Office of Personnel Management guidance for career vacancies in the Senior Executive Service, including assembling resume review and interview panels as part of the standard hiring process, a candidate was selected for the position of Deputy Director and a tentative job offer was extended, expected to commence mid-September," Bars said.
"At this point, however, the candidate is no longer slated to commence employment at USCIS," he said. "USCIS is committed to equal employment opportunity, adherence to merit principles, and fair treatment for all employees."
Sands-Pingot didn't return requests for comment at various email addresses, including his email alias at USCIS. After BuzzFeed News emailed USCIS and Sands-Pingot to inquire about the posts, his Facebook timeline viewing settings were restricted.
He also liked a July post from conservative commentator Mark Levin with the headline "IMMIGRANTS DO NOT HAVE A RIGHT TO COME INTO THIS COUNTRY AND MAKE DEMANDS."

Sands-Pingot also commented on a Vox story from December 2015 about Malala Yousafzai's warning that Trump's rhetoric would radicalize more terrorists, suggesting there was no difference between people with an extremist interpretation of Islam, like those who shot Yousafzai, and other Muslims.

"She was shot in the head by 'normal' conservatives that used the koran not only to justify their action, but to demand it be compulsory for other moslem females who dare to think they should receive an education," Sands-Pingot said. "She became the 'posterperson' for all delusional leftist [sic] who think she is the face and body of a fictional 'moderate' islam."
And in August 2016, Sands-Pingot commented on a Guardian story describing a woman who led the call to prayer in a mosque in Europe, saying: "Typical left wing , radical progressive guardian printed drivel...now she is the new, moderate, modern face of islam in the west to follow in order to legitimize more conversions from disaffected non-moslem females...really??"
That article was shared on the page of Sultan Sooud Al-Qassemi, a well-known commentator on the Middle East.
Sands-Pingot also posted a link from the site of Pamela Geller, an anti-Islamic commentator, about a Swedish bishop calling for the church to remove crosses and install a Muslim prayer space.
"Interesting and alarming read of the results of 60 years of left wing 'well-meaning' radical socialist policies that now have taken root and is ready to supplant traditional Sweden society," Sands-Pingot wrote.
In the comments section of that post, a friend who said he stopped going to church when the "Anglicans started ordaining women" and "Next you'll tell me we got women on submarines!"

"Actually as of January in the SEALs....," Sands-Pingot said.
In another Pamela Geller story purporting to be about a "Muslim father" killing a 4-year-old girl, Sands-Pingot said, "I would invite people to read the postings of young muslim men yo [sic] this blog...unbelievably threatening...and does not sound to be peaceful and merciful to me…"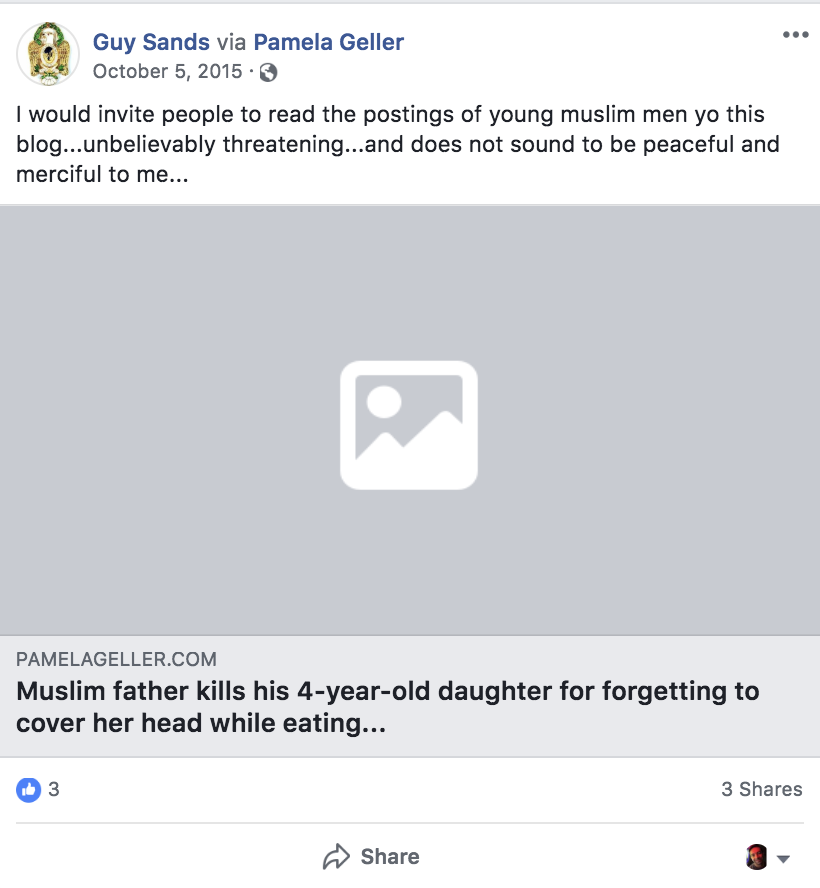 In October 2013, he posted a Facebook status about the Saturday Night Live character Pat. The sketches revolved around people not knowing what gender Pat was.

"[W]e are all in the 'Age of Pat'...to wit...multi-gender access for 'transgendered' 10-18 year olds to bathrooms in all California schools and many, many, many more examples that will not or cannot be mentioned here. By the way, why have a different uniform at all...and why different haircuts...a Marine is a Marine. BTW - Why can't 'Pat' be a 'Marine'??" Sands-Pingot wrote.
Sands was also in a Russian-language Facebook group titled "White Russia's Strategy" — it's unrelated to any white power movements; the name comes from the white color on Russia's flag — referring to a movement that began in 1917 in opposition to the Bolsheviks. According to the description, the Facebook group is dedicated to creating new and concrete ideas for the movement.

"'Russian Strategy' is devoted to the development of optimal ways of Russia's exit from its crisis on the basis of the teachings of Russian Orthodox saints, thinkers and commanders," says the description on the website of the fringe group.
Many members of the Facebook group write in support of "Novorussia," a nationalist idea that believes Ukraine is not an independent country, but a part of Russia.
It's unclear how active Sands was in the group, but he commented on at least one post that described a woman's father and farm animals being taken by the Red Army. "Russian Golgotha…" the comment said.
Sands-Pingot has served in the US Army for more than 28 years, according to a biography posted on a veterans group website. His LinkedIn account lists him as director of human capital at the office of the chief for the Army Reserve, a position he's held for over four years. Prior to that, he was a brigadier general.
A US Army statement announcing his new position as deputy to the commanding general said that in July 2010 he was appointed as a member of the senior executive service, the uppermost ranks of federal civil service. The statement said he would support now-retired Lt. Gen. Guy Swan III, commanding general, Army North and Fort Sam Houston, and will serve as the command's senior civilian employee.
"We've all heard the saying: 'The right man, at the right place, at the right time for the right position.' And for Guy Sands, this is especially true," Swan said in the statement. "He has a proven track record of success."
The Trump administration, which is seeking to curtail legal and unauthorized immigration, has been criticized for policies targeting Muslim people and comments from White House officials about them.
Days after taking office, President Trump, trying to make good on his campaign promise of a temporary "total and complete shutdown of Muslims entering" the US, signed the travel ban executive order barring people from seven Muslim-majority countries from entering the United States. The order also put a stop to the entire refugee program for a period of time in a chaotic implementation.
USCIS, the agency that Sands-Pingot would have helped oversee, has undergone a noticeable shift under the leadership of Lee Francis Cissna, who was picked by the Trump administration to head up the agency last year. Earlier this year, the agency removed the words "nation of immigrants" from its mission statement.
USCIS also recently created a denaturalization unit charged with identifying naturalized immigrants who lied on their applications and stripping them of their legal status.
The administration is also looking to deny legal residency to immigrants who accept government assistance because they are more likely to become public charges on the system — a responsibility that would fall on USCIS. In July the Office of Management and Budget posted a notice stating that the Department of Homeland Security was seeking a provision that would define whether an immigrant is inadmissible because they are likely to become a "public charge."