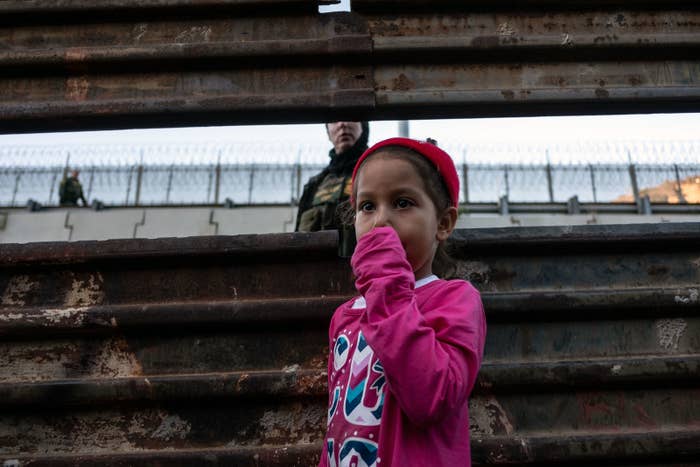 A high-ranking Customs and Border Protection official told Congress earlier this month that border agents were limiting asylum applications along the border because allowing too many migrants to apply would inspire more migrants to come, according to a letter written by senior House Democrats on Monday.
The statement by Jud Murdock, CBP's acting assistant commissioner, contradicted official claims that the practice of "metering" — when officials limit the number of individuals who can make asylum claims at ports of entry on any given day — was due to resource constraints, including a lack of detention space and personnel. When asked about the practice at a Senate hearing last week, CBP Commissioner Kevin McAleenan said that it was not meant as a deterrent.
But on Dec. 6, Murdock said in a closed congressional briefing that CBP had chosen to limit asylum-seekers at ports of entries because "[t]he more we process, the more will come," according to the letter.
Murdock's answers to follow-up questions "clearly indicated, given the context, that the Department's decision to limit processing was primarily motivated by its desire to deter migrants from seeking asylum at ports of entry" generally, according to the letter, which was signed by Reps. Zoe Lofgren, Bennie Thompson, and Jerrold Nadler, the ranking Democrats on the Immigration Subcommittee, the Homeland Security Committee, and the Judiciary Committee, respectively.
The letter was sent to McAleenan on Monday and demands that the agency immediately respond to questions, including whether the practice is being used as a deterrent.
The Democrats said Murdock's comments were "disturbing" considering repeated messages by DHS Secretary Kirstjen Nielsen that migrants should go to ports of entry to be processed for their asylum claims. Advocates have long criticized metering, saying the practice is illegal.
"These comments not only contradict previous statements by the Administration on this issue, but also raise significant questions about the Department's compliance with existing statutory authority," the representatives wrote. According to the Immigration and Nationality Act, DHS must process and provide a credible fear screening for those who intend to apply for asylum, the letter stated.
Customs and Border Protection officials said Monday that the comments made in the briefing were taken out of context.
"During this briefing, CBP reiterated what we have said numerous times, that with the influx of Central American family units arriving at our ports of entry without proper documentation, and crossing our borders illegally, the processing system at CBP and our partner agencies has hit capacity," said Corry Schiermeyer, press secretary for CBP. "As more people are processed, the capacity challenges increase, and become unsustainable."
Schiermeyer said that unless "Congress responds to our repeated requests for additional resources and to address pull factors for illegal immigration, we will continue to experience capacity challenges."

A study released this month by the University of Texas at Austin's Robert S. Strauss Center for International Security and Law found that the practice began more than two years ago and has become "institutionalized" across the Southwest border in the past six months under the Trump administration.
Experts said the statements made by CBP officials behind closed doors were revealing.
"Murdock's statement not only confirms that DHS is using metering to slow-walk asylum applications, regardless of whether the agency has the capacity to process such, but also that they are doing so for the purpose of deterring future arrivals of asylum-seekers," said Sarah Pierce, an analyst at the Migration Policy Institute.
The American Immigration Council has filed a federal lawsuit challenging the practice; earlier this year the Department of Homeland Security inspector general found that it had forced some to cross into the country without authorization.
McAleenan told Vox in October that they were not "turning people away" but that they were "asking them to wait." He said that the practice was occurring at three to four ports of entry on the Southwest border, but that the port in Tijuana, San Ysidro, was the only one that was consistently using it.