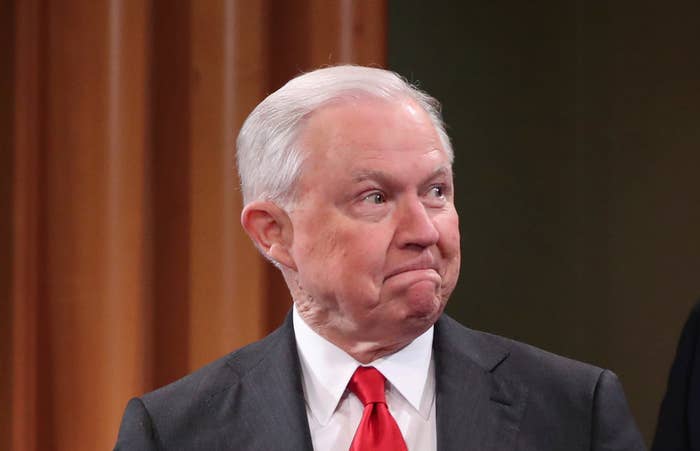 From the moment Donald Trump introduced Jeff Sessions as the first member of the US Senate to endorse his candidacy for president, the two men have been bound by one topic: immigration.
"When I talk about immigration, and when I talk about illegal immigration and all the problems with crimes and everything else, I think about a great man," Trump told a rally in Madison, Wisconsin, moments before he brought out Sessions.
Sessions made it clear that in Trump he, too, saw a kindred spirit. Politicians had long promised to do something about immigration, he said. "Have they done it? No, but Donald Trump will do it."
Nearly three years after that February 2016 rally, Trump and Sessions on Wednesday parted ways, with Sessions turning in his resignation after a tumultuous term as Trump's attorney general. While much of the commentary about Sessions' departure turned on what will happen next to the special counsel's Trump–Russia probe, it's clear now that Sessions' biggest impact during the Trump administration will be on immigration policy.
Though he lasted less than two years, Sessions made use of his limited time: He sued sanctuary cities and states. He recommended that the president rescind a popular program that protected immigrants from deportation (DACA) and later announced its end. He implemented a "zero tolerance" policy at the border that resulted in parents being separated from their children.
And, perhaps most consequentially, in his role overseeing the immigration courts, made monumental changes to the way judges could oversee their cases and rule on asylum claims.
"Sessions was a key driver and defender of the Trump administration's … coordinated attack on unauthorized immigrants, asylum-seekers, and legal immigration," said Sarah Pierce, an analyst at the Migration Policy Institute. "It seems likely that in his absence the administration's enthusiastic drive for immigration reforms will be tempered."
Though many of his efforts failed once they reached the federal courts — his Department of Justice suffered key losses on DACA and cutting off funding to sanctuary cities — Sessions was able to make changes without impediments over one key facet of the immigration system: the courts.
In his position as the boss of the country's immigration judges, Sessions was able to refer cases to himself and then make legal precedent with his decisions. He did that eight times, restricting the instances in which individuals could be granted asylum and stopping judges from being able to indefinitely suspend cases and allow immigrants to remain in the country without a decision.
"Here is one group of judges who happen to be under his control. He could basically say 'jump' and they'd say 'how high?' He had total control. It was like a perfect storm of all these things coming together," said Jeffrey Chase, a former immigration judge.
After he restricted the ability of judges to set aside deportation cases, Department of Homeland Security attorneys were told to restart previously delayed cases, and thousands of cases poured back into the immigration courts.

And to push judges, Sessions instituted a quota on the number of cases they should consider every year and even told them in a speech to deliver a "secure" border and a "lawful system" that "actually works." He cautioned them against allowing sympathy for the people appearing before them to color the orders they made.
Naturally, Sessions and the union for the immigration judges clashed over the moves, which included removing one judge from a high-profile case.
"We hope that the next attorney general will be more responsive to the issues and the challenges facing the immigration court, immigration judges, and the parties that come before the court," said Ashley Tabaddor, an immigration judge who heads the union, the National Association of Immigration Judges, which represents around 350 judges.
For immigrant advocates, Sessions' departure was welcomed. The ACLU called him the worst attorney general of modern history. The National Immigration Law Center tweeted that Sessions would be remembered for his "disregard of the Constitution" and "well-being of our communities." The group Freedom for Immigrants said Sessions "never cared about justice. He only cared about making immigrants' lives miserable."
Supporters of a more restrictive immigration policy, however, lamented Sessions' resignation. "Sessions' resignation is undoubtedly a blow to the patriotic immigration reform community," said Jeremy Carl, a research fellow at Stanford University's Hoover Institution.
"He has long been one of the strongest and most knowledgeable champions of our cause."
Still, for many advocates, the fear was that Sessions' impact on the system would be long lasting — regardless of who comes next.
"This attorney general has had a devastating impact on the immigration court system's ability to provide fair decisions in the cases of individuals that come before them," said Greg Chen, director of government relations for the American Immigration Lawyers Association. "Under his tenure, there have been dramatic changes in policy that have undermined the integrity of the immigration court system and the independence of judges."
Sessions' legacy on immigration will go beyond the changes he's made in the courts — his former Senate aide, Stephen Miller, is a key adviser to the president and will continue to take a key role in drafting and leading changes to the immigration system. But he won't be able to replace Sessions, said the Migration Policy Institute's Pierce.
"As Jeff Sessions showed us, the attorney general is in a unique position to enact wide-reaching changes on the immigration system," she said. "Unless another like-minded individual is appointed to that office, the administration's immigration reform efforts have lost a key tool."