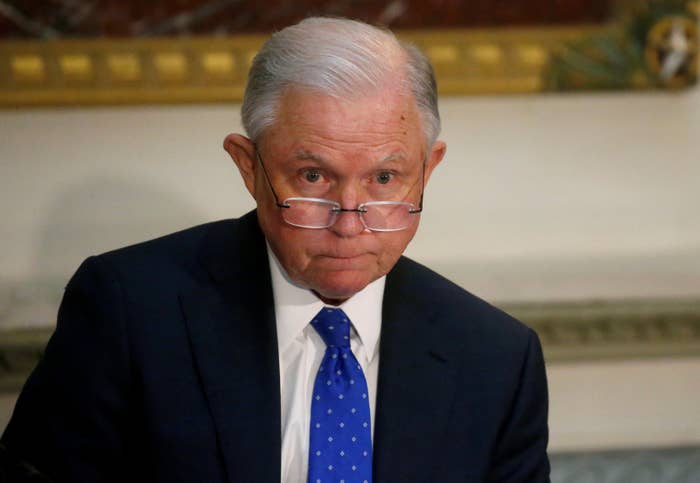 In a move that advocates say could threaten due process rights for immigrants and lead to more deportations, immigration judges in multiple cities have been instructed to cram more hearings into their daily schedules, according to sources knowledgeable on the matter.
Advocates believe the Trump administration has undercut the independence of judges in order to speed up deportations. Already this year, Attorney General Jeff Sessions restricted the types of cases in which asylum would be granted and limited the ability for judges to indefinitely suspend certain cases.
Judges across the country, in places like San Francisco; Arlington, Virginia; Memphis, and Dallas, recently received the instructions from assistant chief immigration judges, who supervise separate immigration courts, to schedule three merits hearings a day starting Oct. 1, according to sources who did not want to speak publicly on the matter.
An Executive Office for Immigration Review official said that that the assistant chief judges were not directed by the office's leadership to push the instructions.
Advocates believe the move could be potentially disastrous for immigrants. During merits hearings, immigrants facing deportation provide evidence and call witnesses to back up their claims to remain in the country, such as arguing for asylum. In addition, earlier in the year, the Department of Justice announced that beginning Oct. 1, judges would be expected to complete 700 cases a year.
"The requirement of three merits hearings a day could do more to threaten the integrity of the court system than the 700-case-per-year requirement," said Sarah Pierce, a senior analyst at the Migration Policy Institute, a Washington think tank. "Requiring immigration judges to schedule three merits hearings a day assumes each case will be a similar or at least comparable length — and that's just not true."
Pierce said some hearings, such as asylum hearings, may require detailed testimony that can make the case stretch on for hours. "By mandating three merits hearings a day the court would be placing unrealistic pressures on immigration judges, which will certainly have negative after effects on the due process rights of the foreign nationals in their courtrooms," she said.
Until now, how many hearings a judge schedules each day has been up to the judges themselves. Often, judges schedule two such hearings a day, experts say.
Jeffrey Chase, a former immigration judge and now an immigration attorney, said the instructions to schedule three could lead to judges feeling forced to speed through hearings.
"If a judge is going to think: 'let me do [the] right thing and have an eight-hour hearing, or I've got my kids' tuition I have to pay, I'm going to do what they want me to do,'" he said. "It's the next step in taking away immigration judges' independence, making them choose between job security and due process."
Unlike federal judges who are given lifetime appointments, immigration court judges are employees of the Department of Justice. In his role overseeing the court, Sessions has been vocal in cutting down the backlog of deportation cases.
To that end, in March, judges were given benchmarks on how many days they should take to complete certain cases and how many cases they should finish every year beginning on Oct. 1.
Dana Marks, a spokesperson for the National Association of Immigration Judges, told BuzzFeed News that she could not confirm or deny the report. Marks, however, said that their association is "deeply concerned any time" there is an encroachment on judges' ability to manage their dockets.
"Micro-managing our dockets from afar does not help us to do our job more efficiently and effectively," she said, "it hinders us."