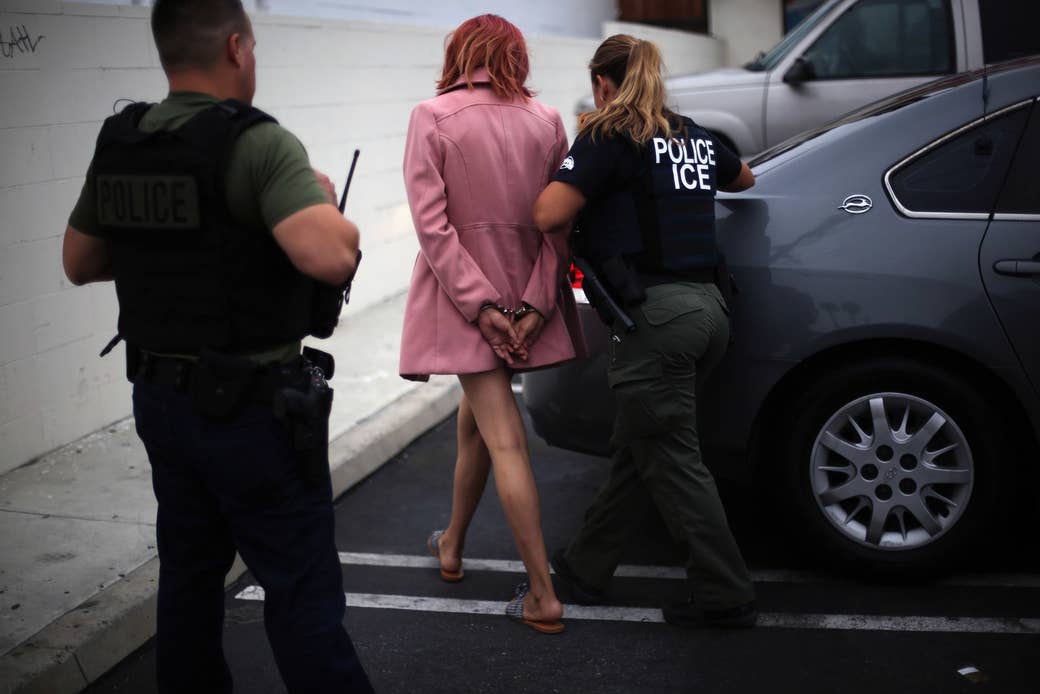 ANAHEIM, California — It was still dark at 4 a.m. at a strip mall in Anaheim. Starbucks, Subway, and the other chain stores were closed, so the few early risers grabbed their coffee at the only store open: Jax Donut House.

The parking lot was mostly empty, except for one spot, 50 feet from the US Bank drive thru, where nearly two dozen Immigration and Customs Enforcement officers were strapping on black "POLICE" vests and guns. They were in the middle of a three-day operation that would spread across Southern California and multiple counties. More than 100 officers would be involved in the action, in which 150 undocumented immigrants were arrested — all but 14 were convicted criminals, according to the preliminary data released by the agency.
ICE claims the sweeps at homes and outside businesses are necessary because California's sanctuary laws don't allow county jails to hold prisoners past their release dates so that ICE can pick them up. The state's sanctuary law limited when officials can notify ICE in advance of someone's release date. So ICE says it must send officers into cities like Anaheim to find undocumented immigrants who have criminal convictions or deportation orders against them. Potentially, undocumented immigrants with no criminal background also are swept up.
The raids have made ICE unpopular with immigrant advocates who say that the ICE presence spreads fear in the lives of people who are merely trying to get by. But ICE officials say the characterization of its officers as brute-force rounding up innocents is inaccurate and unfair. To make that point, ICE invited BuzzFeed News to ride along as it began its operation to see how the raids are conducted.
"It feels like we're the bad guys to everyone," said one ICE officer who declined to give his name as he described how the intense public focus on his agency has made him careful in public and to never talk about his work.
Under the Trump administration, arrests of noncriminals have increased across the country after an executive order pushed the focus of ICE beyond just those with felonies and recent deportation orders, among other limits. Under an order signed by President Trump, nearly every undocumented immigrant can be a priority if they are encountered by ICE officers.
And unlike in previous years, officers are authorized to make "collateral arrests," meaning undocumented family members or friends found in a target's home.
"There was a line in the sand of who our targets were and who weren't [targets]," said Thomas Giles, the acting director of the Los Angeles field office, which spans seven counties in Southern California, referring to instructions during the Obama administration that limited ICE operations to certain convicted criminals. Under the Trump administration, those limits have been lifted.
"We just enforce the immigration law the way it was written," Giles said.
The officers at the Anaheim strip mall have a list of targets for arrest that includes their suspected addresses, descriptions, and photos. Surveillance has detailed their routines. An ICE supervisor lays out a series of maps on the hood of a car. It shows an aerial view of the workplace of one target. The supervisor explains how he wants his officers in cars to surround the building so that they can grab the target when he arrives.
Much of the job is mundane, hours of waiting for the target to appear. In this case, he never did.
Jorge Field, the assistant director of the Los Angeles field office, knows that mundane aspect well. He's been enforcing the nation's immigration laws for 23 years. Monday morning, he'd parked his SUV in an industrial part of Anaheim, a few miles from the strip mall, waiting for a suspect to show up. The man had been convicted of possession of a firearm, drunk driving, and battery.
A stocky, middle-aged man with a thick, salt-and-pepper goatee, Field is offended by the calls to abolish the agency he's spent much of his adult life working for. He feels caught between two competing sides, those who think ICE does too much and those who think it doesn't do nearly enough.
"Ninety percent of the population hates what we do," he sighs. "Forty-five percent think we're doing too much, and 45% think we need to do more. Who's right and who's wrong? Who knows."
Field thinks the agency is battling misconceptions that have shaped public opinion. "If you listen to advocates, we're out on every street corner, stopping every brown person there is. We have a few hundred officers to cover 36,000 square miles, 20 million people. Do we have the resources to be on every street corner? Absolutely not."
Field, who wears a gray bracelet to honor his child who died of a brain tumor more than a decade ago, also bristles at some of the president's disparaging remarks about immigrants.
"My dad is from Mexico. My uncles came from there. So, do I think people coming from Mexico are the worst of the worst? Obviously not," he said, referring to Trump's infamous first speech as a presidential candidate in which he said Mexico did not send its "best" but instead rapists and criminals. "It's just like the left that makes a generalized statement, so does the right."
He figures about 40% of ICE officers in Los Angeles are Latino. That, he said, goes against how officers are depicted as "blonde hair, blue-eyed, jack-booted Aryans."
After waiting more than 30 minutes, officers figured the target wouldn't show up to work and decided to go to his presumed home, where they'd seen him coming out with his motorcycle. It was a modest neighborhood, with cramped, beige homes shielded by short white and black fences. A barbecue grill was on the front lawn of one home. Christmas lights were still up on another.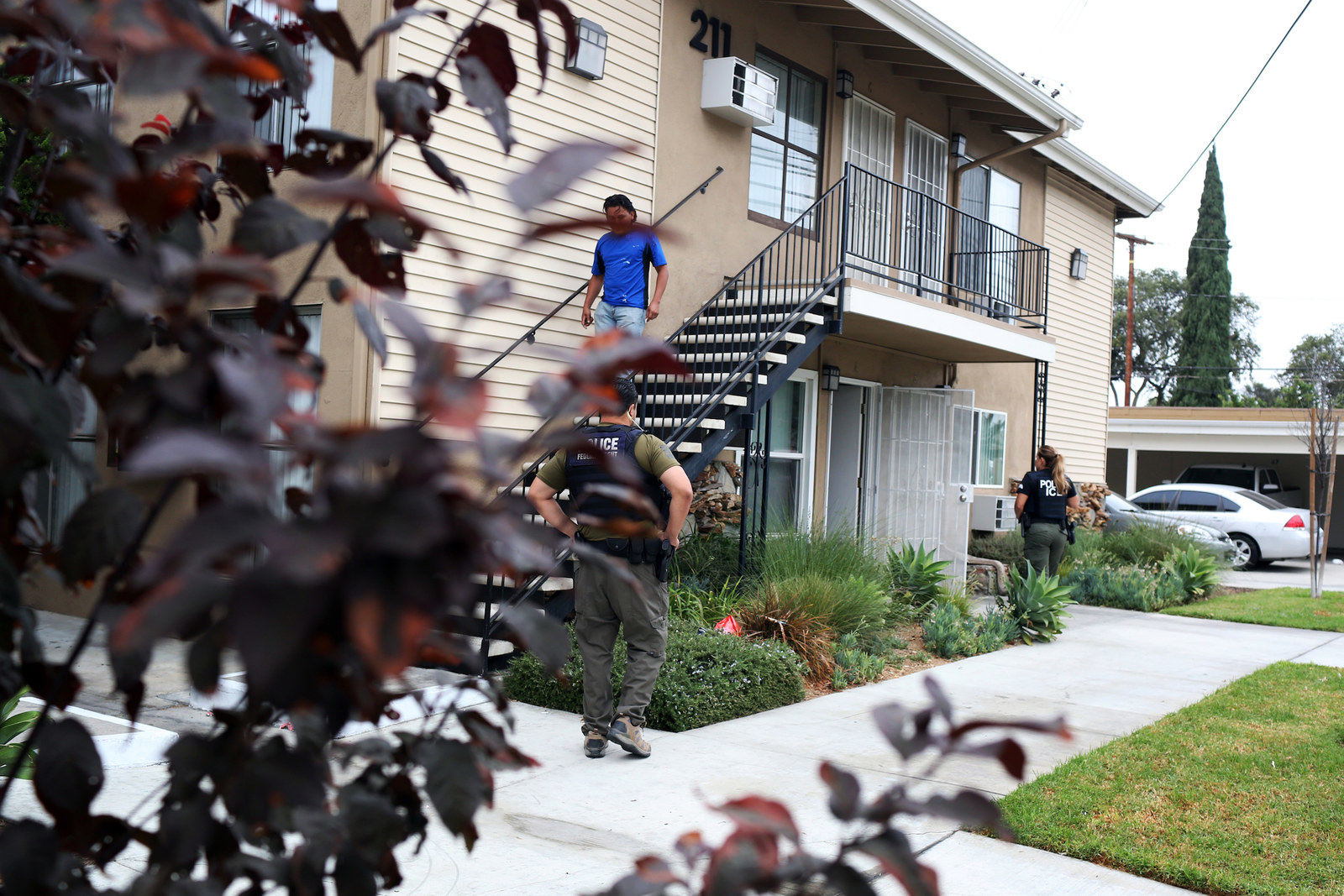 ICE officers, one armed with a rifle, walked deliberately between a few homes around an alley where they'd seen him, knocking on doors looking for the target. Some didn't open their doors, while others told the officers they had come to the wrong place.
As the officers fanned out, kids passed on their way to school, onlookers appeared from neighboring homes, and those who drove by stopped and asked, "What's going on here?"
After searching for a bit, the bulk of the officers left — on to the next target, a man in Fullerton, just a few miles away. This time, it took just a knock on the door. The target, wearing a white tank top and basketball shorts, opened up. Officers quickly cuffed him, put him in a car, and left.
The apartment building was across from a Catholic school.
Field believes it would be a better use of resources if they could pick up inmates before they were released from jails, like in the past, when counties were allowed to hold inmates ICE wanted. After all, once an individual is arrested, their fingerprints are compared with prints in federal databases that alert immigration authorities if the person is wanted.
Proponents of sanctuary laws that limit local cooperation with immigration enforcement say such policies allow all people — regardless of immigration status — to engage with public services, including police protection, education, and health care, rather than live in the shadows.
"Do these people really have sanctuary here?" Field said. "It doesn't stop us from doing our job. So is that a misnomer? Absolutely."
While the majority of those targeted in the operation in Southern California were convicted criminals, and the office still arrests mostly criminals, an increasing number of people in other parts of the country have been picked up with no such background and with deep ties to the country — including children who are American citizens.
"I mean, do I empathize with them? Kind of. At the end of the day, again, everything we do has consequences," Field said. "If I know that I'm coming to the country improperly, and I know the result of that could be one day I'll be arrested, where does the responsibility lie for what happens at the end?"
Immigration enforcement, he said, is like a roller-coaster, going up and down based on the administration. Field has seen it all, dating back to then-president Bill Clinton. Under Obama, he said, the priorities of whom ICE was to target gave false hope to a segment of the undocumented population.
"It gave those people a false sense of security," he said. Obama administration officials believed their approach utilized ICE's finite resources to focus on those unauthorized immigrants with the worst criminal records, as opposed to those who were largely upstanding members of society.
At an ICE facility in Los Angeles, the arrestees in the operation were shackled and cuffed, lined up sitting on a bench, their belongings in plastic bags on the floor, as their information and fingerprints were processed. They'd later be placed in one of several holding cells on the same floor, depending on whether they were to be deported immediately or transferred to an ICE detention center in the state or across the country.
One of the targets in the sweep, Freddy Vasquez, 35, had been convicted of attempted murder, assault with a deadly weapon, contributing to the delinquency of a minor, failure to register as a sex offender, driving under the influence, and possession of a controlled substance. He said he'd been working and had been in this country since he was a teenager. Even though he was set to be deported again, Vasquez said he would try to come back from Mexico.
"I need to," he said. "There's no life over there."
Meanwhile, Santos Sierra Tamayo, 39, who had been deported three times before and was convicted of vehicle theft and possession of a controlled substance, said he'd been waiting to get picked up for his work as a house painter when ICE showed up and arrested him.
Ever since then, he'd been thinking how and when he was going to tell his four children about his imminent deportation to Mexico. He didn't know if his family had figured out that he'd been picked up.
He didn't think he'd have the opportunity to ever come back.
"I'm thinking I lost them," he said. "I lost my family."