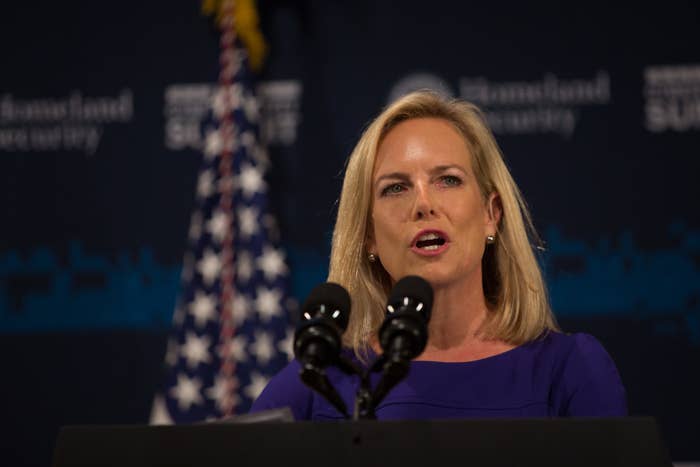 Immigration officials made the most arrests at a single worksite in more than a decade when they picked up 160 suspected undocumented employees at a trailer manufacturer in Texas earlier this week.
Agents from ICE's Homeland Security Investigations division made the arrests Tuesday as they served search warrants at Load Trail, in the unincorporated community of Sumner in north Texas, not far from the border with Oklahoma. Authorities said they were acting on a tip that the company had knowingly hired workers with fake documents.
The Load Trail arrests are part of the Trump administration's renewed focus on businesses suspected of employing undocumented workers. ICE officials have said that businesses that hire undocumented workers get an "unfair advantage" over others and take jobs from US citizens and legal residents.
Such raids were once more common — ICE agents arrested nearly 400 workers at a meat processing plant in Postville, Iowa, in May of 2008, the last operation that netted more arrests at a single worksite — but the Obama administration cut back on those kinds of large-scale sweeps.
"I think of all the populations, people showing up for work are not public safety threats. That's who these folks are — showing up for work. It's just going to continue to add to the backlog of immigration courts," said John Sandweg, who was the acting director of ICE in 2013 and 2014 during the Obama administration.
"I think this is the tempo now," Sandweg said. "Employers need to be on guard. ICE is looking for targets where there are a high volume of undocumented immigrants and businesses with a low-wage workforce."
Compared with the previous fiscal year, ICE has made more than five times as many immigration arrests at workplaces this year. Late last year, Thomas Homan, the agency's former acting director, had called for a "400% increase" in such workplace operations.
Advocates said that they have documented instances in which parents were detained in this raid and separated from their children.
"This tragedy further proves that ICE is still separating families," said Nicolas Hernandez, a community outreach specialist with the Refugee and Immigrant Center for Education and Legal Service, a Texas-based organization. "Children have lost parents and families have been torn apart in a deliberate strategy to terrorize immigrant communities."