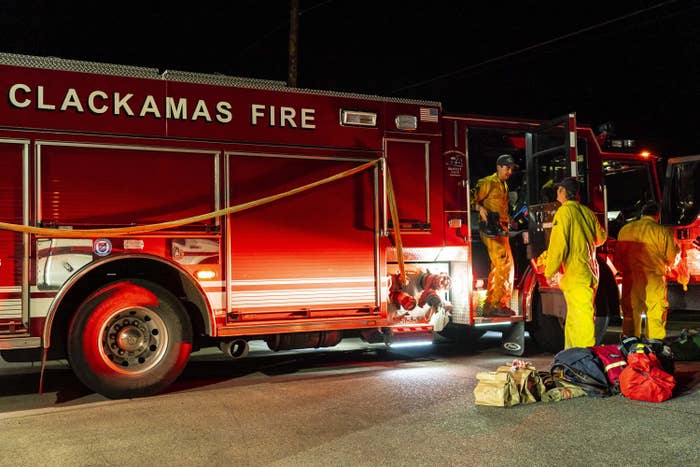 On Friday afternoon, days after fires exploded across her state, killing an untold number, consuming a million acres of land, and transforming the sky above Portland, Oregon, into the most hazardous air on the planet, Gov. Kate Brown sat down in front of the media to give an update. About half a million people — 10% of the state's population — were under some kind of evacuation warning. The sparkling late summer sun and blue skies of a few days before had been blotted out by smoke. A "mass fatality" incident was possible, a state official cautioned, given the number of people still missing.
"It's been a rough few days, watching our beautiful state burn," the governor said.
For many in Oregon, and in Portland in particular, it was only the latest development in what has already been a season of horror and discontent — layered on top of a deadly pandemic.
President Donald Trump has painted the city — famous for its coffee, hoppy beers, and hipsters — as a place under fiery siege. For months, Black Lives Matter protesters have engaged in nightly clashes with police officers. Since July, Trump administration officials have attacked Portland officials, most notably Mayor Ted Wheeler, for not doing enough to protect federal property and shut down protests. Federal officers, including Border Patrol agents, moved into the city, deploying tear gas and, in one notable instance, grabbed a protester off the street.
Many locals have disputed the president's characterization of their city, noting that a few blocks outside the protest zone, life went on as usual on tree-dappled streets and in pleasant outdoor restaurants. But the nightly battles — and the presidential rhetoric, along with the national media's attention — took a toll.
And then came the fires burning across the mountains and down to the ocean, the pall of toxic smoke, the lines of cars full of people fleeing north into Portland from burned towns further south, the stories of people missing and killed.
Lee Shaker, an associate professor communications at Portland State University, said living in Portland in recent months has felt "almost apocalyptic."
"It's a lot," Shaker said. "I think people are feeling beleaguered. It's what — six months in the pandemic? Three and a half months into the protests, and now you can add wildfires and natural disaster on top of that. People are getting to the point of getting worn out."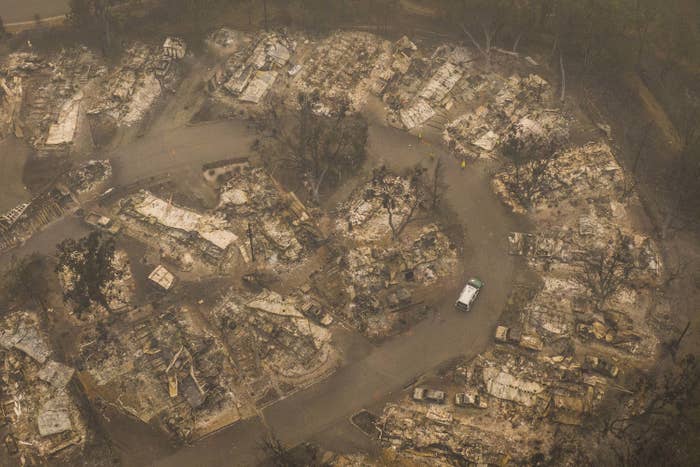 Ryan Haas, a news editor at Oregon Public Broadcasting, the state's local national public radio affiliate, said this summer has been "unlike anything I've ever experienced in my life."
Most days, he said, he works from 5 a.m. until late in the evening. "I've been in the news business for a long time but I've never seen anything like this in terms of the amount of uncertainty and chaos happening and the endless panic people are feeling," he said. "Every week there are four or five major breaking news stories that could be national news at any point. Reporters and editors are working around the clock," he said.
Haas said he himself was in the middle of another one of his long days Thursday when he received an alert to evacuate his home in rural Clackamas County, southeast of Portland. "I have to stop what I'm doing," he said he told his colleagues. "I'm sorry."
Haas, who fled to a different town but continued working around the clock, said the future remains uncertain, especially with the presidential election coming up and the potential for future clashes in Portland. Later in September, a right-wing group, Proud Boys, is planning a rally in Portland."It remains a completely unpredictable situation," he said.
Indeed, the ideological clash in Oregon even collided with the fires. All week, law enforcement officials have repeatedly denied rumors that the fires were caused by left-wing activists.
Steve Beda, a history professor at the University of Oregon who is an expert in the Pacific Northwest, said the state hasn't seen comparable conflict since World War I, when it was racked by the flu epidemic of 1918–19 and massive labor strife among timber workers and others.
"As a historian, I know there's rarely stuff that's unprecedented. The intellectual side of my brain knows this," he said. But, he added, "the emotional side of my brain voices the same concern that everyone else does: What is happening to the world and to Oregon?"