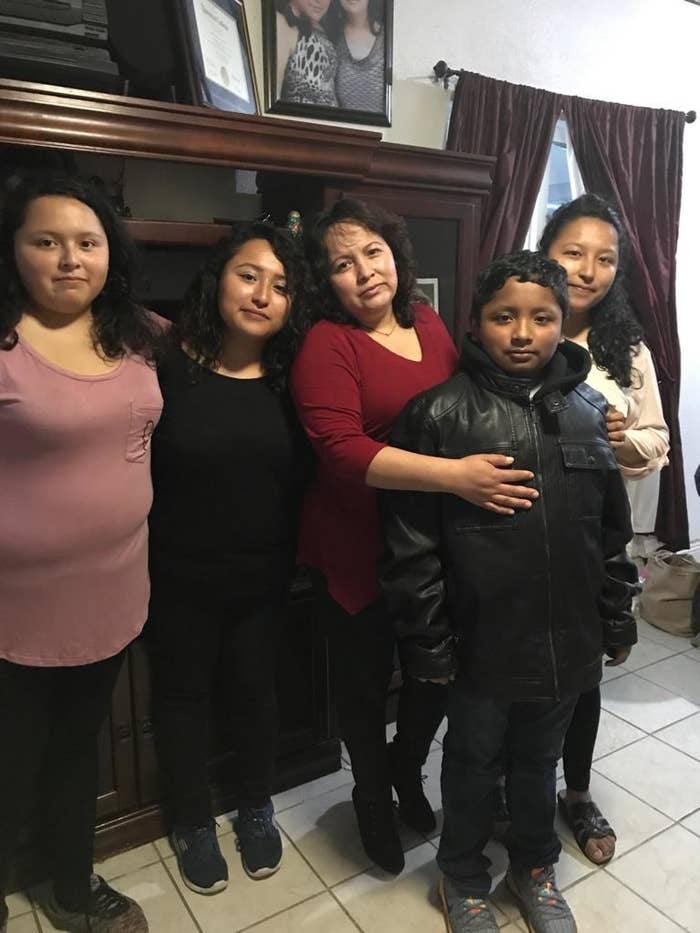 Maria Mendoza-Sanchez is raking the leaves in the backyard of her three-bedroom home in East Oakland. It's foggy out, and Maria's working at home before she goes to her job — she's always working — at the local trauma hospital, where she's a cancer nurse.
After making a dent in the mess in the yard, it's time to see if her children, three daughters ages 17, 22, and 24 and a 13-year-old boy, are up and making the most of their day.
But these scenes are just dreams, the fading memories of her once-successful American life. Mendoza-Sanchez wakes up in her mother's tiny home in a village an hour north of Mexico City. She's not raking leaves, or able to see or touch her children, or prepare for work.
It's been 15 months since she was caught up in the Trump administration's crackdown on immigration, deported and separated from her children despite her more than two decades in the country, her successful career, and her lack of a criminal record.
The separation has rattled Mendoza-Sanchez and her children, changing their outlook on life and leaving them feeling alone and helpless. Their story is a window into the agonizing reality of mixed-status families that are fractured by deportation. The oldest child, Vianney, 24, has protection from deportation through DACA; Melin, 22, Elizabeth, 17, and Jesus, 13, are US citizens by birth.
Though she attempts to parent from thousands of miles away, Mendoza-Sanchez is gripped with anxiety over her children's wellbeing and has had to fight off a depression that hit her this summer.
"I wish it wasn't a dream, I wish it was reality," she said. "There's no place like home. Even though I have my relatives here, America has been my home for so many years, and my children have been the most important people in my life. My partners. My little partners. They're all I have. The most important people in my life."
But lately, she has had reason to be hopeful for the future — one that could include a reunion with her children in Oakland.
This spring, her petition was picked in the H1B lottery, which provides selectees the opportunity to request a six-year work permit under the country's visa program for foreign workers. She was one of 85,000 people who got picked out of the nearly 200,000 who applied earlier this year. Highland Hospital in Oakland, where Mendoza-Sanchez worked for two years, sponsored the visa, which requires evidence that the job is high-skilled. Over the summer, Mendoza-Sanchez's application was approved.
If Mendoza-Sanchez had never been deported, all that would remain now would be for her to pick up her visa at the US Embassy in Mexico City and come to the Bay Area.
But because of the deportation, the fact that she brought her child with her when she crossed the border without authorization in the early 1990s, and her years of living without status, Mendoza-Sanchez faces multiple, years-long prohibitions on returning to the country.
Even so, there's still reason for hope: a waiver, little known by many, even attorneys, exists for immigrants applying for specialized, nonpermanent visas, like the H1B, that would wipe away the entry bars. So on Monday, Mendoza-Sanchez will travel to the US Embassy in Mexico City for a chance.
Once there, she will have 15 minutes to persuade a State Department consular officer that she deserves the waiver, 15 minutes to tell the officer about the career she'd built in America and the job she can fill to contribute to the community, 15 minutes to tell the officer about the children to whom she so desperately wants to return.
Afterward, Mendoza-Sanchez will be at the mercy of a bureaucratic process: A State Department official will recommend whether Mendoza-Sanchez is granted the waiver and the application will move to US Citizenship and Immigration Services, which will make the final decision. If the waiver is approved, she will likely be on a path to picking up her H1B visa and coming home.
"She is clearly eligible," said Camiel Becker, an immigration attorney and partner at Becker & Lee LLP in Oakland, who has represented Mendoza-Sanchez throughout the application process. "Anytime anything allows for discretion while outside of the country where there's no appeals process, if they make a decision you're stuck with it. Will that officer be in a good mood or not? That's what it comes down to."
"Maria Mendoza-Sanchez has been separated from her children for more than a year. She was deported despite being the parent of US citizen children and a valued oncology nurse at Highland Hospital. I'm proud to support her H1B application, which will allow her to reunite with her children and return to her job caring for patients who need a skilled, dedicated nurse," Sen. Dianne Feinstein told BuzzFeed News Sunday.
"This case exemplifies why the Trump administration zero-tolerance policy is not only unworkable, but a failure," she said. "Rather than focusing on violent criminals and drug dealers, the administration is prioritizing deporting people like Maria who should be recognized for their skills and contributions to our country and economy."

Feinstein introduced a private bill last year that would have allowed for Mendoza-Sanchez to come back to the country, but passage was unlikely in a Republican-controlled Senate. A petition backing the bill received nearly 100,000 signatures online.
Mendoza-Sanchez crossed the border in 1994, working odd jobs and taking care of her children. In 2002, Maria and her husband, Eusebio, applied for protection through the immigration courts and were able to get work permits because of it. Though she had four children to care for, Mendoza-Sanchez went to college, took on a job as a nursing assistant, graduated from nursing school, and landed a six-figure job as a cancer nurse at Highland Hospital in 2015.
The hours were long and the days off were few and far between, but Mendoza-Sanchez loved the job — collaborating with doctors, chatting with her fellow nurses, and bonding with the patients who come for chemo treatments. As one of the few Spanish-speaking nurses in the hospital, Mendoza-Sanchez was an asset. It helped too that she's charming, funny, and the center of attention in any room she's in. Patients loved her.
Though a judge ordered the couple deported in 2013, the Obama administration granted them two one-year stays of removal. By 2015, the administration had moved to a more targeted immigration enforcement plan, focused on serious criminals, that allowed them to remain in the country. The couple checked in twice a year with Immigration and Customs Enforcement officials who would sign papers that would grant them another six months in the country and continued authorization to work.
But things changed when President Trump was elected. Just months later, Mendoza-Sanchez and her husband were deported, a consequence of the shift instituted by the Trump administration that made nearly every undocumented immigrant in the country a priority. Her husband will remain behind in Mexico if Mendoza-Sanchez's waiver is granted.
From Mexico, Mendoza-Sanchez has tried to parent by speaking with her children on FaceTime every night. But being so far away presents its challenges, like when the children are sick — she can only offer suggestions on the phone, not be there to take their temperature or feel their forehead for a fever. For a while, through a glitch, her iPad started receiving the text messages one of her daughters was sending, giving Mendoza-Sanchez a window into their conversations and the struggles they didn't share with her.
Mendoza-Sanchez leans on her eldest daughter, Vianney, to take on the role of caregiver for the rest of them, a role she has taken on with fervor. Her savings, along with money raised through a GoFundMe organized by residents at her hospital, have sustained the children in her absence.
The 47-year-old notices things, even though she's far away, like the fact that her once social and outgoing son Jesus retreated to an obsession with video games --- avoiding socializing with his sisters. Jesus had initially come with Mendoza-Sanchez to Mexico but left after a few months because the transition to schooling there was too much to overcome.
At one point, her son told her that he was done talking about her deportation.
"It really hurts when people ask questions about you, Mom. It makes me cry — I don't want to talk about it anymore," she says he once told her.
The deportation has taken her away from family milestones. This June, Melin graduated with honors from the University of California, Santa Cruz with a bachelor's degree in human biology. Mendoza-Sanchez had longed to one day see her daughter, who she helped overcome a learning disability, reach graduation day.
Instead, Mendoza-Sanchez viewed the ceremony through a choppy FaceTime feed. Right before Melin was ready to cross the stage, the video call with her children dropped and their attempts to reconnect failed. Later, Mendoza-Sanchez watched a video of the moment as she bawled alone in Mexico.
"Did you see me, Mommy?" Melin asked her after the ceremony. "I was thinking of you the whole time. Don't cry, Mommy. I did it and soon we'll be together again."
"Those are moments we will never recover," Mendoza-Sanchez said. "They are gone."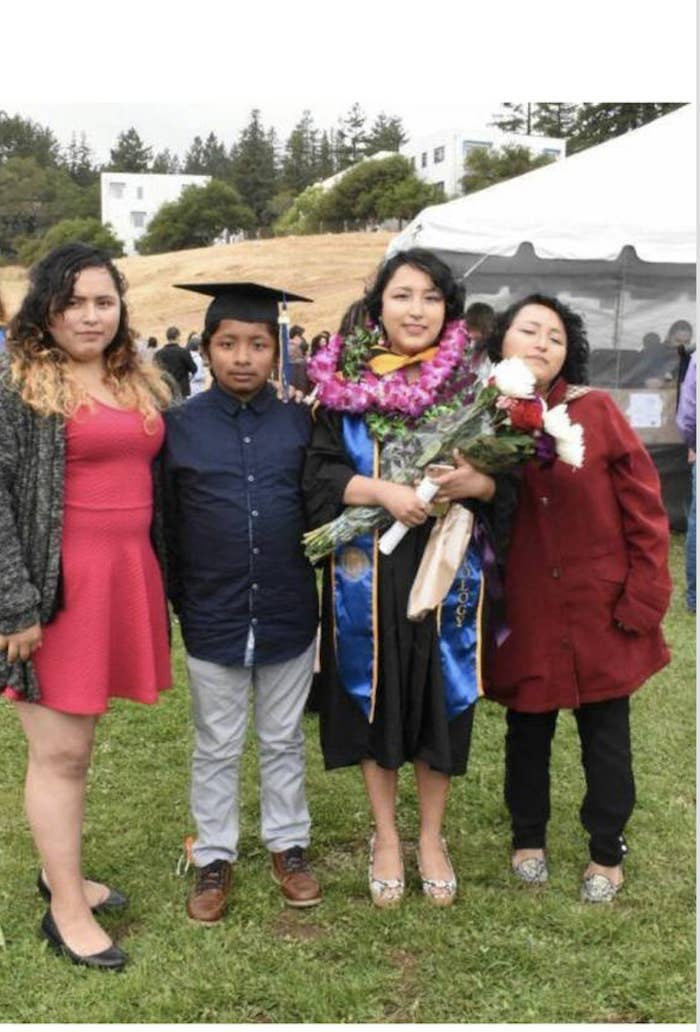 This summer, her two youngest children came to the tiny village to live with their mother for two months. Mendoza-Sanchez started to feel close to them again, hearing all the thoughts she missed from afar and falling back into a routine, as much as possible in another country. But the time together was fleeting and by August, Mendoza-Sanchez was in a car with her children on their way to the airport in Mexico City, girding herself to be separated from them again.
In the car, Elizabeth, 17, turned to her mother and told her that she no longer believed in God. The family was religious when they lived together in the Bay Area, attending church regularly.
"What God allows these terrible things to happen to people? Look at us — what have we done to people to go through all of this? Look at you. I don't like to see you in bed most of the day," she said, bawling.
Mendoza-Sanchez tried to calm her daughter, she said, and provide perspective. "What happened was painful, but look how many people have supported us — senators, the hospital, friends. A lot of people don't have what we have," she said, wiping away her tears. "Look, I'm not going to go back with you guys, but maybe soon I'll be there with you. You're not going to be alone anymore. Things will go back to as normal as possible."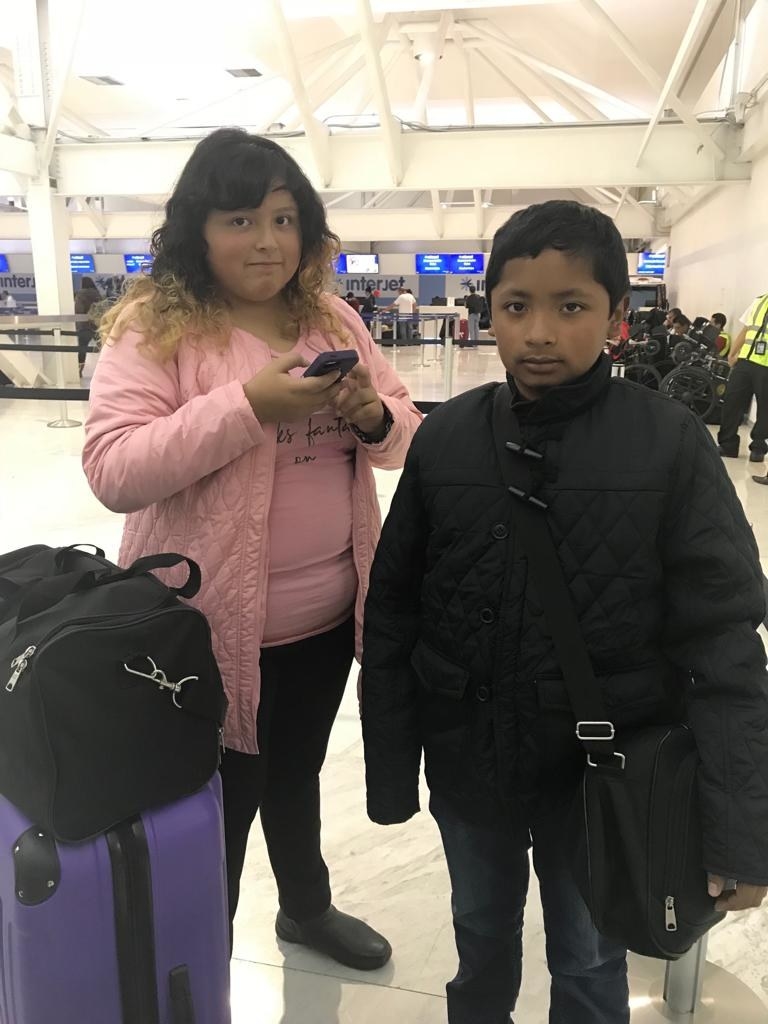 Mendoza-Sanchez knew she couldn't guarantee her return, but she wanted her children to have some hope for a change.
So, on Monday, she'll say a prayer and head to Mexico City, ready to start a journey she hopes will take her back to Oakland.
"I just want to be there with them to help them in any way I can," she said. "I have to fight until the last minute. If things don't happen the way I wish they do, I'll hope to have the strength to figure out the next step. I cannot keep falling apart. I'm pretty much all they have."
Mendoza-Sanchez began to cry before stopping and thinking for a second.
"I really hope," she stopped again. "I just don't want them to stay one more Christmas alone."