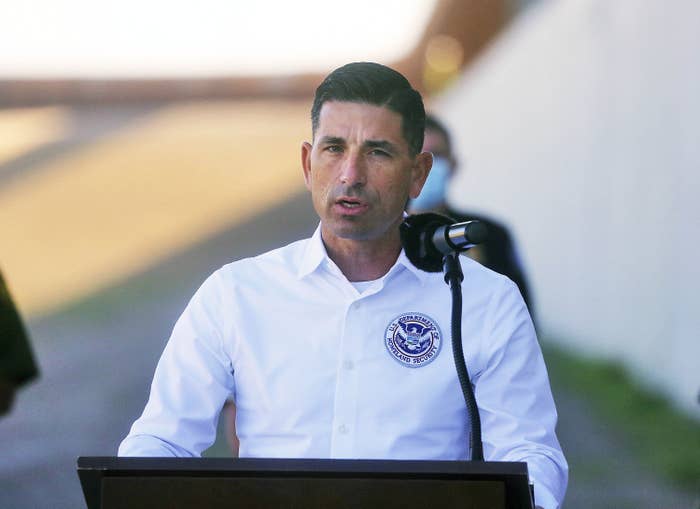 Chad Wolf, the acting secretary of the Department of Homeland Security, said he is resigning late Monday, more than a year after being selected for the role by President Donald Trump.
Wolf's resignation marks the end of a tumultuous run for DHS during the Trump administration. Wolf led an agency that has seen an unprecedented level of turnover during the last several years and has a slew of acting leaders in key positions. His resignation ensures that the department will have its sixth leader under Trump, who last week withdrew Wolf's nomination to the Senate.
Pete Gaynor, the acting head of FEMA, will now lead the DHS until the Biden administration takes over next week.
"Effective at 11:59 p.m. today, I am stepping down as your Acting Secretary. I am saddened to take this step, as it was my intention to serve the Department until the end of this Administration," Wolf wrote in an email to staff. "Unfortunately, this action is warranted by recent events, including the ongoing and meritless court rulings regarding the validity of my authority as Acting Secretary."
Wolf appeared to be referencing the fact that many of the policies issued during his tenure had been challenged in court as advocates argued that he had not been legally appointed to his role. Federal judges have found that Wolf appeared to not be lawfully appointed in rulings that have blocked DHS policies. His nomination to the Senate was seen as an attempt to shore up the administration's legal case against such lawsuits.
Rep. Bennie Thompson, chair of the House Homeland Security Committee, blasted Wolf in a statement on his announced resignation days before he was to help coordinate security for the presidential inauguration.
"For months we have known Chad Wolf has been serving illegally in his position, so the timing of his resignation from the Department today is questionable," he said. "He has chosen to resign during a time of national crisis and when domestic terrorists may be planning additional attacks on our government. Unlike others, he is apparently not leaving the Trump Administration on principle."
Last week, in a ruling over a policy restricting asylum, James Donato, a federal judge, said advocates had shown with a likelihood of success that Wolf's appointment was unlawful. In his opinion, the judge blasted the Trump administration's argument about Wolf's appointment, noting that other courts had already denied them.
"This is a troubling litigation strategy. In effect, the government keeps crashing the same car into a gate, hoping that someday it might break through. To be sure, one court decision alone does not necessarily close the door to any further cases or arguments along similar lines. Our common law system contemplates that more than one judicial examination of facts and issues is often merited," he wrote.
It wasn't just federal courts that found Wolf's appointment to be questionable. Last August, the Government Accountability Office similarly found that Wolf's appointment was invalid, a report that DHS officials said was erroneous and misguided.
While Wolf has enforced numerous policies restricting immigration, especially those gutting asylum protections at the border, his tenure was defined by the agency's actions in Portland, Oregon, this summer, when DHS officers were deployed to the city to protect a federal courthouse during a series of protests.
In his email to agency staff, Wolf said he was proud of his time as acting secretary.
"I went about making decisions with one simple question in mind: what is in the best interest of the Department? While that may sound elementary, it's true and sincere," he wrote. "Decisions over the past several years have not been easy. Reforming broken systems or questioning long held beliefs is not for the faint of heart. But our job requires asking difficult questions and making the hard decisions. The American people deserve nothing less."
Wolf oversaw a department that turned around unaccompanied children seeking protection at the border during the pandemic, issued a policy seeking to force immigrants to turn over eye scans and DNA to receive immigration benefits in some cases, and diminished protections for those who had received DACA, among other changes.
A DHS official, who spoke on the condition of anonymity because they were not authorized to speak publicly, said Wolf's tenure was flawed.
"Chad Wolf gave voice to the worst impulses of this administration, empowered the Department's most punitive and small-minded people, and leaves DHS significantly worse than he found it," the official said.
A former senior DHS official also said Wolf's tenure was "marked by a politicization of the department and its missions not seen since its creation."
"Where many secretaries saw DHS as an organization worth investment, Chad joined a growing complement of political appointees united in their commitment to bend and twist the federal government towards the worst political tendencies of Donald Trump," the former official said.
But one former DHS official said Wolf took on "an impossible task" when he accepted the position of acting secretary.
"He always prioritized the frontline worker through every crisis the agency faced this year," the former official said. "I'm sad he did not finish out the term."
Before he was appointed to the acting secretary position, Wolf held the chief of staff role for former DHS leader Kirstjen Nielsen during the bulk of her time as secretary.
In his role, Wolf was integral to the then-secretary as she navigated controversial policy decisions, such as the one to separate parents charged with crossing into the country illegally from their children. Wolf coordinated Nielsen's schedule, wrote and edited speeches, briefed her for meetings on immigration policy, and traveled with her for appearances on the border and elsewhere.
He was later nominated and confirmed to be undersecretary of the DHS Office of Strategy, Policy, and Plans. It's unclear whether Wolf will return to that role following his resignation.
Prior to his position with Nielsen, Wolf worked in the Senate as a legislative assistant to Chuck Hagel, as an administrator at the Transportation Security Administration, and subsequently as vice president of Wexler & Walker, a lobbying firm that later shut down.
Wolf's resignation came days after Trump withdrew his nomination to the Senate for confirmation. The White House announced the withdrawal after Wolf released a comment imploring Trump to condemn the violent mob that overtook the US Capitol last week.
In his final significant move as acting DHS secretary, Wolf moved up the National Special Security Event operations for the inauguration from Jan. 19 to Jan. 13.