Former Top Obama Official Criticizes Democratic Candidates For "Unfair Attack" On Immigration Record
"It is a gross misrepresentation of President Obama's track record on immigration," said the former acting director of Immigration and Customs Enforcement.
A top immigration official in the Obama administration criticized two Democratic presidential candidates who took aim at former vice president Joe Biden at Wednesday night's debate over the number of deportations that occurred under the former president.
New York City Mayor Bill de Blasio and New Jersey Sen. Cory Booker pressed Biden over the more than 3 million immigrants deported during the Obama administration, a number that previously caused immigration advocates to dub the former president "deporter-in-chief."
"I asked the vice president point blank, did he use his power to stop those deportations?" de Blasio said at the debate. "Did you say those deportations were a good idea? Or did you go to the president and say, 'This is a mistake; we shouldn't do it'? Which one?"
Biden sidestepped the questions.
"I was vice president. I am not the president. I keep my recommendations to him private," Biden responded. "[Barack Obama] moved to fundamentally change the system ... but much more has to be done."
"You can't have it both ways," Booker chimed in. "You invoke President Obama more than anyone in this campaign; you can't do it when it's convenient and then dodge it when it's not."
Biden did not elaborate further on his position during the former administration. And a spokesperson for his campaign did not immediately respond to a request for comment.
"It was an unfair attack, based on false premises," said John Sandweg, who held top positions at the Department of Homeland Security under Obama — counselor, acting general counsel, and later acting director of Immigration and Customs Enforcement.
"It is a gross misrepresentation of President Obama's track record on immigration," he told BuzzFeed News. "It's like saying, if you just look at the numbers and you don't understand what they mean, that President Trump is the best president for immigrants since Bill Clinton."
Sandweg wondered how either candidate faced with a similar situation at the border would have handled it.
"You inherit an agency charged with deporting people here unlawfully — 9,000 officers spread out — I'd like to know what things differently they would do than what President Obama did," he said. "With all the reforms we made, where toward the middle, only a small minority of people deported didn't fall into the convicted-criminal or just-crossed-the-border category."
Sandweg sat in on countless meetings inside the Obama White House as officials strategized and developed immigration enforcement policy. The focus, he said, wasn't "more deportations" to win over Republicans and to try to kick-start comprehensive immigration reform; it was to provide priorities to an immigration system that simply didn't have any before.
"I was in hundreds of meetings, including meetings with Biden. The focus was always on how to make ICE a public safety agency and minimize the damage ICE can cause," he said. "There was never any suggestion of increasing deportations."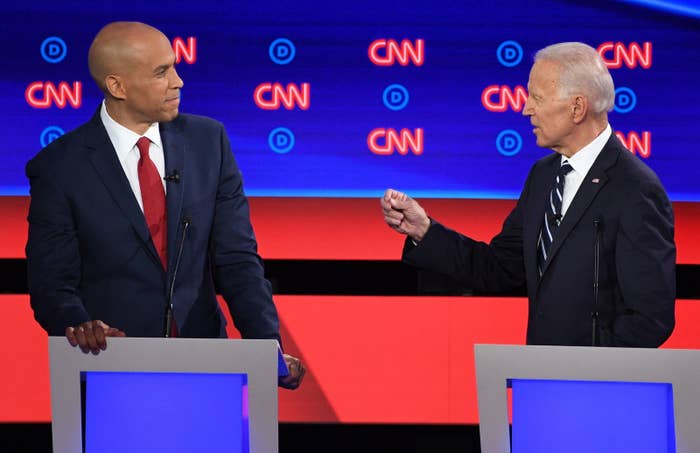 The exchange at Wednesday night's debate, however, highlighted a key issue the Democratic Party will likely continue to struggle with over the next several months as controversial immigration enforcement policies advance under Donald Trump. But for those who worked closely to develop policies during Obama's eight years in office, the debate missed key context.
"I think the attacks on the deportation numbers are based on a misreading of what the composition of those numbers actually reflects," said Cecilia Muñoz, who spent eight years on Obama's senior staff. "The enforcement strategy was an improvement on previous administrations, and it continued to improve. So it's not just that the vice president didn't push back, it's that we were all involved in pushing something forward."
A big contributor to the higher number of deportations in the initial Obama years was the implementation of a process to formally deport, rather than informally turn back, people who crossed the border and did not claim asylum, Sandweg said.
Department of Homeland Security officials tasked ICE with processing many of these quick removals at the border, which artificially inflated the overall deportation numbers, he added. As the years went on, the number of deportations from within the US plunged from more than 200,000 in 2009 to around 60,000 by the end of Obama's term.
"When you look at today's numbers, the administration is hell-bent on deporting as many people as possible, yet it's the lowest it has been in years," Sandweg said. "Why is that the case? Because the situation at the border has changed. It's Central Americans, who are almost all claiming asylum."
Researchers at the Migration Policy Institute, a nonpartisan think tank, came to similar conclusions when analyzing the Obama administration's record on deportations.
"Over the course of the Obama administration there was a pronounced shift in focus to the removal of recent border crossers and criminals rather than ordinary status violators apprehended in the US interior," a 2017 paper published by the group stated.
One of the authors of the paper, Sarah Pierce, noted that ICE's focus on deportations of people within the country began to shift during the Obama administration. Even in the first year of the administration, she said, nearly 80% of those deported were considered national security threats, serious criminals, or recent arrivals.
In 2014, the Obama administration created a series of priorities for immigration enforcement, which helped push that percentage even higher toward the end of his time in office.
Pierce agreed with Sandweg that the debate lacked nuance and details.
Perhaps more than anything, she said, it was Biden's lack of understanding of his own track record that surprised her.
"Biden wasn't prepared to argue this point at all," she said. "He proved last night that he was not well briefed on immigration overall."