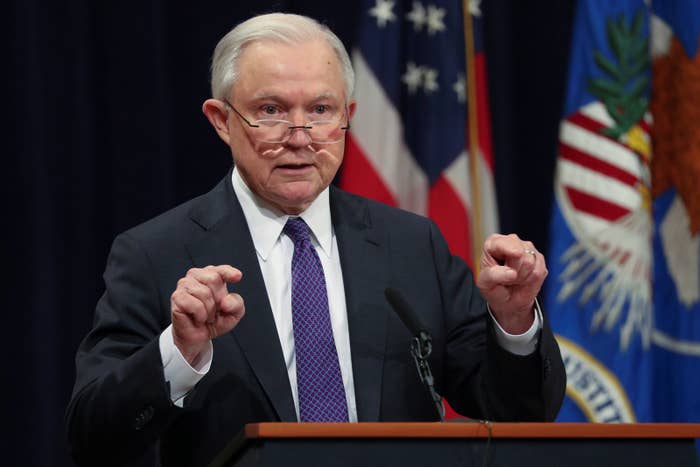 Immigration courts under the Trump administration have approved asylum cases at the lowest rate in nearly two decades, according to an analysis of Department of Justice data.
The new figures come after a year in which Attorney General Jeff Sessions has taken a series of steps to curtail when individuals can gain asylum. In June, Sessions issued a major decision that eliminated claims of domestic violence or gang violence by nongovernmental actors as reasons for granting asylum. He also limited when judges can suspend or continue cases.
The new statistics illustrate the difficulty that many of those traveling with a new caravan across Mexico will face if they present themselves as asylum candidates at the US border.

Experts pointed to Sessions' rulings and restrictions on judges as partly responsible for the drop in the number of asylum cases granted.
"Through a targeted and well-coordinated effort the Trump administration has significantly decreased the number of people who qualify for asylum," said Sarah Pierce, an analyst at the Migration Policy Institute. "While it is true that our asylum system is in need of major reforms, the administration's response has been to reverse years of case law dictating who are legitimate asylum seekers."
The Department of Justice released the asylum data Friday. According to Pierce's analysis, the asylum approval rate is just over 33% for the 2018 fiscal year, which ended in September. Under the Obama administration, the rate hovered between 44% and 55%. The last time the rate dipped below 33% was in 1999, during the Bill Clinton administration, when it was 31%, according to Pierce's analysis.
The Department of Justice declined to comment on the analysis.
The administration is processing the largest number of asylum cases in years and has granted asylum to more individuals — more than 14,000 — than in any year since at least 1996. Yet, the number of denials also dwarfs those of the past two decades — more than 28,000. The previous high for denials was more than 25,000 in 1996.
The rates do not include cases processed by US Citizenship and Immigration Services when individuals voluntarily apply for asylum before being placed in deportation proceedings. Individuals who are denied after applying through USCIS are then processed through the immigration courts in deportation proceedings, according to Pierce.
Sessions has long been critical of the way asylum cases are handled. In an October 2017 speech to immigration judges, he tipped off his future attempts to restrict asylum grants, arguing that the laws were never intended to provide asylum to those who had a fear of generalized violence or crime and that those claims had swamped the system. He hit out against "dirty immigration lawyers" who allegedly were persuading clients to make false claims of asylum.
Unlike other US courts, immigration judges are employees of the Justice Department whose evaluations are based on guidelines Sessions lays out. In that role, Sessions already has instituted case quotas, restricted the types of cases for which asylum can be granted, and limited when judges can indefinitely suspend certain cases.

Jeffrey Chase, a former immigration judge, said that the numbers can also be attributed to the fact that many asylum cases in recent years don't fall within the classic asylum formula that was developed as a response to World War II. In his decisions, Sessions cut the kinds of arguments individuals could make to potentially gain asylum.
"Sessions," Chase said, "skewed the numbers in the most recent fiscal year through his issuance of precedent decisions that reflect his personal, politically motivated views on immigration, as opposed to proper legal reasoning."