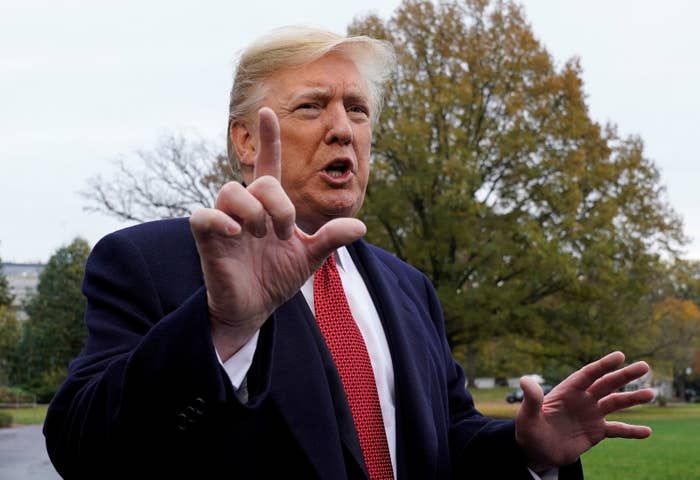 The ACLU filed a lawsuit in federal court Friday challenging the Trump administration's new policies that bar individuals crossing the US–Mexico border without authorization from seeking asylum.
The group, which filed the lawsuit in federal court in San Francisco, is asking a judge to immediately block the policy, which takes effect at 12:01 a.m. ET Saturday.
"The president can't on his own change the asylum law and that's what he's trying to do here," said Omar Jadwat, director of the American Civil Liberties Union's Immigrants' Rights Project. "It is not just illegal but immoral in the sense that he's trying to cut back on protections we provide people who are fleeing persecution in their countries of origin."
On Friday, President Trump signed a proclamation that suspends entry into the United States from across the US–Mexico border. The order gave teeth to regulations announced by the Department of Justice and Department of Homeland Security on Thursday that made it so anyone cited in a presidential proclamation would not be eligible for asylum. The order directs administration officials to recommend within 90 days whether the policy should continue.
The Trump administration has faced numerous legal challenges, many successful, against its attempts to reshape the immigration system.
The latest lawsuit asserts that the administration's policy is violating the Immigration and Nationality Act, which states that anyone who enters the United States, regardless of whether it is at a port of entry or not, can apply for asylum. The group also claims that the administration rushed the regulatory process to institute sweeping changes without going through the normally deliberative system that allows for public comment before a new rule is implemented.
If the new rules withstand the legal challenge, the right to asylum at the southwest border would be limited to people who request it at a port of entry. Trump and members of his administration have long complained about the asylum process, claiming that individuals who know they don't really qualify abuse the system to remain in the country while their claim is processed.
They justify the accelerated process used to institute the new policy by saying that the "asylum system is in crisis" and they cite a recent Supreme Court decision in a travel ban case as support for the president's authority to impose the new limitations.
The Department of Homeland Security and Department of Justice released a joint statement Friday afternoon, responding to the lawsuit by saying that the asylum order was lawful and necessary.
"The fact that the ACLU and its partners would go to court to specifically sue for the right for aliens to enter the country illegally is demonstrative of the open border community's disdain for our nation's laws that almost all rational Americans find appalling," the statement read.